[UPDATE] Search Continues for Missing 13 Year Old Girl From Brigantine
Police continue to search for Ericca Diamond, 13, of Brigantine today.
According to The Press of Atlantic City, police say she was last seen in Williamstown, Gloucester County. Few details are being made available.
Anyone with information about Diamond's whereabouts is asked to contact Brigantine police at 609-266-7414.
UPDATE:  The following flyer and message were released earlier this week: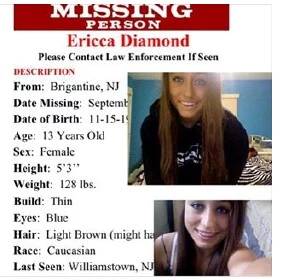 "Ericca Diamond come home we all miss you and your mom needs you here, if you see this, listen to me you need to come back to brigantine before anything happens ericca. your mom wants to see you and know that your ok.. i love you ericca and so many other people do, please just come home it hurts alot that i dont even know where you are right now, you need to get back here there are people here for you to take care of you, your not only doing this to yourself you're hurting so many other people who care about you.. (EVERYBODY SHARE THIS PICTURE, IT DOESN'T MATTER WHO YOU ARE THE WORD NEEDS TO GET AROUND)"