An "Interested Party" Gets a Tour of Showboat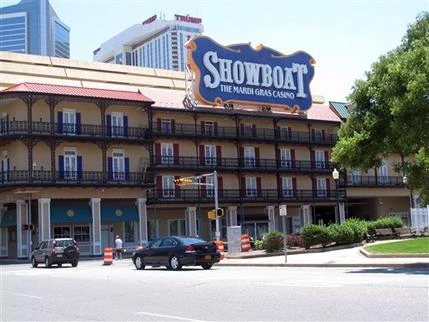 There's a small glimmer of hope for the thousands of soon-to-be out-of-work employees at Showboat — Caesars is showing the casino to an "interested party."
Caesars Entertainment is showing the property, which is set to close this weekend, to an "interested party," but they won't say who it is. The Associated Press reports Gary Thompson, a Caesars spokesperson, said the tour took place this afternoon. Thompson told the AP, "we continue to review inquiries from potential purchasers and, in fact, are conducting a tour of the property with an interested party today. Not much more I can say at this point, as things can change very quickly."
Not only is Caesars not saying who the person or people are, they are also not saying if the potential new owners would operate Showboat as a casino or as only a hotel.
Atlantic City is entering a rocky period in its gaming history as Showboat is scheduled to close Sunday, Revel will follow on September 1st and 2nd, then Trump Plaza will shut its doors on September 16th.
Even if the "interested party" was to eventually purchase Showboat, it appears that not much can be done to stop the casino from closing this weekend.
Source:
An "Interested Party" Gets a Tour of Showboat