Man Loses Weight on a Diet of Sausage and Beer [VIDEO]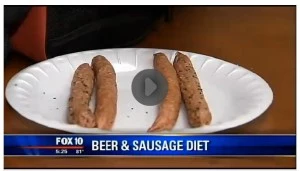 A man in Phoenix, Arizona did just that.  For 30 days, with the help of his doctor, lost weight on a diet of sausage and beer!  That is my ultimate diet!
This is the third year that Evo Terra has participated in the "Octoberfest Diet."  He lives on 15,000 calories a week and managed to lose weight.  His son is his designated driver when he drinks to many of those beers!