'Nashville' TV Show Review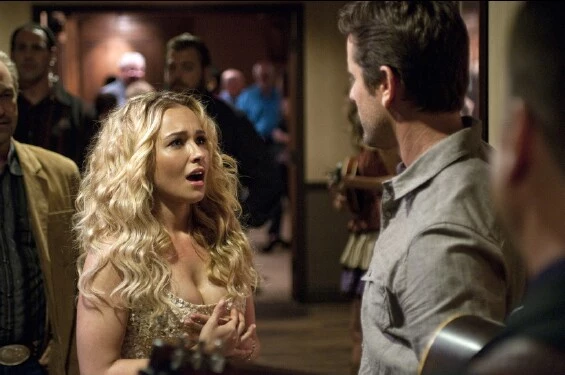 Juliette Barnes (Hayden Panettiere) is not a nice person…..
I have been waiting for this new show for months, as I stated yesterday.  Finally last night, 'Nashville' made its way to my living room!
I though the show was going to be innocent Rayna (Connie Britton), aging great singer versus Juliette, young newbie trying to take over.  And on one hand, that's exactly what the show is about.  On the other hand is the complexity of Rayna.  She's not perfect.  She evidently married a man for political (or family…) reasons, not sure which one yet.  She has an emotional history with Deacon, (Charles Esten) her band leader and now all the men have a (at least a physical) history with Juliette!  It's refreshing because I thought it was going to be the bad girl vs. the good girl, but it seems to be more than that.  Who will end up being the bad girl (or woman…)?
I'm also interested to see how the story will unfold with Juliette's mom, I want more details on how Juliette got to where she is today.
As quickly as we got to see big music in Nashville, we got to see a glimpse of what its like to be a struggling up-and-comer.  I love it that the Bluebird Cafe plays almost like another character.  Scarlett (Clare Bowen) happens to be Deacon's cousin and a waitress at the famous Nashville bar.  And man, she can sing.
Entertainment Weekly sums the show up perfectly,
"The nice thing about the way Khouri (the creator of 'Nashville') has delineated Juliette is that she's not a villain — yes, her druggie-mom may be a cliche, but it registers as an authentic one with truth: Juliette cannot match Rayna's effortless warmth with her audience because Juliette has spent much of her life shutting down emotionally, to survive that mother."
All in all, I really like the show.  It's set on my DVR, I'm old and usually can't stay up past 10pm…