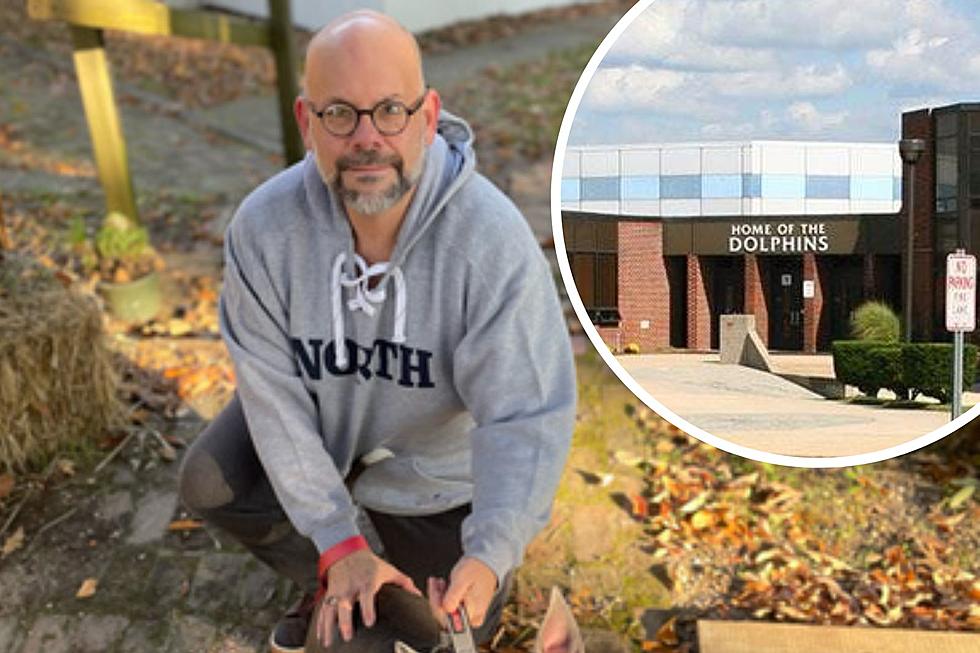 Toms River, NJ teacher took pornographic photos in classroom, cops say
Kyle Banner (Mr. Banner's History Podcast), Toms River Intermediate North (Toms River Regional School District)
🔴 Students found pornographic photos of their teacher
🔴 Investigators determined they were taken in his classroom
🔴 The teacher has been suspended without pay
---
TOMS RIVER – A veteran middle school teacher was charged Tuesday in connection with pornographic photos he allegedly took of himself in his classroom and posted on his Twitter account, according to Ocean County Prosecutor Bradley Billhimer.
His 8th-grade students found the photos on the Twitter account of their teacher Kyle Banner, 48, of Brick, and reported their discovery to school administrators on April 23.
Banner was suspended the next day from his teaching position without pay. State pension records show Banner has been a public school employee since September 2000.
Photos sent to a student
Investigators said the photos were taken in his classroom at Toms River Intermediate School. Banner also sent inappropriate photos of himself to a student via Snapchat in October, according to Billhimer, whose investigators found "numerous" other photos taken in the classroom.
Billhimer did not say whether students were in the photos.
Banner surrendered to Toms River police on Tuesday. He was charged with official misconduct and three counts of endangering the welfare of a child and is being held at the Ocean County Jail pending a detention hearing.
"To say that we are sickened, angry, upset, and disappointed would be a huge understatement," Toms River Regional School District Superintendent Michael Citta told New Jersey 101.5 in a statement.
"School is a place where we send our loved ones to be safe and to prepare for a future of endless possibilities. It's therefore unconscionable that someone in our profession would put the welfare of our children at risk. The district will do everything in its power to ensure that our schools are never put in this situation again, and has likewise established supports for anyone affected by this intolerable behavior."
Banner was also suspended from his position at Ocean County College, according to Jan Kirsten, Executive Director of College Relations at Ocean County College:
"Ocean County College was made aware that Mr. Banner was under investigation in April. Mr. Banner was immediately removed from the classroom. The college has and will continue to cooperate fully with law enforcement regarding this situation," Kirsten said in a statement.
Billhimer urged parents to talk to their students who may have had Banner as a teacher He asked anyone with additional information about Banner the Toms River Township Police Department at 732- 349-0150, or Detective Stephanie Bayha of the Ocean County Prosecutor's Office at 732-929-2027, extension 3861.
Active online presence
Banner also had a podcast called "Mr. Banner's History Podcast" for both his 8th grade and college students.
Banner was named a Teacher of the Year by the Toms River Regional School District, according to a report by the Tom River Times. He was also a New Jersey Distinguished Cooperating Teacher in 2015 by the state Department of Education.
"A cooperating teacher plays a critical role in supporting and guiding clinical interns. This award recognizes excellent cooperating teachers who utilize their expertise to prepare our state's top teacher candidates for their careers as future educators," according to the department's website.
Report a correction 👈 | 👉 Contact our newsroom
How to pronounce these 20 town names in NJ
How many of these New Jersey municipalities and neighborhoods have you been pronouncing wrong?
How to pronounce these 20 town names in NJ
How many of these New Jersey municipalities and neighborhoods have you been pronouncing wrong?
Most affordable places to live in New Jersey
SmartAsset released a study analyzing the
most affordable places to live in New Jersey
. The eighth annual study weighed several factors, including taxes, homeowners' insurance, and home costs relative to the local median income.
More From Cat Country 107.3