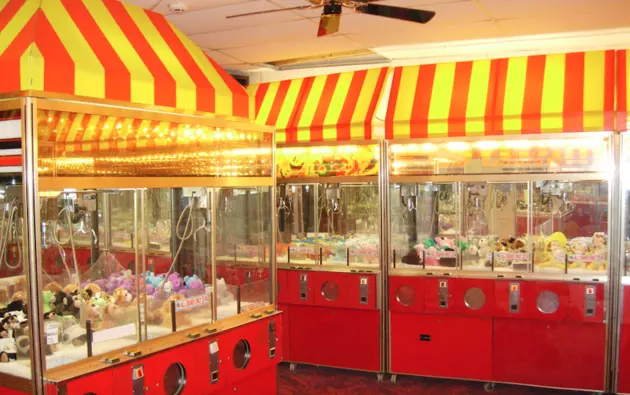 Crane Games: Investigating if They're Fair in New Jersey
Photo provided by Gateway 26
If you feel ripped off every time you throw a quarter or dollar at a claw game, maybe you're just not skilled enough.
Arcades along the Jersey Shore claim this is the state to be if you're set on mastering the mechanics behind these games and actually coming away with a prize.
"We have customers, unfortunately, that beat us," said Brian Sharpe, owner of Gateway 26 on the Wildwood boardwalk. "They'll come in and spend $300 ... and they'll get $400 worth of merchandise."
Sharpe's arcade has 188 crane machines — most of which cost a quarter to play — and the chances to win are solely based on a player's skill level, he said. In other states, the outcome of each play can be determined by the machine itself and the stuffed animals or sports jerseys are awarded in a random fashion.
"Every single night, we make sure that those cranes are giving out fairly," Sharpe said.
If one machine is expected to give out at least 30 prizes daily, but only delivers five on a given day, for example, the staff is notified through a computer system.
"We'll go and play and find out what the issue is, why it's not giving out as much as it should," Sharpe said.
Investigators within the state Division of Consumer Affairs make unannounced visits to boardwalks and amusement parks to ensure fairness of play and that players have a legitimate chance to win the top prize in a machine.
Kelly Whalen, manager of Lucky Leo's Amusement Arcade on the boardwalk in Seaside Heights, said investigators are seen mostly in the summer but have been known to visit the arcade at any point during the year.
"They'll be in your building for almost an hour before you possibly know they're there," she said. "They're already playing your games before they even ask to speak to a manager about something."
Lucky Leo's has one staff member devoted specifically to the operation of crane games, Whalen said. Staff meetings, held multiple times per week, typically cover which machines are not "paying out" as they should.
"If these cranes aren't paying out what they should be, people aren't going to play them. Then you won't have any repeat business," Whalen said. "Believe me — I want to give out that plush."
At Gateway 26, cheaper prizes such as stuffed animals are ideally awarded at a 100 percent markup. For example, if the arcade purchased the toys at $2 each, a standard crane player may be able to secure a prize through $4 worth of games. For more expensive items, such as Beats headphones — which cost the arcade $63 wholesale — customers would play, on average, $100 worth to win a pair.
More From Cat Country 107.3