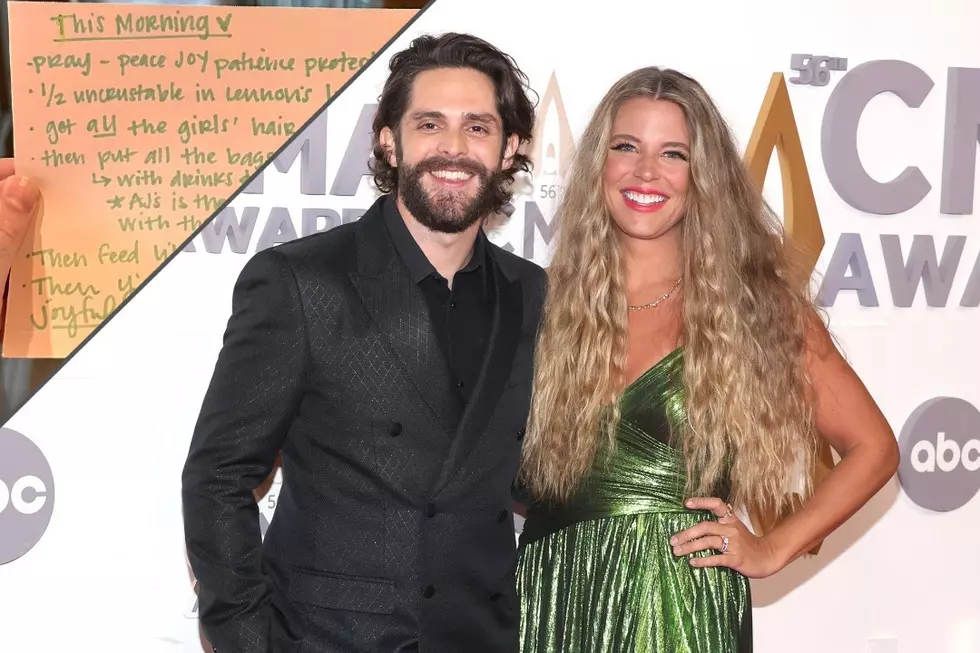 Thomas Rhett Is Alone With His Four Kids, So Wife Lauren Left Him This Note
Twitter / Jason Kempin, Getty Images
With four kids under the age of 8, things are hectic around Thomas Rhett's house on a normal day. But on Thursday (Feb. 2), the country star is solo-parenting while wife Lauren Akins is out of town, so she left him some helpful pointers.
Okay, it's more of a step-by-step, down to the finer details.
The "Marry Me" hitmaker shared the cheat sheet Lauren made him, starting with the most important task: To pray (for peace, joy, patience and protection). Rhett's tasks get more involved from there: He should get all of the girls' hair done before packing up the car with drinks and snacks, then feed his youngest daughter, Lillie, a bottle.
Lauren made sure to note that everyone — Willa Gray, 7, Ada James, 5, Lennon Love, 2, Lillie Carolina, 1, and Thomas, 32 — should head to school with joyful spirits (Mom made sure to underline the word joyful).
Lord knows — and Lauren knows — mornings can be stressful with so many littles running around.
"When @laur_akins leaves town...," Rhett writes on social media, along with a photo of the note.
He has not offered an update on how the morning went. The couple has been married 10 years.
The star has previously praised his wife on social media for her patience both as a mother and spouse. It can't be easy wrangling four children, let alone doing it with a husband who tours for much of the year.
Despite wanting more kids, Rhett and his wife say they are putting pause on expanding their family for the time being.
"We're gonna come up for some air before we get going again," he told Taste of Country Nights last spring. The pair are also open to adopting another child with his oldest, Willa Gray, jumping on board with the idea.
"Yes, adoption is 100 percent on our brains in the next four to five years. We would love to do that," he revealed. "Willa Gray talks about it all the time. It's something that ... it's been put very heavily on our hearts to do that again. We just don't really know when."
Thomas Rhett's Best Songs Tell His Story - See the Top 20
Thomas Rhett has released some unforgettable songs over his career. Here are 20 of our favorites.
More From Cat Country 107.3