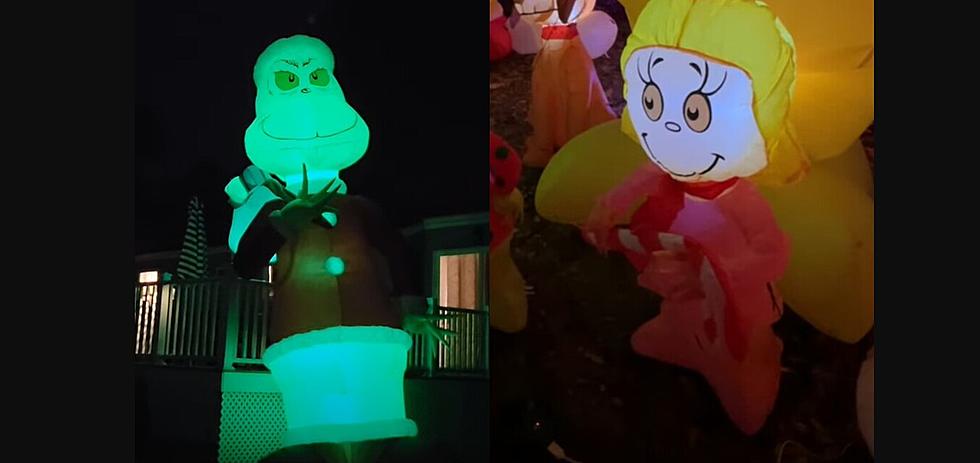 NJ Police Looking for Thieves Who Stole Christmas Inflatables
YouTube/screenshots
Do you know the story of the Grinch who stole Christmas? Well, this is the real-life story of the thieves who stole the inflatable Grinch off of some guy's front porch in Bridgeton.
In a release, police said the decorations were stolen from the 100 block of Atlantic Street.
The homeowners told police that the two thieves were black males wearing all-black clothing, brown boots, and facemasks who fled south on Atlantic Street.
They ran away with all of the family's Christmas decorations.
 An inflatable Grinch on a sleigh, a 5.5' Grinch holding a Christmas tree, 5' Cindy Lou Who inflatable holding a candy cane, 6' Santa and a 6' Snowman. The items are valued at approximately $500.00.
They even stole Cindy Who. Little Cindy-Lou Who, who was not more than two.

It must have been that they hated Christmas! The whole Christmas season!
Now, please don't ask why. No one quite knows the reason.
It could be their heads weren't screwed on just right.
It could be, perhaps, that their shoes were too tight.
But I think that the most likely reason of all,
May have been that their hearts were two sizes too small.

(Thanks to Dr. Seuss for helping me put into words what I was thinking about this awful incident.)
If you have any information that could help this family get back their decorations, call Bridgeton Police at 856-451-0033.
See The Lights, Decorations and Beauty of Cape May at Christmas
Gallery Credit: Eddie Davis
Soups On: South Jersey's Absolutely Best Soup is Revealed
Gallery Credit: Eddie Davis