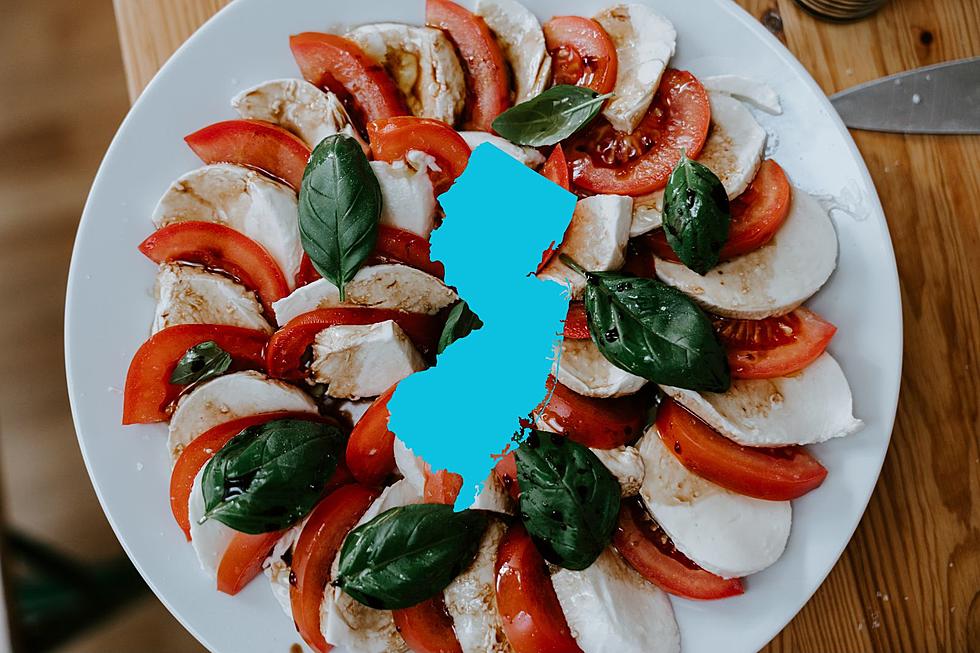 How New Jersey and Chat GPT eat fresh mozzarella
(Photo: Claudio Schwarz Unsplash, Canva, Townsquare Media Illustration)
When it comes to fresh mozzarella, there's no place like New Jersey.
Here in the Garden State, we have the best places to get the best "mutz" ever made. There's nothing like a fresh piece of homemade "mutz" fresh out of the water, still warm waiting to melt in your mouth.
So, what's the best way to enjoy it?
I asked that question to Nick and Joe from Massimos in Kenilworth who won " Mootz Madness 2". It's their second straight year with the crown;
As soon as it's done, serve it with a nice thin slice of imported prosciutto di Parma and Italian bread.
I can't argue with that. Although personally, I like it just as is, with maybe a little salt. Another way I'd like it is with sliced prosciutto and red roasted pepper on semolina bread. Each taste blends into the perfect sandwich, but that's me.
Here are some of the suggestions I received from my listeners and social followers responding to the question, "If I gave you a piece of fresh warm mozzarella, how would you eat it?"
One of which, John Moyer asked Chat GPT:
I asked ChatGPT. Here's what it said:
I would savor every bite of the fresh warm mozzarella. One of my favorite ways to enjoy it is to simply tear off a piece and eat it as is, allowing the creamy texture and subtle flavor to stand on its own. However, if I were feeling a bit more adventurous, I might pair it with some sweet and juicy vine-ripened tomatoes, a drizzle of high-quality extra virgin olive oil, and a sprinkle of fresh basil for a classic Caprese salad. Alternatively, I might use it as a topping for a homemade pizza Margherita or melt it on top of a warm bowl of pasta for a comforting and indulgent meal. Whatever the preparation, I would make sure to take my time and fully appreciate the delicate and nuanced flavors of this beloved Italian cheese.
John Moyer
If only it could.
Shove it in my face and inhale it, if from Fiores Hoboken
Suzy Rose Yengo
On bruschetta
Dee Wilmer
I would eat it with a thick slice of prosciutto di Parma and roll it up with the mozzarella but only the mutz from Massimo Italian Deli
Frank Altamura
I'd just pop it in my mouth.
Thank you
Mark Lemma
On top of a beefsteak tomato slice
Lynn Ann Murray
A family member makes it for gatherings--I eat it in 1 bite
Tricia Biondi
Melt it on a  bagel with Tomatoes 🍅 and cucumbers
Dar Meglino
Sprinkle with Sea Salt!
Scott Clarke
With tomato and a balsamic reduction
Carrie Schweitzer
Absolutely!!! Melt it on a crusty piece of Italian bread, topped with a ripe garden tomato, fresh basil, a drizzle of olive oil salt and pepper, and a balsamic glaze drizzle!
Karen Stefanchik-Papanier
Eat it right there... hopefully with a piece of crusty Italian bread.
Andrew Chick Pisani
Tomato Basil and a drizzle of olive oil and balsamic!
Cindy Zwicker
LOOK: 20 American foods that raise eyebrows outside of the US
Stac



ker
compiled a list of 20 unusual and uniquely American foods that might raise eyebrows outside the U.S.
LOOK: Here are the states where you are most likely to hit an animal
Hitting an animal while driving is a frightening experience, and this list ranks all 50 states in order of the likelihood of such incidents happening, in addition to providing tips on how to avoid them.
Opinions expressed in the post above are those of New Jersey 101.5 talk show host Steve Trevelise only. Follow him on Twitter @realstevetrev.
You can now listen to Steve Trevelise — On Demand! Discover more about New Jersey's personalities and what makes the Garden State interesting. Download the Steve Trevelise show wherever you get podcasts, on our free app, or listen right now.
More From Cat Country 107.3