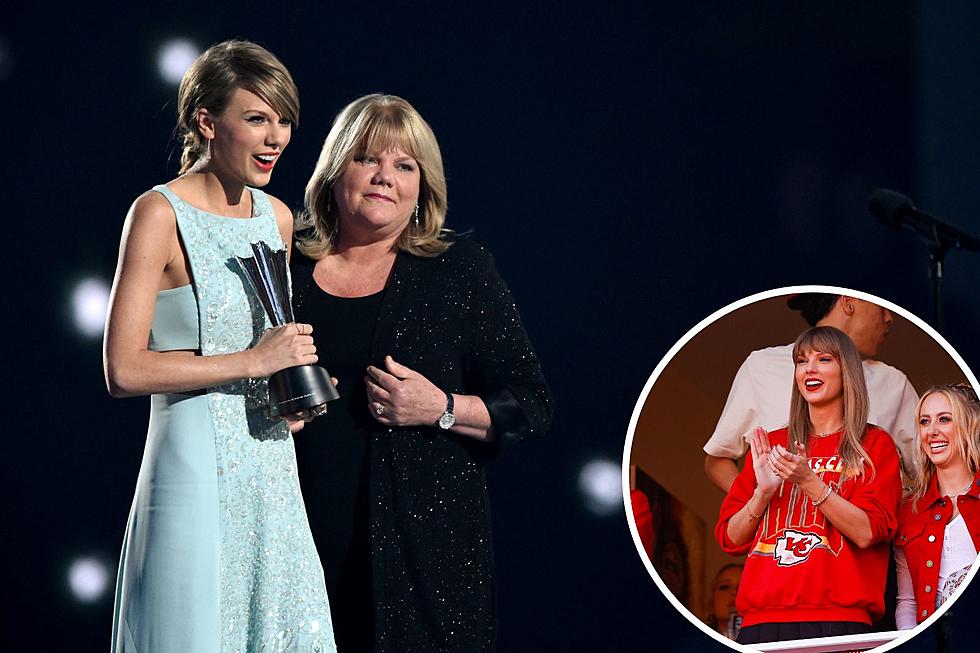 Taylor Swift Reportedly Bringing Parents to Chiefs vs. Philadelphia Eagles Game in Kansas City
Getty Images; (inset) Getty Images; Canva
It sounds like the upcoming Kansas City Chiefs vs. Philadelphia Eagles Monday Night Football game is shaping up to be a family affair for Taylor Swift.
Swift, who has been very publicly linked romantically to Chiefs' tight end Travis Kelce, is rumored to be bringing her mom Andrea and dad Scott to the game in at Arrowhead Stadium, according to E! News.
Are your thoughts going where MINE are? That Taylor's parents are meeting Travis' parents and OMG WHAT IS HAPPENING???! I swear I think these two will be engaged by New Year's.
It's not to say that The Kelces and The Swifts haven't already met. They MUST have by now, but E! News confirms this will be the very first time they're all attending an event together. And if they all hang out in the same suite watching the Eagles and Chiefs that paints a very vivid picture.
Taylor's been spotted cozying up to Travis and Jason Kelce's mom Donna at recent Chiefs games, so I imagine they're well acquainted. But I wonder if Kylie Kelce has met Taylor and if THEY'LL have moments during this Monday Night Football game like Taylor has with Brittany Mahomes.
Taylor and her dad are known to be lifelong Philadelphia Eagles fans, so if I see Scott wearing KC gear and rooting for the Chiefs, I'll be very disappointed. Just because your daughter is dating someone from another NFL team doesn't mean you just give up on The Birds.
It's already broken my heart that Taylor's probably ditched that Eagles t-shirt hanging from the door in favor of her red Kansas City Chiefs sweatshirt. Doesn't she know Philly's got unfinished business with the Super Bowl champs? Come on, girl!
Remember over the summer when Taylor Swift was at the Jersey Shore for buddy Jack Antonoff's wedding? Here's the scoop on that fancy restaurant she visited.
11 Things to Know About the LBI Restaurant Black Whale
Black Whale Bar & Fish House is getting national attention after it served as part of the wedding weekend festivities for Jack Antonoff, friend and producer of Taylor Swift. Never heard of it? Here are 11 things to know about the restaurant located in the Beach Haven section of Long Beach Island.
Gallery Credit: Heather DeLuca
South Jersey's Biggest Pet Peeves
What do people in South Jersey really hate?
Gallery Credit: Heather DeLuca
More From Cat Country 107.3