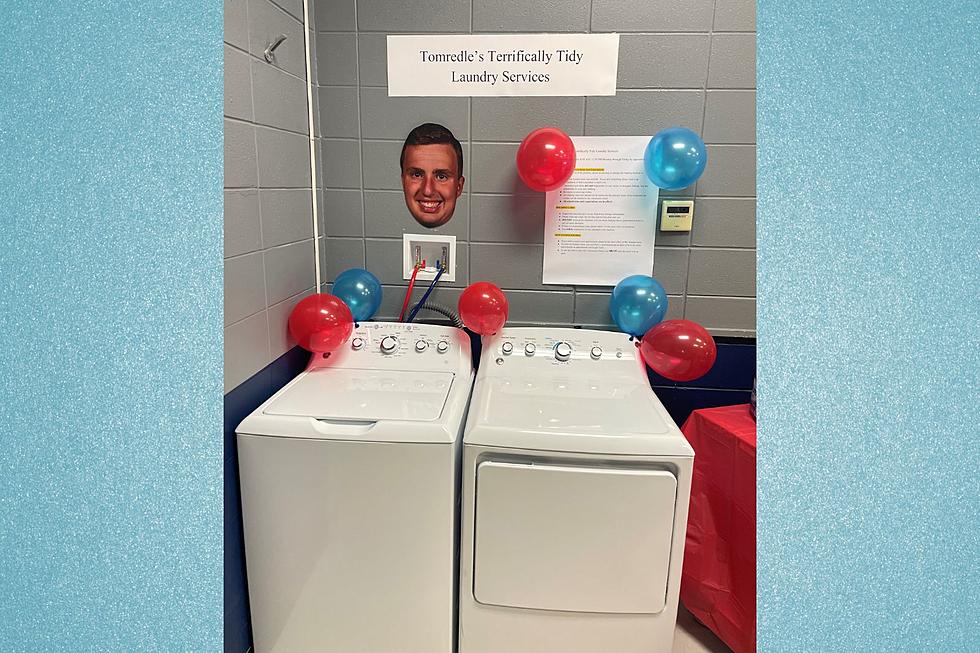 Clean clothes for NJ high school students thanks to one teen's vision
Tomredle's Terrifically Tidy Laundry Services at Lacey Township High School (Jimmy Tomredle)
👚 Lacey Township High School has its first laundry room
👚 One senior made it his mission to get a washer and dryer installed
👚 He learned kids sometimes don't attend school because they have dirty clothes
---
Students at Lacey Township High School can now do laundry for free if they choose, thanks to a senior who wanted to change his community.
As a project for his Leadership Academy of Humanities Program, 18-year-old Jimmy Tomredle wanted to do something that was going to make a difference.
In September 2022, he learned that some students were not going to school because they didn't have clean clothes and were either embarrassed by it or afraid of getting bullied.
Tomredle did some research and learned that in 2019, the school principal at Newark's West Side High School gained national recognition for taking action after noticing students also being bullied for dirty clothes. So, Principal Akbar Cook installed five pairs of washers and dryers in the school so students could do their laundry.
This story is what inspired the Lacey high schooler to take some action. Since October, Tomredle had been working on obtaining a washer and dryer for all students and staff at Lacey Township High who want or need to do laundry, free of charge.
The senior class president sent out countless letters to stores explaining his project and on March 20, 2023, a local appliance store, Anchor Appliance in West Creek came through and kindly donated a washer and dryer to the school.
School custodians installed the appliances inside the school's Community Closet, and on Thursday, there was a ribbon-cutting ceremony celebrating the grand opening of the school's first and only laundry room, called "Tomredle's Terrifically Tidy Laundry Services."
About 60 people including the school superintendent, teachers, students, and families showed up to lend their support. Some gave speeches praising the amazing work of this young man whose main goal was to make kids feel better about themselves through one simple way: having clean clothes.
Tomredle's Terrifically Tidy Laundry Services is open for business starting today. Students must make an appointment to do laundry. Tomredle said they simply have to fill out an online Google form and a teacher must be present at all times while laundry is being done.
The senior said he kicked things off by purchasing laundry detergent for the room but he has also started a detergent donation drive, kindly asking for detergent, dryer sheets, and any other laundry products.
Anyone interested in donating should drop the products off at the high school located at 73 Haines Street in Lanoka Harbor.
Report a correction 👈 | 👉 Contact our newsroom
Spring is here: This NJ park is a great place to explore
More From Cat Country 107.3