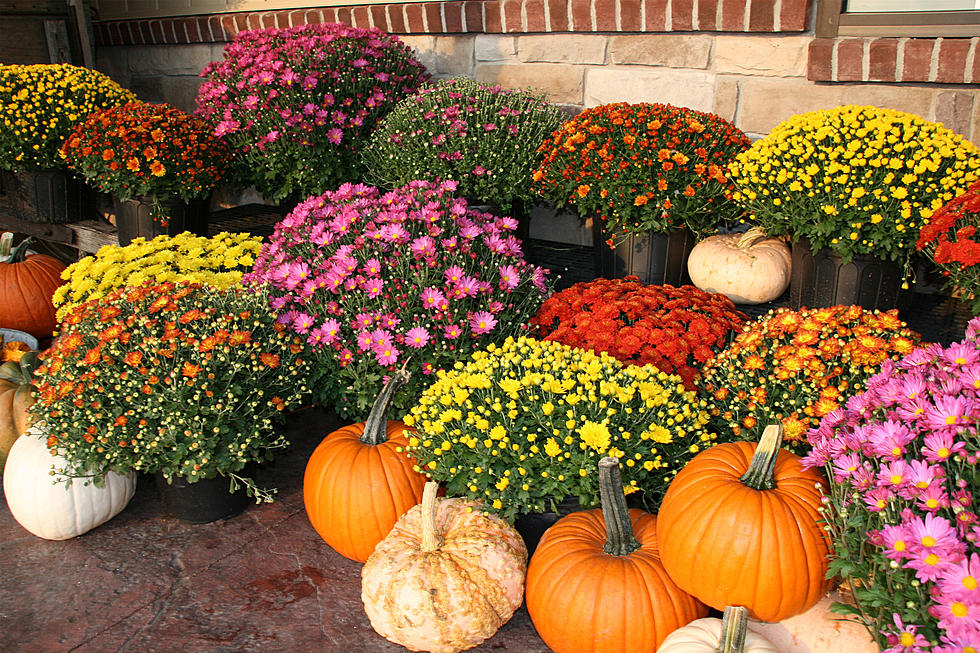 Check out these October festivals in NJ: Zombies, food trucks, pets, more
SheilaYarger
🎃 October is a great month for festivals in New Jersey
🍂 There are festivals every weekend from north to south
🍺 Oktoberfests, haunted house tours, and scarecrow making are some cool events
---
Pumpkins, Halloween, bonfires, scarecrows, and sweater weather. October is one of the most popular months for festivals in New Jersey. Hundreds are happening all over the state in each of the 21 counties.
Let's highlight a few.
Sunday, Oct. 1
Hoboken Art and Music Festival
94 Washington Street, Hoboken
Time: 11 a.m. to 6 p.m.
The Hoboken Fall Arts and Music Festival features displays and sales by artists, crafters, food vendors, and a variety of local businesses. Two stages will be filled with live musical performances throughout the day on Washington Street between Newark Street and Observer Highway and on Washington Street between 6th and 7th Streets.
"Monsters on the Beach" Monster Truck Races and Truck Pulls
Fri. Sept. 29 - Sun. Oct. 1
On the beach at Lincoln Avenue, The Wildwoods
The "Monsters on the Beach" event returns after a three-year absence, with an expanded format. The weekend will consist of three shows, two on Saturday (1 p.m. and 7:30 p.m.) and one on Sunday (1 p.m.). On Friday night there will be a meet and greet opportunity with the drivers.
Each show will feature monster truck races and freestyle events, plus tough truck racing, and new for this year, diesel truck pulling exhibitions.
Single-show and combo tickets are on sale now.
Morey's Piers Oktoberfest
3501 Boardwalk, Wildwood
Bust out your lederhosen because from now until Oct. 8 is the Oktoberfest celebration at Morey's Piers. Enjoy live music, traditional German food, and all the games you can ride. Jumbo's Grub and Pub will also feature a great selection of Bavarian pretzels, bratwurst, German potato salad, schnitzel, and more. Plus, there will be a wide selection of beers and tasting flights to be enjoyed at the Biergarten. Beer lovers can purchase a 25 oz. souvenir beer stein.
Saturday, Oct. 7
The Asbury Park Zombie Walk
Asbury Park Boardwalk
Time: 11 a.m. to 6 p.m.
The Zombie Walk in Asbury Park has been a tradition for years. A typical zombie walk is when people dress up in zombie costumes and walk in urban areas, usually in shopping malls or town squares. In Asbury, it's on the boardwalk.
Starting at 11 a.m., the official info booth, merchandise stand, and makeup tent will open along the Boardwalk on the 4th Avenue Green Space.
The walk begins at 4 p.m. Zombies will move up the Boardwalk, heading from Convention Hall down the boards towards the Casino where it will turn into Cookman Avenue, and head into downtown.
The Zombie Walk ends at 6 p.m. outside of Johnny Macs on Main Street. Judging for the costume contest will take place on the stage outside JMacs following the walk.
Scarecrows on Main Street Contest
Main Street, Medford
Time: 9 a.m.
The Scarecrows on Main Street Contest is a family-friendly event. Scarecrows are to be constructed on the morning of Oct. 7. All scarecrows must be removed by Friday, Oct. 27 before the Halloween parade.
Scarecrows can be humorous, whimsical, or lovable, but not frightening or distasteful. Materials must be firmly attached to the scarecrow so that it can stand up to sun, wind, and rain. Scarecrows must be mounted to the assigned light poles along Main Street. Those assignments will be given out on Oct. 7 at 9 a.m. at the gazebo.
All entries must be registered and in place by 11 a.m. Scarecrows should face the shops and not the streets.
An entry fee of $20 will be collected at the time of registration.
Avalon Seafood Festival
2901 Avalon Avenue, Surfside Park, Avalon, NJ
Time: 10 a.m. to 5 p.m.
Raindate: Sun. Oct. 8
The Avalon Arts and Seafood Festival features fresh, local seafood from area restaurants, artisan vendors, live music, live streaming football, and beverages at the Sound Advice Lounge, kids activities, games, and so much more.
Fall Block Party and Fireworks Spectacular
5th - 14th Streets on Asbury Avenue, Ocean City
Time: 8 a.m. to 5 p.m.
The Ocean City Fall Block Party will feature over 400 crafters, food vendors, and more lining the streets from 5th to 14th. Then in the evening, enjoy spectacular fireworks over the boardwalk from 6th to 14th streets.
22nd Annual Atlantic Highlands Oktoberfest
Veterans Park, Atlantic Highlands
Time: 12 p.m. to 7 p.m.
Raindate: Sun. Oct. 8
Just what you think would be at an Oktoberfest will be featured. Enjoy authentic German food and beer, and participate in the Steinholding and costume contests. Enjoy the sounds of Oompa bands and dancers.
Steinholding is a traditional Bavarian feat of strength contest in which competitors hold a full one-liter beer stein (or Masskrug/Mass in German) out in front of their bodies with a straight arm, parallel to the ground. You go as long as you can and the last man or woman hoisting is the winner
For the costume contest, come dressed as your favorite fraulines. Grab your Lederhosen, Dirndl, and other German finery, and win prizes.
Paws in the Park
Goffle Brook Park, Hawthorne
Time: 10 a.m. to 4 p.m.
Paws in the Park features microchipping, K-9 demos, pet contests, pet adoptions, food trucks, prizes, raffles, and more. All proceeds benefit the Passaic County Sheriff's Department K-9 Unit.
Mendham Fest
Borough Park, Mountain Avenue, Mendham
Time: 12 p.m. to 5 p.m.
Enjoy a beautiful autumn Saturday at Mendham Fest with food, food, beer, and music.
32nd Annual Ocean County Italian Festival
https://exit82.com/event/italian-festival-3/
Grant Avenue, Seaside Heights
The Italian Festival in Seaside Heights is a weekend affair from Fri. Oct. 6 to Sun. Oct. 8
Fri: 4 p.m. to 10 p.m.
Sat: 10 a.m. to 10 p.m.
Sun: 10 a.m. to 8 p.m.
The three-day event features food, vendors, live music, and so much more.
Sunday, Oct. 8
Oktoberfest
West Village at Wilsey Square, Ridgewood
This two-day Oktoberfest on Oct. 7 and 8 is a fun-filled family event. The main attraction is the tractor-drawn hayride that takes its passengers for a ride up to The Heights which includes an amazing view of New York City. Pumpkin painting, a scarecrow-making contest, a tent of vendors, a Biergarten, games, ice cream, and sidewalk chalking are just some of the many things to do.
Wildwood Food and Music Festival
Downtown Wildwood, Byrne Plaza along Pacific Ave between Oak and Schellenger Aves.
Formerly known as the Wildwoods Seafood and Music Festival, The Greater Wildwood Chamber of Commerce presents the Food and Music Festival.
It's a full day of food, music, shopping, crafts and more. The festival is free to attend.
Saturday, Oct. 14
NJ Botanical Gardens Harvest Festival and Craft Fair
5 Morris Road, Ringwood
Time: 10 a.m. to 5 p.m.
The NJ Botanical Gardens Harvest Festival is held during the fall foliage season, which is prime up in the Ramapo Mountains. Spend the day browsing through hand-crafted items. Enjoy the variety of foods from food truck vendors, and listen to live music. Kids can enjoy the game trailer, hay rides, face painting, pumpkin painting, apple sauce making, and more. The event is free to the public. Parking is $5 per car.
Rain date is Sunday 10/15.
Trails4Tails Fest
Washington Crossing Park, Pennington Road, Titusville
Time: 8 a.m. to 2:30 p.m.
One day. Five races. The Trails4Tails Fest includes Double Dog, 15K, 5K, 5K with dog, and 1-mile races to benefit It's A Ruff Life Rescue. Their mission is to rescue and save the lives of dogs who find themselves on death row through no fault of their own, and/or provide a haven for stray, abandoned, or abused and neglected animals.
There will also be plenty to do at the festival. There will be lots of food, a dog agility course, and a beer garden featuring a variety of beers and wines for a fee. Dogs will also be available for adoption.
Pork Roll Palooza
Downtown Phillipsburg
Time: 11 a.m. to 5 p.m.
Whether you call it pork roll or Taylor Ham, it doesn't matter. There's something for everyone to enjoy at the annual Pork Roll Palooza. Enjoy all things pork roll with over a dozen food vendors on hand, local businesses, crafters, artists, live minutes, local beers, games, prizes, and more.
Admission is free!
43rd Annual Apple Festival
275 Church Road, Medford
Time: 9 a.m. to 4 p.m.
Admission and parking are free.
The Medford Apple Festival draws thousands of visitors each year to browse more than 120 custom crafters. Plus, enjoy great food and all things apple: apple butter, apple cider, apple baked goods, signature apple cider donuts, and homemade apple ice cream. There will be live music playing all day, as well as games and arts and crafts for kids.
Autumn in Moorestown
16 E. Main Street, Moorestown
Time: 9 a.m. to 3 p.m.
Fine artists and crafters display their masterpieces for Autumn in Moorestown. They must display and sell only their own handmade items. No items made from outside sources are allowed. Enjoy food and music all day while browsing the craft vendors.
Barrington Harvest Festival
Along Clements Bridge Road between Atlantic Avenue and Gloucester Pike, Barrington
Time: 10 a.m. to 4 p.m.
The Harvest Festival features over 100 craft, food, and product vendors, live entertainment, and activities for toddlers, kids, and teens. There will also be a classic car show, petting zoo, pony rides, inflatable bounce houses, face painting, and more.
Farmers' Market Apple Pie Contest 
713 N Atlantic Ave, Collingswood
Time: 10 a.m.
When you think fall at the farmer's market, apples definitely come to mind, and even better, a Farmers' Market Apple Pie Contest.
Enter your homemade apple pie into one of two categories offered: "Classic Apple" (using apple as the only fruit in the pie), and "Anything Goes Apple" (consisting of apples plus any creative fruit, dried fruit, nut, custard, or ingredient combos). Prizes will be given out for the best-looking pie, best-tasting pie, and more. Winners will receive market bucks and bragging rights.
Porsche Boardwalk Reunion
On the Boardwalk from 6th Street to 14th Street, Ocean City
Time: 8:30 a.m. to 4:30 p.m.
All Porsche and Porsche owners are welcome at the 4th Annual Porsche Boardwalk Reunion. Staging begins at 8:30 a.m. at the OCNJ Municipal Airport. A police escort to the boardwalk at the 14th Street entrance begins at 11 a.m. All Porsches will be on display from 11:30 a.m. to 4 p.m.
Drinks, dinner, and dancing will take place at the Flanders Hotel after the event, starting at 5 p.m.
Sunday, Oct. 15
Oktoberfest
Veterans Park, Hamilton Township
Time: 11 a.m. to 5 p.m.
Raindate is Sunday, Oct. 22
Oktoberfest is an annual event combining fall activities and excitement into one fun-packed day! Family favorite activities include a pumpkin patch, hay rides, corn maze, amusements, crafters, and vendors.
Monday, Oct. 16
Scarecrows in the Gardens 2023 from Van Vleck House and Gardens
Van Vleck House and Gardens, 21 Van Vleck Street, Montclair
From Oct. 16 to Oct. 31, enjoy Scarecrows in the Gardens, the annual free community exhibition and contest. Create a pumpkin with your family, club, business, or organization. The scarecrows will be exhibited in Van Vleck Gardens. They are free to visit daily.
New this year, "Pumpkin Friends" will be welcomed to enjoy the gardens with the scarecrow entries.
Vote for your favorite scarecrow here through Oct. 26.
Thursday, Oct. 19
Cape May Fall Festival
From Oct. 19 through Oct. 22
Cape May Convention Hall, 714 Beach Ave, Cape May
The NJ Audubon Society presents its Cape May Fall Festival. Whether it's your first time or you just keep coming back, this festival is bound to make you a better birder with a heightened passion for birding and conservation.
The festival includes a wide selection of guided field trips with local naturalists, indoor programs, and outdoor workshops, both educational and entertaining. The Nature Center at Cape May Convention Hall will have nature-themed vendors, tour companies, and a live animal show with Nature Nick. Viewing stations will be on hand for the optimum bird-watching experience.
Saturday, Oct. 21
Chatsworth Cranberry Festival
White Horse Inn, Chatsworth
Time: 9 a.m. to 4 p.m.
The second largest cranberry festival in the U.S., the Chatsworth Cranberry Festival, sponsored by The Festival Committee of Chatsworth is both Saturday, Oct. 21, and Sunday, Oct. 22.
The festival is packed with up to 150 vendors, and 15 food vendors. The festival celebrates the cranberry harvest. Proceeds help to restore the White Horse Inn.
Halloween Bonfire
Leocadia Court Park, Hazlet
Time: 5 p.m. to 9 p.m.
Nothing says cool October nights like cozy sweaters and sitting by a bonfire. The 2023 Hazlet Halloween Bonfire will be held at Leocadia Court Park. Rain date is Oct. 22. Admission is free. Come dressed in costume for fall-themed festivities under the moon.
There will be music, entertainment, food vendors, crafters, and a trunk or treat. The bonfire will be lit at nightfall under the supervision of the Hazlet Township firefighters.
HSOC "Howl-O-Ween" Parade
https://oceancityvacation.com/events-calendar/hsoc-howl-o-ween-parade/
Sports and Civic Center, 6th and Boardwalk, Ocean City
Time: 2 p.m. to 4 p.m.
Hosted by the Humane Society of Ocean City, this two-hour Howl-O-Ween Parade encourages contestants to dress themselves and their dogs in crazy, fun Halloween costumes. Registration begins at 2 p.m. The parade starts at 3 p.m.
Sussex County Harvest, Honey and Garlic Festival
Sussex County Fairgrounds, 37 Plains Road, Augusta
Time: 10 a.m. to 4 p.m.
The 12th Annual Sussex County Harvest, Honey, and Garlic Festival is a celebration of agritourism, ecotourism, and arts and heritage tourism. The Sussex County Beekeepers Association and the Garden State Garlic Growers join the County of Sussex, and the Sussex County Farm and Horse Show to showcase the finest the state's northwest region has to offer.
There will be a farmer's market on hand where customers can buy fresh, local Sussex County products like fruit, veggies, cheese, wine, honey products, as well as garlic products. The festival will include local artisans, crafters, and vendors. For kids, there will be a hay ride, pumpkin painting, face painting, and crafts.
Friday, Oct. 27
Haunted Trail
Veterans Community Park, Randolph
Time: Fri. Oct. 27 from 6 p.m. to 10 p.m. Sat. Oct. 28 from 6 p.m. to 11 p.m. Rain date is Sun. Oct. 29 from 6 p.m. to 10 p.m.
Cost: $10 if pre-purchased, $15 on-site.
A new event this year in Randolph is the "Haunted Trail." For two nights, Fri. Oct. 27 and Sat. Oct. 28, it will feature a haunted walk, ghost stories by Brundage Park Playhouse actors, a food truck, and a hayride.
Saturday, Oct. 28
Greater Wildwood Elks Halloween Haunted House
109 West 1st Avenue, North Wildwood
Time: 5:30 p.m. to 9 p.m.
Trick-or-treaters can walk through this haunted house and receive treats at the Elks Lodge. The event is free.
Pumpkin Extravaganza
Pine Street between 2nd and 3rd Streets, Millville
Time: 2 p.m. to 4 p.m.
For two hours during the Millville Pumpkin Extravaganza, enjoy a trunk or treat, food, pumpkin decorating, games, and more.
Voorhees Township Halloween and Fall Festival
2400 Voorhees Town Center, Voorhees
Time: 1 p.m. to 4 p.m.
The Voorhees Township Halloween and Fall Festival is a free event for both admission and parking. There will be a DJ, a pumpkin patch, a teal pumpkin table, a pumpkin decorating station, bounce houses, craft and food vendors, a petting zoo, hayrides, candy, and much more.
All monthlong
Great Pumpkin Festival
Through Nov. 5
Heaven Hill Farm, 451 Route 94, Vernon
Time: 10 a.m. to 6 p.m.
Come to Heaven Hill Farm for the Great Pumpkin Festival. It features more than 35 family fun outdoor activities such as hayrides, an alien invasion-themed corn maze, farm animals, live entertainment, carnival rides, canine stunt shows, the apple cannon, paintball, gem mining, and so much more.
There will be food vendors, kettle corn, apple cider donuts, a great selection of pumpkins, mums, and gourds, and wine tasting for the adults. Don't miss the hundreds of photo op spots along the way.
There are so many festivals from Wayne to the Wildwoods to choose from this October that the whole family can enjoy.
Report a correction 👈 | 👉 Contact our newsroom
NJ street fairs return for the 2023 fall season
All New Jersey street fairs are listed in date order. Please note that some dates may have passed for the fall season.
More From Cat Country 107.3