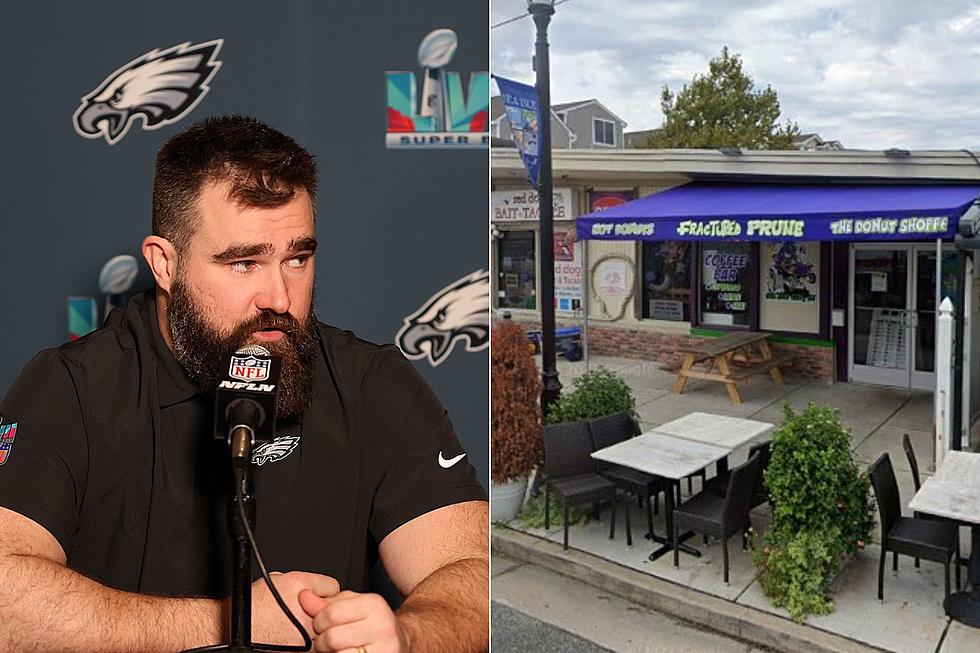 Eagles' Kelce partners with Sea Isle City, NJ Donut Shoppe for charity
Jason Kelce Photo by Rob Carr/Getty Images and Fractured Prune Photo by Google Maps
On Wednesday, Fractured Prune Donuts of New Jersey announced they have partnered with Philadelphia Eagles All-Pro Center Jason Kelce to sell special donuts with 100 percent of the proceeds going to charity.
The new donut called "The Fat Kelce" made its debut at Kelce's Team62 Fundraiser event at The Ocean Drive in Sea Isle City on Wednesday Morning.  According to the Fractured Prune Donuts of Sea Isle City Facebook page, the new signature donut features a peanut butter glaze topped with crumbled bacon with a chocolate and honey drizzle. The donut is now available at all three Fractured Prune Donut locations at the Jersey Shore: 5004 Landis Avenue in Sea Isle City, 1225 Asbury Avenue in Ocean City, and 2102 Boardwalk in North Wildwood.
All proceeds from the sale of "The Fat Kelce" Donut will go to the BePhilly Foundation, which was launched last October by Jason Kelce in conjunction with Coded by Kids and Heights Philadelphia. The BePhilly Foundation's goal is to improve the lives of students in kindergarten through 12th Grades by investing in getting kids the resources they need in the Greater Philadelphia area for schools that are historically underserved.
To learn more about the BePhilly Foundation and how you can contribute to their efforts (aside from buying some of those "The Fat Kelce" Donuts from Fractured Prune Donuts), you can visit their website here for more information.
25 Best Things to Do in South Jersey — From beaches to boardwalk and everything in between
More From Cat Country 107.3