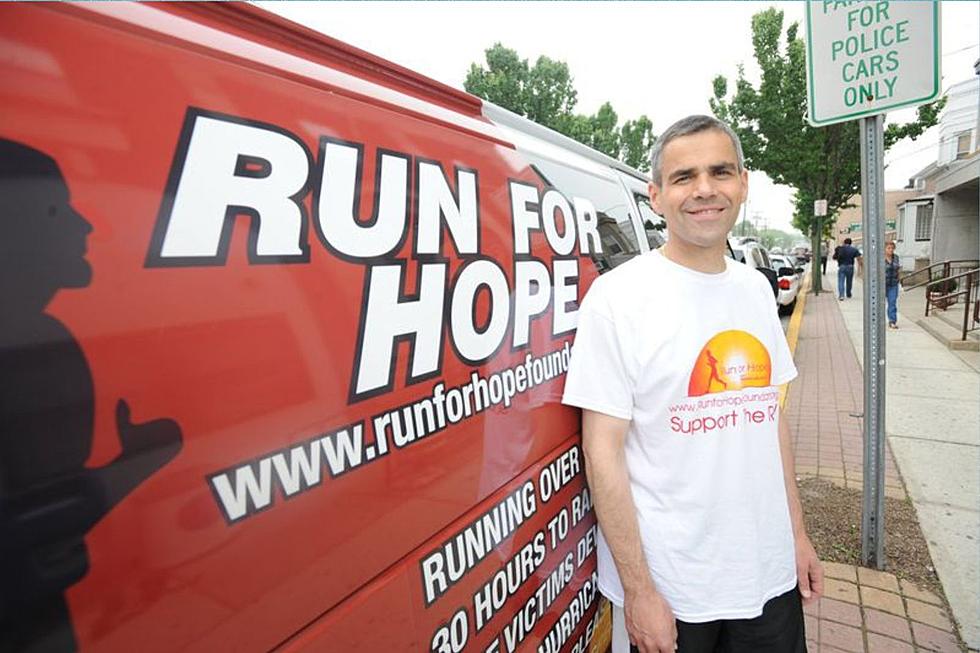 Retired NJ police chief plans to run 200 miles to help fight food insecurity
Frank DelVecchio (Run for Hope Foundation)
🏃‍♂️ A retired Fairview Police Chief will run 200 miles across the state on May 18
🏃‍♂️ The purpose of the multi-day trek is to fight hunger and food insecurity in the state
🏃‍♂️ Residents are asked to donate food and supplies to their local YMCA
---
On May 18 and continuing for three or four days, retired Fairview Police Chief and Run for Hope Foundation Frank DelVecchio will embark on a 200-mile solo run across New Jersey to fight hunger and food insecurity.
"I know it's crazy to run 200 miles, but we need to continue to shine a light on food insecurity," DelVecchio said.
Why is this so important to him?
When the 54-year-old DelVecchio first started volunteering at Feed the Frontlines in Ridgewood, he saw firsthand how the issue of food insecurity was so grand, that it just amazed him.
He would deliver meals to shelters throughout Bergen County and when he would pull up, there would be a line of people waiting.
"Every single food pantry that you would deliver to, their shelves were bare and they can't keep up with the amount of people that are in need right now," DelVecchio said.
In Bergen County, the Food Insecurity Task Force really highlighted this problem to him, and that's why he decided to do this solo 200-mile run across the great state of New Jersey.
Is this his first run?
Absolutely not. DelVecchio is no stranger to doing runs like this. About 10 years ago, he and a friend decided to run from Ridgewood to the World Trade Center because DelVecchio was a first responder on 9-11. He has done that run ever since.
DelVecchio then created the Run for Hope Foundation after Superstorm Sandy in 2012 when so many people were in need. The organization utilizes the sport of running or walking to raise funds for charitable causes.
The foundation has raised more than $150,000 and has supported organizations that benefit cancer research, first responders, the homeless, senior citizens, military families, domestic violence victims, and after-school programs for underserved communities.
Run for Hope is most well known for its annual September 11 run and bike ride which benefits 9/11 families.
"So, I ran from northern New Jersey through Staten Island, back into New Jersey down to Seaside Heights. A little over 30 hours, I ran 106 miles," DelVecchio said.
When it came to training for this upcoming solo run, he said he gained so much knowledge over the last 10 years, especially from the 106-mile run, that he started training on January 2, 2023.
Where will he be running?
DelVecchio will begin his multi-day adventure in the early morning hours on May 18 at High Point State Park in Sussex County (the highest point in the state) and make his way to New Jersey's southernmost tip in Cape May.
The plan is to run five miles, walk one mile, run five, walk one. "The whole theory behind this is whether I'm walking or running is to keep moving forward," he said.
DelVecchio said he hopes to do a minimum of 50 miles per day, catch some sleep for a couple of hours at night, then start the journey again early the next morning.
What happens during the run?
Concurrently, over the course of his run, the Run for Hope Foundation will be partnering with the Ridgewood YMCA to host "Three Days of Action" to fight hunger and food insecurity.
For the three days (from May 18 to May 20), DelVecchio is asking people to deliver food and supplies to their local YMCA or to their local food pantry. Non-perishable food items, as well as paper goods and baby supplies, will be collected.
The Run for Hope Foundation will also be accepting monetary contributions on its website to be distributed to local pantries and youth programs across the state.
Follow DelVecchio's journey:
Since DelVecchio will be running along Route 206 from north to south, anybody who lives in towns along the way may just catch him as he passes by.
For those who don't live there, you can follow DelVecchio on his journey by visiting the Run for Hope Foundation's Facebook page where he will post live broadcast updates.
Jen Ursillo is a reporter and anchor for New Jersey 101.5. You can reach her at jennifer.ursillo@townsquaremedia.com
Click here to contact an editor about feedback or a correction for this story.
Weird things NJ taxes - and some they don't
In general, New Jersey assesses a 6.625% Sales Tax on sales of most tangible personal property, specified digital products, and certain services unless specifically exempt under New Jersey law.
However, the way the sales tax is applied in New Jersey sometimes just doesn't make sense.
New Jersey puts out an itemized list for retailers that spells out what is, and what is not, taxed.
Perhaps because this is New Jersey, there are some bizarre and seemingly contradictory listings.
More From Cat Country 107.3