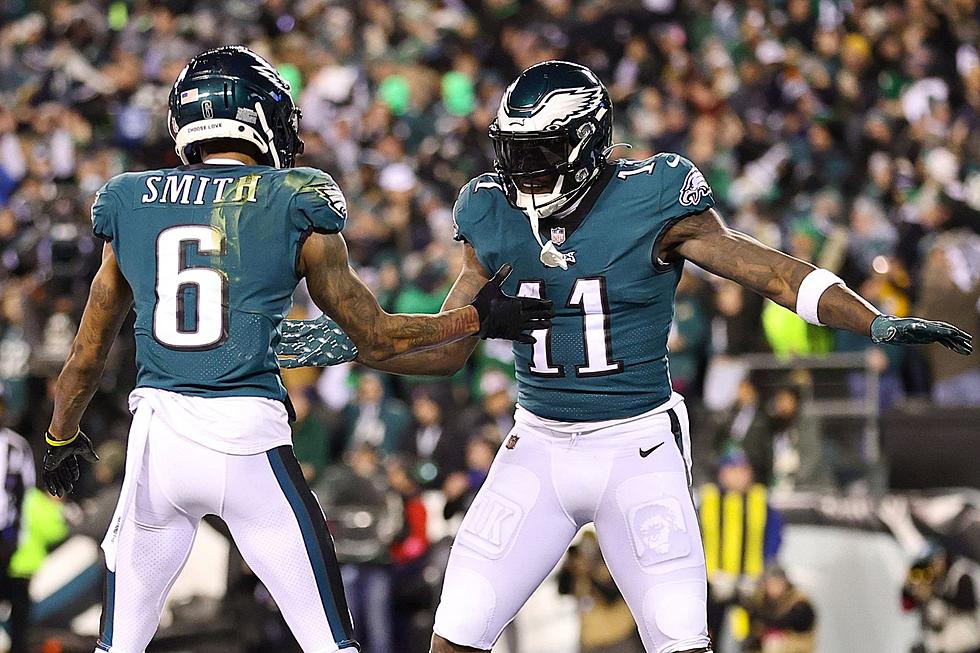 Former Eagles Player says Brown and Smith are best WR Duo in NFL
(Photo by Tim Nwachukwu/Getty Images)
Last season, both AJ Brown and DeVonta Smith set single-season franchise records for the Philadelphia Eagles and entering their second season, they are already in the conversation for one of the best Wide Receiver duos in organizational history. But where do they rank among the best in the NFL for the 2023 NFL Season?
The first season of the AJ Brown and Devonta Smith pairing resulted in historical performances for both players: Brown set the Eagles' record for most Receiving Yards in a season (1,496) and Smith set the record for most Receptions by a Wide Receiver in a season (95, only Zach Ertz has more catches in a year with 116 but he is a Tight End). Now entering their second season together with NFL MVP Runner-up Jalen Hurts, there are high expectations for the Eagles' offense. The Brown and Smith duo is already considered one of the best Wide Receiver Duos in Eagles' franchise history, in the same category as Harold Carmichael and Mike Quick along with Desean Jackson and Jeremy Maclin.
Speaking of Desean Jackson, who is third all-time in Eagles Franchise History in Receiving Yards, the dynamic receiver went to Twitter/X and put out this proclamation about the Eagles' current Wide Receiver duo:
This is a bold declaration by the man known as DJax, considering what other Wide Receiver duos are in today's NFL. The Miami Dolphins have a tandem of Wide Receivers that combined for over 2,000 Receiving Yards (Tyreek Hill and Jaylen Waddle) and Cincinnati Bengals have two Wide Receivers who have combined for 35 Touchdowns over the last two years (Ja'Mar Chase and Tee Higgins).
As I wrote about a few weeks ago, NFL executives and Coaches plus Scouts ranked AJ Brown in the top ten of NFL Wide Receivers heading into the 2023 Season and Devonta Smith landed in the Honorable Mentions.  But the same people ranked Tyreek Hill (4th overall) and Ja'Mar Chase (3rd Overall) ahead of Brown while both the Dolphins and Bengals number two WRs (Waddle and Higgins) received Honorable Mentions too.  So if the Dolphins and Bengals "Number One" Receivers are more highly rated than the Eagles top Wide Receiver, does that elevate the Miami and Cincinnati duos above the Philadelphia tandem?  CBS Sports ranked the Eagles Wide Receiving Duo as the third best in the NFL.
But if Desean Jackson says they are the best, will Eagles fans really disagree with their team's former Number One Wide Receiver?  As the saying goes "Birds of a feather flock together".
Top Ten Eagles Wide Receivers in Franchise History
More From Cat Country 107.3