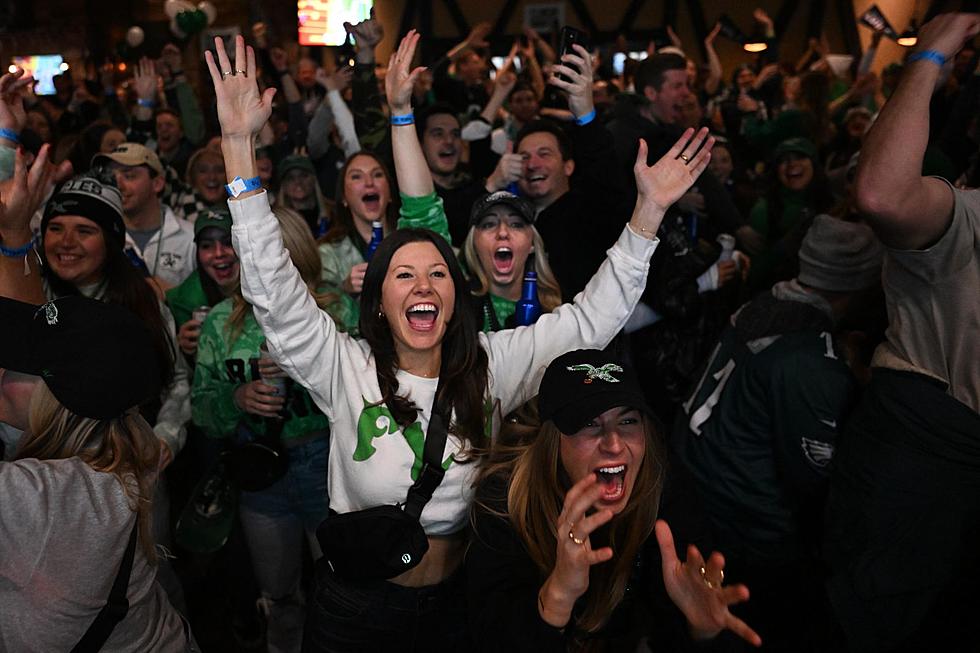 Are Philadelphia Eagles fans top ten most superstitious in the NFL?
(Photo by Mark Makela/Getty Images)
The Philadelphia Eagles start the 2023 NFL season this Sunday and we all know Birds fans who insist on wearing their favorite jersey or being very particular about their game-watching experience.  But are Eagles fans among the most superstitious in all of United States Professional Sports?
The Infographics research team at the website casino.org surveyed over 3,000 Professional Sports Fans from the United States and Canada by asking a series of questions about their pre-game rituals, the traditions and superstitions of their favorite teams, along with reviewing if each fan base's "must haves" for game day. Their research results show that NFL fans are the most superstitious, out of the top 5 major professional sports leagues in North America.
On the rankings of the top ten superstitious NFL fan bases, the Eagles fans are fifth on that list and seventh overall most superstitious fan base. While NFL fan bases with great traditions such as the Steelers, Packers, and Bears are ranked ahead of the Eagles' fans, the reality is that Birds fans are still ahead of the Kansas City Chiefs, Buffalo Bills, Cincinnati Bengals, New England Patriots, and New York Giants.
The most common sports superstitions for Professional Sports Fans include wearing a certain color when attending games (44.4% of those surveyed), wearing a lucky piece of clothing on game day (16.2% ), watching the game in a specific place (8.6%), eating the same meal every game day (6.4%), and avoiding betting on their team (6%).
The number one spot on the most superstitious fan bases is a tie between the Dallas Cowboys and the Los Angeles Lakers. Considering there are so many Cowboys and Lakers fans across the North American continent, that would explain why they landed at the top of this list.  There's no way Cowboys fans should ever be higher on any list than Eagles, Giants, Bills, Steelers, and Chiefs fan bases.  Those five are in the conversation for the most passionate fan bases in all of the NFL.
You can check out all the details from the survey results by visiting the article written by Infographics' Rhiannon Odonohoe here.
Look Back at Past Philadelphia Eagles' Uniforms
We have your look back over the decades of Eagles' uniforms.
More From Cat Country 107.3