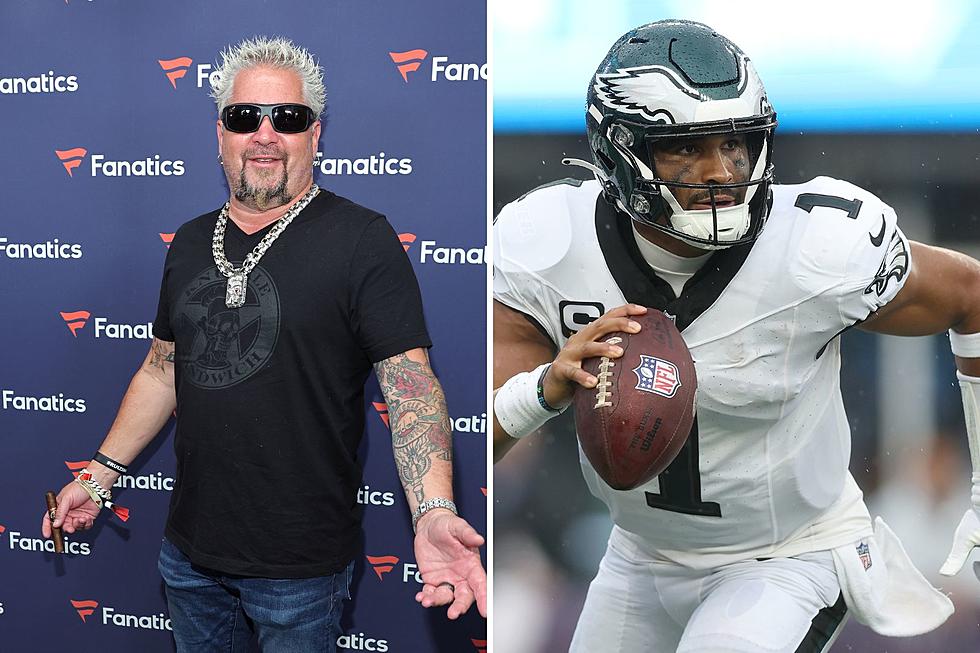 Guy Fieri Released A Line Of The Most Philly Looking Eagles Merch
getty
This Guy Fieri x Philadelphia Eagles collab is out of bounds!
Legendary Food Network star Guy Fieri announced that he's partnering with the Philadelphia Eagles and is bringing something amazing to Eagles fans in Philly and beyond.
If you don't know who Guy Fieri is, he's the host of multiple Food Network shows, but mainly is known for hosting the legendary Diners, Drive-Ins and Dives. It was announced that Guy Fieri is dropping a collection with the Eagles and other NFL teams to bring some amazing merch to the fans just as the season starts to take off.
It pays tribute to not only the legendary Philadelphia Eagles but one of the greatest things to come out of Philadelphia.
A good old-fashioned Philly Cheesesteak. The Mayor of Flavortown is making sure Bird's fans are repping only the best merch this season and hopefully, it will lead us to victory all season long.
The design is an Eagle eating a cheesesteak with the words "It's a Philly thing". How much more "Philadelphia" can these merch items get? The collaboration has already dropped and you can choose the design in either a T-shirt, hoodie, beach towel, thermos mugs, cups, and more.
You can find it either on the Eagles official merch site or lids as of now. Each T-shirt is selling for about $38 and hoodies are going for about $74. F
rom mugs to boxer briefs, flags, and beach towels, there really isn't a piece of merch with this logo for sale that you couldn't make use of. Check out the full collection on the Eagles official merch shop here!
13 Jersey Girls Cheering for the 2023 Philadelphia Eagles
Even though they perform in Philadelphia, New Jersey will be well-represented on the 2023-2024 Eagles cheerleading squad.
These are the Hottest Pop Concerts Happening in Philadelphia in 2023
2023 will bring some of the best concerts from some of our absolute favorite artists to Philadelphia (including Taylor Swift, Ed Sheeran and P!Nk.). Here's a COMPLETE list of all of the shows (so far) & even details on how you can get tickets to Philadelphia's hottest concerts of 202
More From Cat Country 107.3