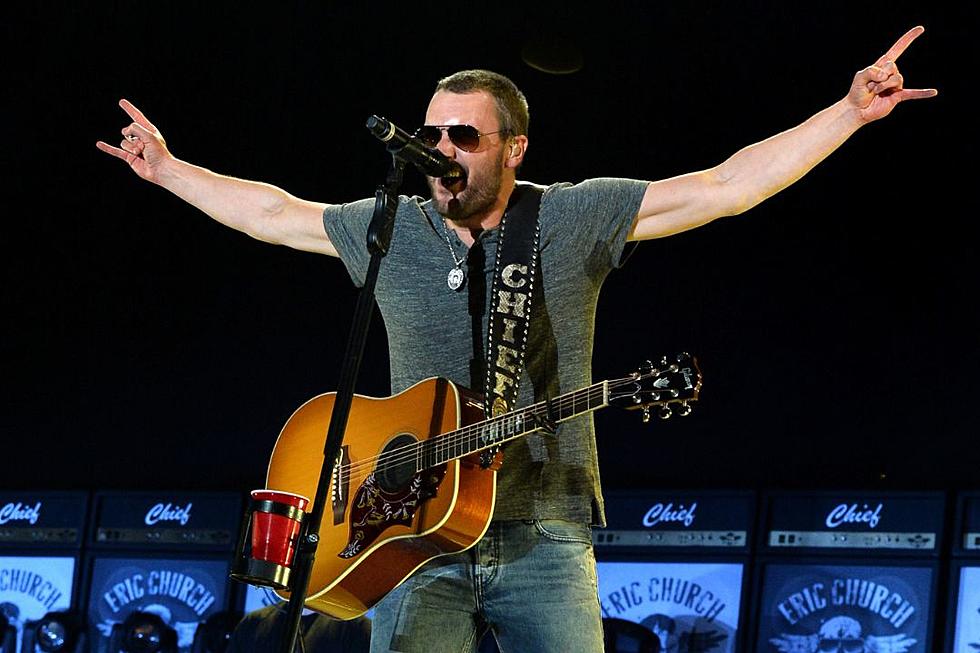 Eric Church Is Getting His Own Exhibit at the Country Music Hall of Fame and Museum
Kevin Winter, Getty Images
He isn't yet eligible to be inducted into the Country Music Hall of Fame, but Eric Church is well on his way. Soon, the Country Music Hall of Fame and Museum will honor and explore Church's life and career in its newest exhibit, "Eric Church: Country Heart, Restless Soul," presented by Gibson.
"Eric Church has done it his way completely," notes Kyle Young, CEO of the Country Music Hall of Fame and Museum. "His steadfast artistic vision and authenticity resonate deeply with audiences, and he continues to serve as an important collaborator and renegade role model for generations of country music artists."
The new exhibit will take a look back at the star's rise to the top in country music: Church started like many, playing local bars and working to get his name in lights, in addition to writing songs with others in Nashville. But uniquely, he gained notoriety after he was kicked off of a Rascal Flatts tour for playing too loud and too long. That was in 2006, and it really kicked off his stardom, as fans gravitated toward his outlaw type of approach to music.
Church fans who visit "Eric Church: Country Heart, Restless Soul" will be treated to an array of things: One of his childhood guitars will be on display, as well as pairs of Church's Ray-Bans, the jacket he wore to sing the National Anthem at Super Bowl LV and the exact Von Dutch hat he bought at a truck stop in the late 2000s that he started to wear on stage every night after.
Church continues to sell out arenas and stadiums, as well as releasing hit record after hit record. This exhibit is a preview of what's to come as much as it's a look back.
"Eric Church: Country Heart, Restless Soul" opens at Nashville's Country Music Hall of Fame and Museum on July 13, 2023 and closes in June 2024. It is included with museum admission.
Evan Paul is the host of Taste of Country Nights, a syndicated radio show heard on more than 120 country radio stations nationwide, every night from 7PM to midnight. He plays the best new country music and interviews today's top stars, like Luke Combs, Miranda Lambert, Dan + Shay, Keith Urban, Carrie Underwood, Luke Bryan, Chris Stapleton, Lady A, Morgan Wallen + more! 
Top 50 Eric Church Songs: His Greatest Hits and Best Deep Cuts
Eric Church
's best song fall into rows. There's the sullen heartbreakers and the grateful lovers. There are the snarling social statements and buoyant bops. OK, there are only a
couple
of buoyant bops on this list of Church's 50 greatest songs, but they exist.
He's been known to sample R-Rated burners and sage truth-tellers — and then there are two songs about murder. So, Eric Church's songs fall into rows, but there are a lot of rows in his 15-year catalog.
His best song? Taste of Country asked fans, staff and the industry to weigh in and then looked at chart success, sales data pop culture importance to choose No. 1 from No. 50. Songs with strong lyrical content rank high. Songs with creative production rank high. Songs with both ended up in the Top 5.
64 Artists Not in the Country Music Hall of Fame
Which county singer is most deserving of a Country Music Hall of Fame induction? Here are 64 artists that don't have a medallion yet, with some thoughts on when each is eligible and if their fans can expect that nod soon.
Class of 2021 Country Music Hall of Fame Medallion Ceremony
Ray Charles, the Judds, Eddie Bayers and Pete Drake were nominated into the Country Music Hall of Fame on Sunday, May 1, 2022. Here are pictures from the ceremony and red carpet.
More From Cat Country 107.3