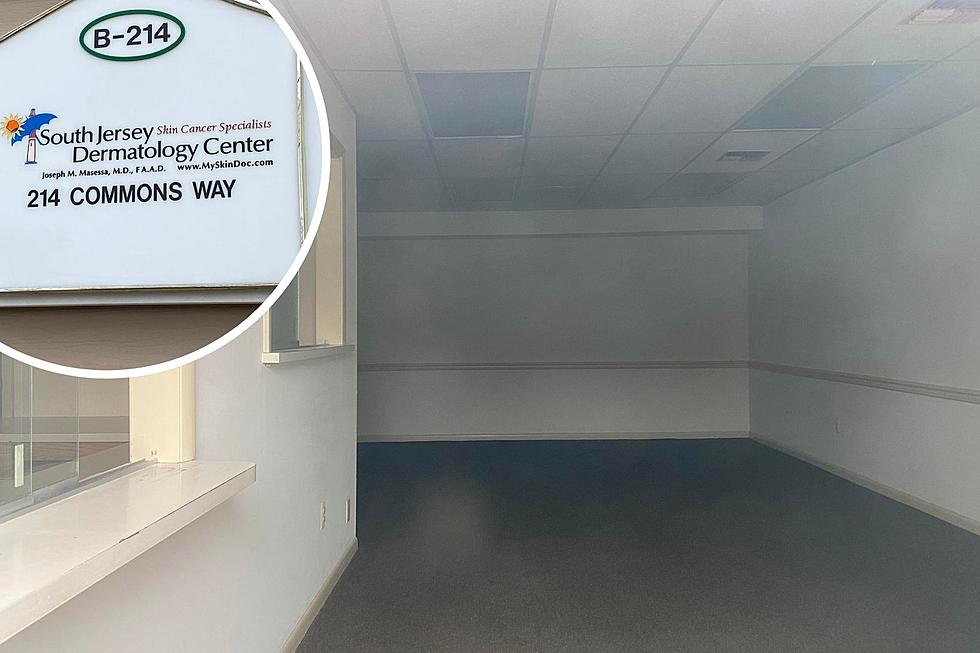 Good news for patients of NJ dermatology practices that closed suddenly
Empty offices of South Jersey Dermatology Center in Toms River (Listener submitted)
🔴 South Jersey & North Dermatology Center suddenly closed in February
🔴 Patients have been trying for months to obtain their medical records
🔴 The owner will now provide records to patients who request them via email or mail
---
After months of no answers, patients of South Jersey Dermatology and North Jersey Dermatology finally have a way to get their medical records after their offices suddenly closed and were emptied without explanation.
South Jersey Dermatology patients found the door of the Toms River and Manahawkin offices locked tight and the furniture removed in February. North Jersey Dermatology offices in Clifton, Parsippany and Rockaway also ran into the same situation. Frustrated patients who could not get a hold of anyone at the offices or on the phone contacted New Jersey 101.5.
Getting patients their records
The Division of Consumer Affairs told New Jersey 101.5 that owner Jeffrey Masessa agreed to email patients with instructions for accessing their records via a secure portal. However, he failed to follow through.
Masessa has now agreed to make all patient files available upon request in either electronic or hardcopy form at no charge to patients in accordance with the Health Insurance Portability and Accountability Act. Requests can be made via email or mail.
Requests can be made via email to: medicalrecords@northjerseydermatologycenter.hush.com or by mail to:
North Jersey Dermatology Center or South Jersey Dermatology
P.O. Box 7768
North Bergen, NJ 07047
NOTE: The above email address was missing a letter. It has been corrected.
Dozens of consumer complaints
The agency has received  53 consumer complaints and have been provided with the email addresses.
"We will continue working with Mr. Masessa to facilitate the release of medical records to patients who request them," a spokeswoman said.
A reason it took so long for the records to be made available can be traced back to the death of Dr. Joseph M. Masessa, the owner of the company, Adult and Pediatric Dermatology Group.
Masessa died in a plane crash at an airshow in Florida in 2019. Upon his death, the company transferred to his brother, Jeffrey Masessa, who is not a doctor. As a result, medical rules did not apply to him and he could not be held accountable with punishment such as the suspension of a medical license.
Jeffrey Masessa told New Jersey 101.5 in March that he had a signed asset purchase agreement to sell his company and offices in New Jersey as well as Florida and South Carolina to Schweiger Dermatology Group of New York. Control of the offices was turned over to Schweiger and employees had "welcome meetings" via Zoom, according to Masessa.
A spokeswoman for Schweiger said there were "discussions" about a sale but no agreement was ever signed and the companies do not have a relationship. Jeffrey Masessa has not returned messages from New Jersey 101.5 since seeking further explanation.
Report a correction 👈 | 👉 Contact our newsroom
Animals gone wild in NJ: Turkeys, tigers, snakes, bears and more
The best of animal encounters — real and a few rumored — from around New Jersey.
Spirit Halloween is back! Here's every NJ location for 2023
Most locations are open by the end of September but check ahead before heading out. Click/tap on the links for each location for more info.
Places in New Jersey where you can now carry a legal gun
New Jersey passed its own law in December, trying to ban legal guns from "sensitive places."
A federal judge found many of those spots to be legally protected on grounds of armed self-defense, noting in her opinion, "Crowded locations are not sensitive places."
As of June,
a federal appeals court granted the state attorney general's request to keep part of the law that bars people from carrying handguns in "sensitive places" in effect. The decision means handguns cannot be carried in places such as zoos, public parks, public libraries and museums, bars, and
health care
facilities. The law bars handguns from being carried in those places as well as schools and child care facilities. The lower court's May injunction did not specify those locations, and the appeals court also didn't remove the prohibition in those places.
More From Cat Country 107.3