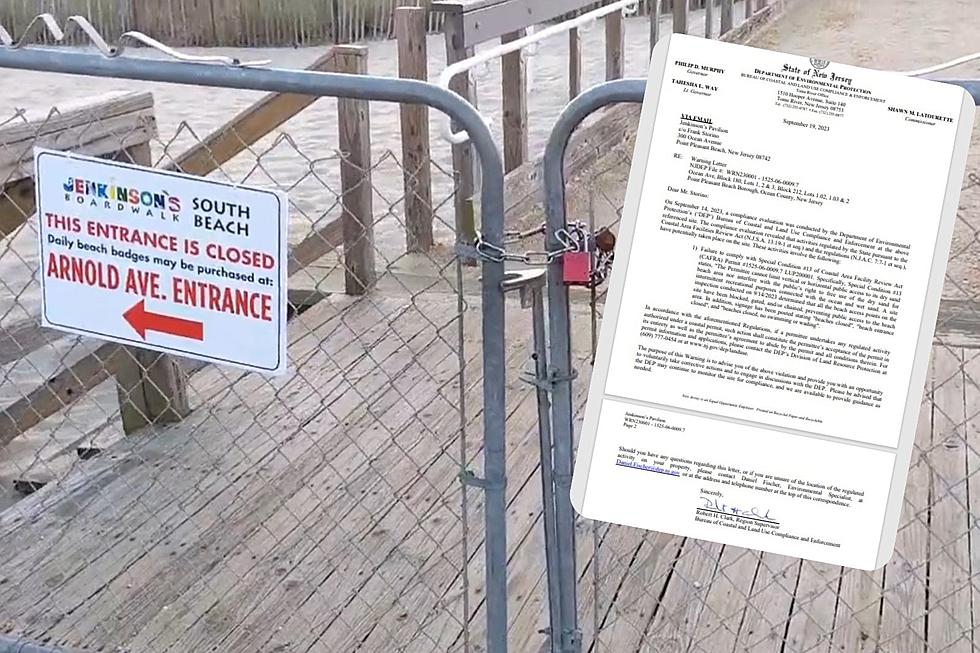 Jenkinson's defies New Jersey by banning public from beach
Locked gate to the beach at Jenkinson's in Point Pleasant Beach 9/21/23 (@ReporterJim via X), DEP letter to Jenkinson's (DEP)
🌊 The entrances to the beach in Point Pleasant Beach were locked after Labor Day
🌊 The state told Jenkinson's to remove the locks
🌊 The locks were still in place Thursday morning
---
POINT PLEASANT BEACH — No one seems to be in a hurry for Jenkinson's to open their gates to the beach following a warning from the New Jersey Department of Environmental Protection.
A letter on Tuesday to Jenkinson's owner Jim Storino said the amusement center was in violation of the Coastal Area Facilities Review Act by locking gates to the beach.
The warning advised Storino to "voluntarily take corrective action" but did not include a deadline or penalty for non-compliance.
Entrance to the beach remains locked
The entrances have been blocked since Labor Day Weekend. As of Thursday morning, the locks remain in place. And no one wants to talk about it.
Point Pleasant Beach Mayor Paul Kanitra, who first brought attention to the closed beaches on his Facebook page, and a spokeswoman for Jenkinson's have not returned messages from New Jersey 101.5.
A DEP spokeswoman said the agency is not commenting further about the letter.
Still time to hit the beach
The letter comes during the shore's second season with people coming to the beach in September and October while the weather is still warm.
There are several events scheduled in Point Pleasant Beach including Saturday's Alzheimer's New Jersey Walk, the American Cancer Society's Making Strides Against Breast Cancer Walk on Oct. 15, Clean Ocean Action's Fall Beach Sweeps and Fisherman's 5K Race Oct. 21 and the Monster Dash 5K Oct. 28.
The beach will likely not be a popular place on Saturday and Sunday as a coastal storm could bring flooding, strong winds and coastal flooding, according to New Jersey 101.5 Chief Meteorologist Dan Zarrow.
Report a correction 👈 | 👉 Contact our newsroom
LOOK: Movie shoot underway in Atlantic Highlands, NJ
Production crews were seen all along the downtown area. Wonder what it could be?
Spirit Halloween is back! Here's every NJ location for 2023
Most locations are open by the end of September but check ahead before heading out. Click/tap on the links for each location for more info.
Remembering Superstorm Sandy: 11 years later
More From Cat Country 107.3