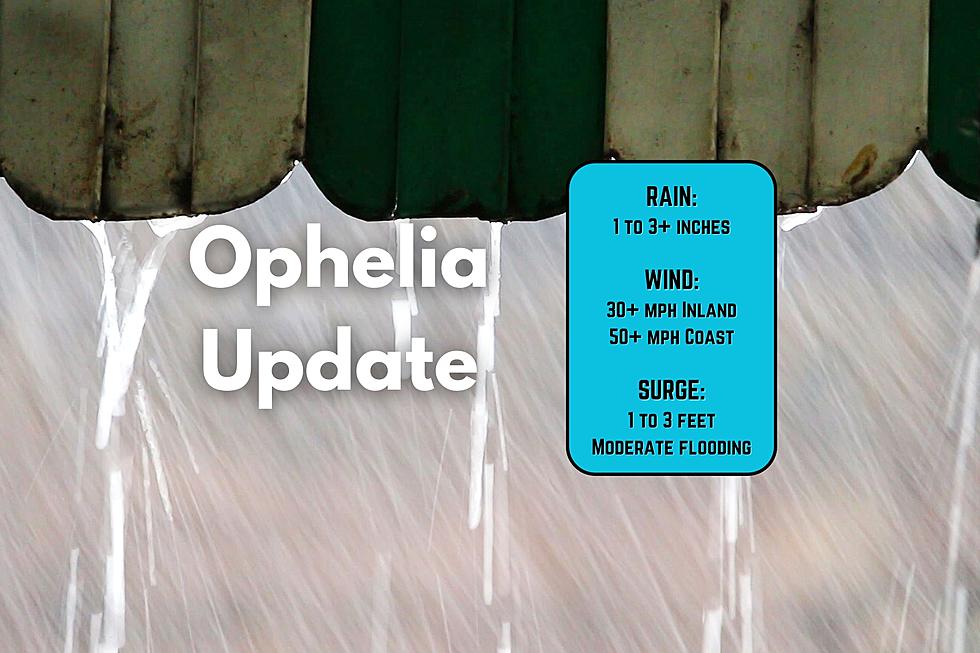 Ophelia is here: A wet and windy weekend for NJ
(Canva)
Happy fall, one and all. The Autumnal Equinox officially arrived early Saturday morning. And what an inclement, sloppy start to the season, as Tropical Storm Ophelia impacts the mid-Atlantic this weekend.
Current Situation
Tropical Storm Ophelia officially made landfall just after 6 a.m. Saturday, near Emerald Isle, North Carolina. As of the 8 a.m. update from the National Hurricane Center, Ophelia is still a strong tropical storm, packing maximum sustained winds of 65 mph.
So far, New Jersey's weather has played out pretty much on-schedule, close to forecast. As of this writing (8 a.m.), everyone in the state has picked up a few hundredths of an inch of rain so far. And the day's first band of heavy rain is traveling from south to north through the state, shooting rain totals closer to an inch.
Meanwhile, the wind is howling at the Jersey Shore. I have seen regular wind gusts to 50+ mph at the beaches so far Saturday morning. Inland NJ is a bit calmer, just "breezy" at this point with 20 mph gusts. But those winds should build a bit as the sun continues to rise.
I do not see the need for any sweeping changes to the going forecast. Other than maybe leaning toward the upper end of the rainfall forecast. (Closer to 3" than 1" for most.) That should not be a huge surprise, given the fact we have tropical moisture parked on top of the state for the entire weekend.
I'm still focused on the threat of power outages and coastal flooding overshadowing any localized flooding due to heavy rain.
Advisories
A High Wind Warning is in effect until 6 p.m. Saturday for coastal Atlantic, coastal Cape May, and coastal Ocean counties. Wind gusts will exceed 50 mph at times.
A slightly less severe Wind Advisory is also in effect until 6 p.m. Saturday for inland Atlantic, southeastern Burlington, inland Cape May, all of Monmouth, and inland Ocean counties. Wind gusts over 40 mph are possible.
A Coastal Flood Warning is posted for Noon to 8 p.m. Saturday for the Atlantic, southeastern Burlington, Cape May, and Ocean county waterfronts. Widespread moderate category flooding is expected, due to upwards of 3 feet of storm surge.
A less severe Coastal Flood Advisory calls for widespread minor flooding of tidal waterways in the following counties, in effect for the following time windows on Saturday:
--1 p.m. to 7 p.m... Cumberland, Middlesex, and Monmouth counties
--4 p.m. to 9 p.m... Salem county
--7 p.m. to Midnight... Northwestern Burlington, Camden, and Gloucester counties
There is also a High Surf Advisory in effect for Atlantic, Cape May, Monmouth, and Ocean county beaches until 4 a.m. Sunday.
Please note also what is NOT in effect. We are not under any sort of tropical storm or hurricane warning. There are no advisories posted for flash flooding due to heavy rain. And nothing regarding a severe thunderstorm or tornado threat either.
A Wet and Windy Weekend: Timeline
Pockets of heavy rain will continue traveling from south to north, especially Saturday morning. This is the "brunt" of the storm.
There may be more of a rainfall lull Saturday afternoon (after about 1 p.m.)
Strong northeasterly winds will howl throughout Saturday's daytime hours (until about 6 p.m.)
The next high tide along the oceanfront will be Saturday afternoon around the 2 p.m. hour. Back bays will crest closer to 6 p.m. Delaware River after 8 p.m.
As Ophelia's center approaches, scattered moderate to heavy rain will pick up again Saturday night into Sunday morning.
Sunday will still be windy, although I suspect less gusty than on Saturday.
A drying trend may kick in Sunday afternoon.
Final raindrops probably will not depart New Jersey until sometime Monday.
A Wet and Windy Weekend: Impacts
Total Rainfall: 1 to 3+ inches. Heaviest totals south and coast. (Probably leaning toward the high end of that range in general, based on the latest guidance.)
Top Wind Gusts: 50+ mph coast. 30+ mph inland. Power outages, downed branches, and driving difficulties are likely.
Storm Surge: 1 to 3 feet, causing Moderate flooding along Ocean, Atlantic, and Cape May county tidal waterways. Minor flooding expected for Monmouth County, the Raritan Bay, the Delaware Bay, and the Delaware River.
Wave Heights: 8+ feet, causing beach erosion and obviously presenting a high risk of rip currents up and down the Jersey Shore.
Tornado Risk: Low, but not impossible.
Updates All Weekend
Our team is fully mobilized to keep you informed on Ophelia's progress and effects all weekend long. I will have regular updates across the Townsquare Info & Weather Network all day Saturday, and possibly Sunday if needed. If anything hits the fan, you'll be among the first to know via our on-air and online channels.
Thanks for following along this weekend. Stay smart and be safe out there.
25 costliest hurricanes of all time
Dan Zarrow is Chief Meteorologist for Townsquare Media New Jersey. Follow him on Facebook for the latest forecast and realtime weather updates.
11 reasons why storm chasing in NJ is a very, very bad idea
More From Cat Country 107.3