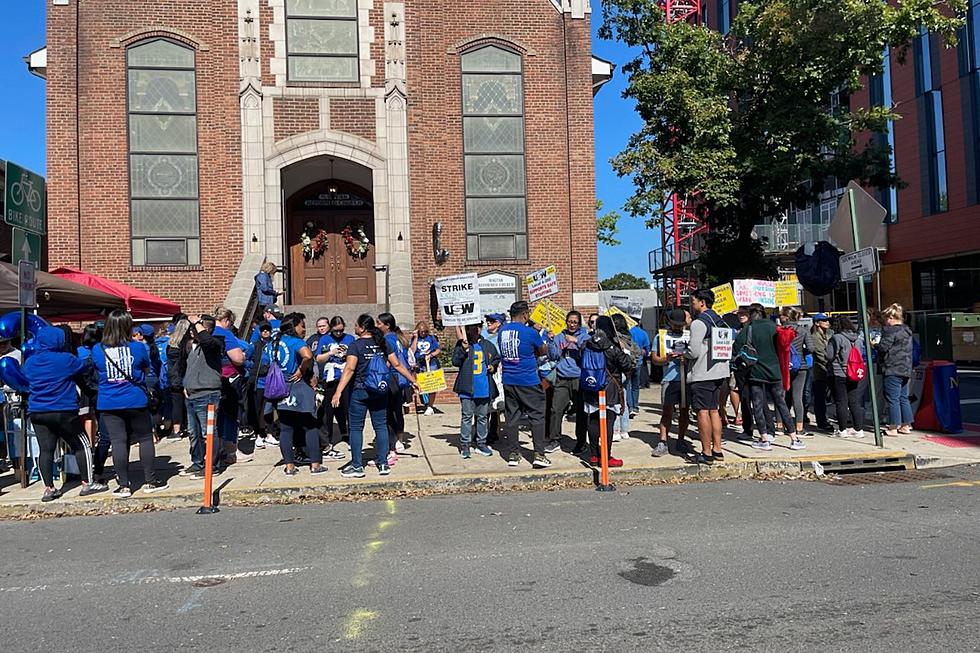 RWJ nurses vote to keep striking after NJ judge says they're too noisy
Striking Robert Wood Johnson University Hospital nurses after their vote 9/19/23 (Renee Bacany)
🔴 Nurses will remain on the picket lines indefinitely as no talks are scheduled
🔴 The nurses overwhelmingly rejected two chances to end the strike
🔴 A judge ordered a limited number of picketers and a reduction in noise
---
NEW BRUNSWICK — Striking nurses at Robert Wood Johnson University Hospital have rejected two opportunities to end their 46-day-old strike and will stay on the picket lines.
Members of United Steelworkers Local 4-200 Tuesday turned down an offer from RWJUH initially made Aug. 2 that the hospital said was never submitted to union members for consideration. They also rejected an offer to send the dispute to binding arbitration and return to work.
Of 1,256 votes cast, 1,117 rejected the hospital's offer, according to Renee Bacany, a veteran nurse who is a member of the union' bargaining team.
"I am very happy and ecstatic at the nurses for standing together in solidarity," Bacany told New Jersey 101.5. She said a date was not set for the next bargaining session and the union negotiating team will be strategizing their next steps on Wednesday.
Calls for Gov. Murphy to get involved
Bacany said she believes Gov. Phil Murphy should follow through on his comments that both sides should get into a room, lock the door and work on an agreement. So far he has not followed through.
"Other than his statement that he thinks that we should move towards working on an agreement, I would like him to take the next step," Bacany said. "I want to be behind closed doors, with the hospital, face to face to figure this out for the best of the patients and the community."
"Deeply disappointed" in the vote
"We are deeply disappointed that United Steel Workers 4-200, the union representing our nurses, voted today to prolong their strike indefinitely," said Robert Wood Johnson University Hospital spokesperson Wendy Gottsegen in a statement.
Gottsegen said their offer would have ensured the state's highest staffing standards and nurse compensation for the union's 1,700 members.
"It is clear by today's action that the union does not share in our commitment to reaching a resolution that ends this strike immediately and prioritizing the wellbeing and livelihood of their nurses and families," Gottsegen said.
Quieter picket lines
The picket line will be a bit quieter after a judge issued an injunction limiting the number of striking nurses.
Union president Judy Danella told New Jersey 101.5 morning host Bill Spadea on Tuesday that only up to 10 members will be allowed to picket at a time. The members can not use megaphones or make any noise while they march.
Up until the injunction, several hundred nurses at a time were marching with megaphones, drums and other noise makers.
"Basically what they told us was that was we are harming patients and we are a hindrance," Danella told Spadea.
Hospital says strikers are aggressive
Gottsegen said the injunction also bars striking nurses from blocking entrances and exits to parking decks and "other obstructive behaviors designed to disrupt care."
"The issue is not about noise or restricting a peaceful demonstration, which we fully support. The judge issued the order in response to the increasingly aggressive activities that began last week. This order is needed to prevent injury or worse from the increasingly dangerous activities of the picketers."
According to Danella, the injunction remains in place until the union's hearing on Friday to make their case in front of the same judge.
Report a correction 👈 | 👉 Contact our newsroom
Animals gone wild in NJ: Turkeys, tigers, snakes, bears and more
The best of animal encounters — real and a few rumored — from around New Jersey.
11 years later — Sandy makes landfall in New Jersey
Check out this house that sold for $900K in Union, NJ
It was the highest sale in about three years and roughly 180% above the median home sales price in the township as of July 2023. Here's a look at the four-bedroom, four-bathroom house.
More From Cat Country 107.3