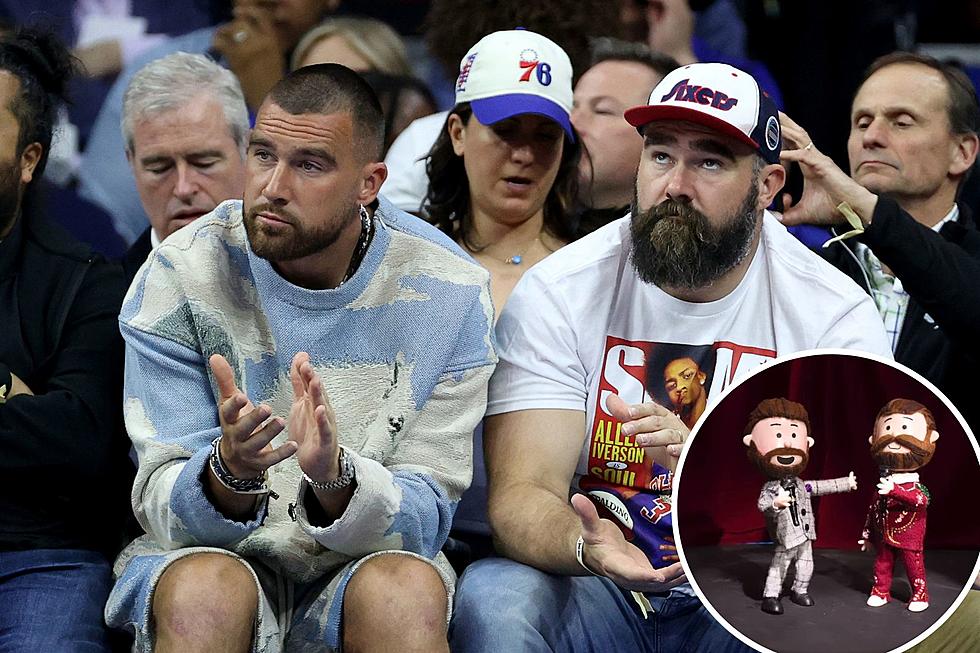 NFL's Kelce Brothers Sing Together on New Christmas Song 'Fairytale of Philadelphia'
Getty Images; aphillyspecialchristmas/Instagram; Canva
The Christmas collab we never knew we need (but had secretly hoped for) has arrived! Brothers Jason and Travis Kelce are singing a Christmas song together.
I don't even know that I can actually HANDLE 'Fairytale of Philadelphia'! It's that good.
Several members of the Philadelphia Eagles football team came together to record their second Christmas album titled 'A Philly Special Christmas Special'. The proceeds from sales and digital downloads of the album benefit various charities in and around the Philadelphia area.
I'm not surprised that Jason Kelce, Jordan Mailata, and Lane Johnson agreed to get back into the studio together to record more holiday classics, but I AM surprised Jason convinced his younger brother Travis to sing with him.
Travis has been a LITTLE busy lately, in case you hadn't heard, lol. This girl named Taylor Swift has been taking up a lot of his free time.
Not only is there now an official Christmas song featuring The Kelce Brothers, but there's an adorable, animated video to go along with it. Take a look below! Is there anything these two CAN'T do?
I secretly want to believe Taylor Swift helped with the lyrics and/or production of this song, or at the very least, gave Trav some studio pointers, lol.
'Fairytale of Philadelphia' is now streaming everywhere, and the 'A Philly Special Christmas Special' album is available on limited-edition vinyl.
13 Jersey Girls Cheering for the 2023 Philadelphia Eagles
Even though they perform in Philadelphia, New Jersey will be well-represented on the 2023-2024 Eagles cheerleading squad.
Gallery Credit: Heather DeLuca
9 Notable High School Alum from South Jersey
These celebrities were born, raised, and graduated in South Jersey. While you may be aware of a few, some may come as a surprise!
Gallery Credit: Heather DeLuca
More From Cat Country 107.3