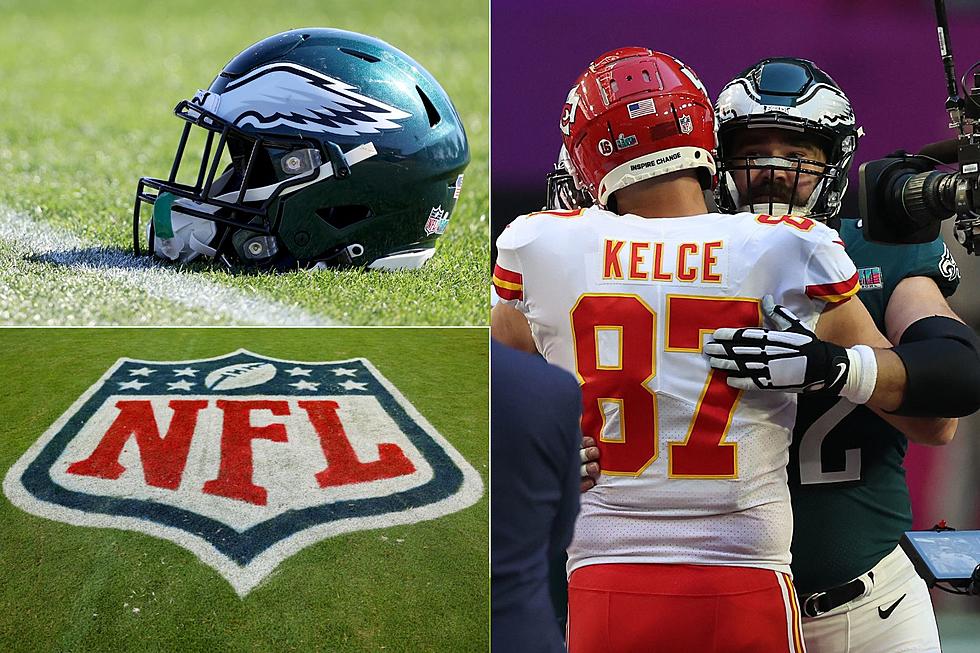 Eagles Are Top 5 NFL Team On Social Media Thanks To The Kelces
Photos from Getty Images
The NFL is a multi-billion dollar business and each year has the most watched shows on both linear and streaming platforms. But on Social Media, popularity is measured by Followers and there is a clear delineation between different teams with their online popularity.
The research team at Gambling.com did the leg work to measure how much each NFL team's popularity has grown on Social Media since September.  They gathered information on follower trends from Social Media Platforms: Instagram, YouTube, TikTok, and Facebook.
To anyone who is a Philadelphia Eagles fan or Kansas City Chiefs fan, it is no surprise that these are the two NFL teams with the largest social media followings and are top two in social media growth this year.  Aside from the passionate and long-standing fan bases in both cities, there is another reason these teams' social media accounts sit in the top five most popular NFL teams online:
Yes, Taylor Swift is the Ultimate Social Media Influencer in 2023 and because she is dating Chiefs Tight End Travis Kelce, her proximity to the Kansas City All-Pro has the Social Media Platforms for the Chiefs gaining 942,767 new followers.  Also, because Taylor's man, Travis, hosts a weekly podcast, New Heights, with his brother, Jason, the All-Pro Center for the Eagles, Philadelphia's social media following has increased by 624,873.
The Kelce Brothers have the number-one Sports Podcast in the world right now and they have skyrocketed up the rankings of all podcast categories. Even though the brothers from Ohio rarely ever talk about Taylor Swift, her proximity to them had indirectly created a swell of popularity for them.  Before Taylor and Travis started dating, the Kelce Brothers Podcast was consistently in the top five most popular sports podcasts.
Overall, the Philadelphia Eagles are the fourth most popular NFL team on social media. Here is the top ten list of NFL teams by Total Number of Followers/Subscribers/Likes on all Major Social Media Platforms:
1. Dallas Cowboys - 15,446,844
2. New England Patriots - 13,049,749
3. Pittsburgh Steelers - 11,655,651
4. Philadelphia Eagles - 9,285,731
5. Kansas City Chiefs - 9,147,348
6. Green Bay Packers - 8,677,255
7. San Francisco 49ers - 8,665,982
8. New York Giants - 7,781,711
9. New Orleans Saints - 7,029,742
10. Chicago Bears - 6,636,392
Top Ten Philly Athletes Age 25 or Younger
Philadelphia has some great young athletes right now, from NFL MVP Runner-up Jalen Hurts to NL Gold Glove Award Finalist Bryson Stott to 30 Points Per Game Scorer Tyrese Maxey. In honor of the Philly Sports teams Youth Movement, here are my rankings of the top ten Philadelphia Professional Athletes who are 25 years old or younger:
Gallery Credit: Josh Hennig/Townsquare Media
More From Cat Country 107.3