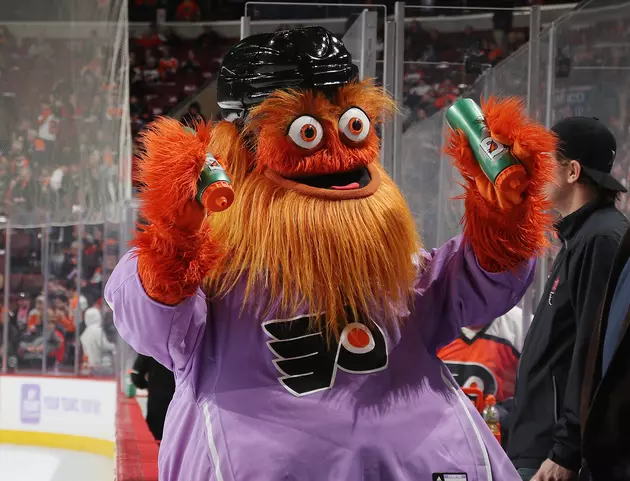 You Can Buy a 2024 Gritty Calendar
Credit: Getty Images
If you're a true Philadelphian, I just found the perfect way to ring in 2024. The Philadelphia Flyers have launched a Gritty calendar. And it's EVERYTHING you need for 2024.
Gritty Calendar for 2024 Now Available
The Philadelphia Flyers just announced that they're selling the FIRST-EVER Gritty calendar for 2024.
The calendar, which is available for sale now on the Flyers website, features Philly's beloved mascot "in specially-themed outfits and costumes." Of course, they're timed to the season.
Imagine flipping the page to a new year, and being greeted by those adorable eyes that only a Philadelphian could love.
It also includes the Flyers 2024 schedule of games and "handwritten notes and reminders from Gritty himself," they say.
12 Months of Gritty? Sign Us Up!
We can't wait to see all of the seasonally appropriate photos of the town's biggest superstar.
"Greased up firefighters have been real quiet since they found out I was getting into the calendar game," Gritty said "It doesn't matter where you hang it. What matters is that I did a good thing for charity and you have an opportunity to do a great thing for charity when you buy it.
How To Buy a 2024 Gritty Calendar
You can purchase a 2024 Gritty Calendar right now for just $25 apparently. They're for sale at FlyersCharities.com right now. And I gotta say, I think these bad boys could sell out.
Proceeds from the calendar benefit Flyers Charities and support their mission of giving back to the Greater Philadelphia region. They support local families impacted by cancer, they are committed to growing the game of hockey; and to supporting sustainability and environmental responsibility.
More From Cat Country 107.3