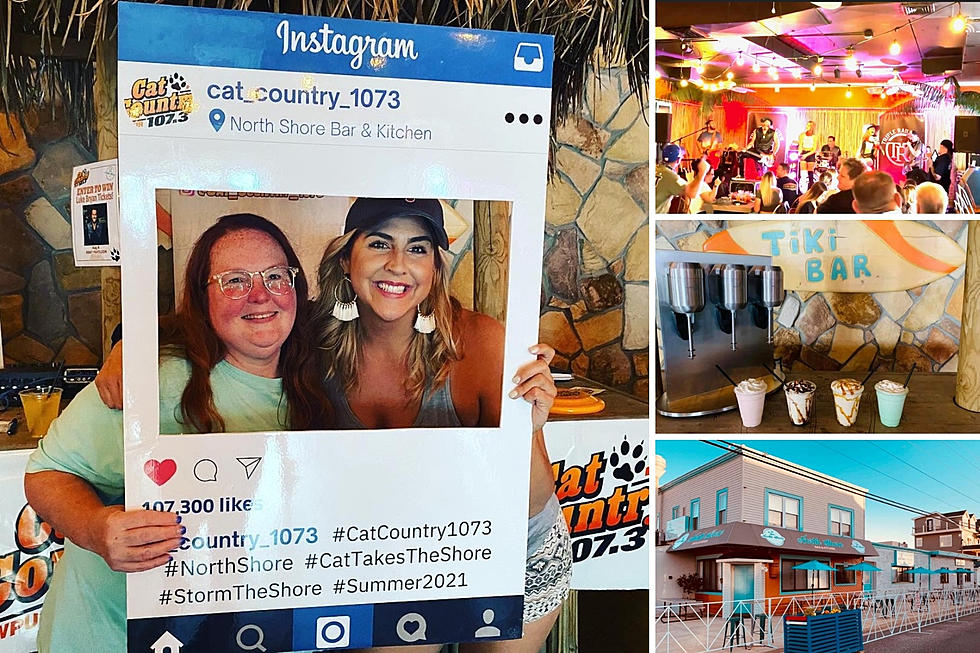 Why Jahna Loves Country Nights at North Shore Bar & Kitchen
Townsquare Media, North Shore Bar & Kitchen
If you listen to Joe and I on Thursdays, the first thing out of my mouth Thursday morning is #TGIT: thank God it's Thursday. THIRSTY THURSDAY, that is. That's our bit; Joe acts like he's annoyed about how excited I get for Thirsty Thursday every week.
Another huge #TGIT moment is Country Night at North Shore Bar & Kitchen in North Wildwood. Hometown Heroes (first responders, military and frontline workers) get 20 percent off and Triple Rail Turn takes the stage from 6-10 p.m. Starting July 1, I'll be out there, too, broadcasting live from 5-7 p.m.
I'd love to see you out there, and I've pulled together a list of other things you're sure to love about North Shore Bar & Kitchen:
1) All Day Happy Hour! North Shore pays homage to the Alan Jackson/Jimmy Buffet song "It's 5 O'clock Somewhere" because it's Happy Hour all day long with $3 domestics, $4 imports, and $5 craft beers (including Cape May).
2) Awesome Signature Drinks. They offer boozy milkshakes and fun, fruity cocktails (Blackberry Lemonade, Blueberry Mojito, Summer Punch...) but I definitely recommend the Orange Crush DIPG. It's Tito's, fresh-squeezed orange juice, Triple Sec and club soda, and the best part is that $2 from every drink sold this summer will go to the Storm the Heavens Foundation.
3) The Tiki Vibe. Nothing feels more like the beach/a place to relax than somewhere with a laid-back tiki vibe. North Shore's the spot to go when you want to forget your troubles for a while and relax with friends and some good live music.
4) Live music. We've waited a year to finally have live music back, and it's nice to hear our favorite songs live and in-person again.
5) The Food. Anywhere that has $1 oysters all day is my kind of place. I'm all about the seafood. The Captain Jack's ribeye sandwich with Rylie's Island Fries are my go-tos when I'm feeling a good carb cheat-day. Picture a sandwich of prime rib with cajun spices, sweet pepper, fried onion, Swiss cheese and a horseradish dijon with fries topped with lump crabmeat and spicy crab gravy.
Keeping with the carb and seafood combo, their Seafood Donna entree is the perfect choice if you're craving something from the water with a little Italian twist. Can't forget about the Cajun Seafood Boil, either. YUM. They even have some great choices for the kids, too, if you want to bring them out for some fun.
6) Fun Staff. Everyone at North Shore from the bartenders and servers to management always puts you first. You really can forget about life for a second and enjoy yourself because that's the staff's number one priority: showing you a good time.
What are you waiting for? Head over to Country Night every Thursday at North Shore Bar & Kitchen, 301-303 New York Ave., North Wildwood. I'll see you there!
More From Cat Country 107.3