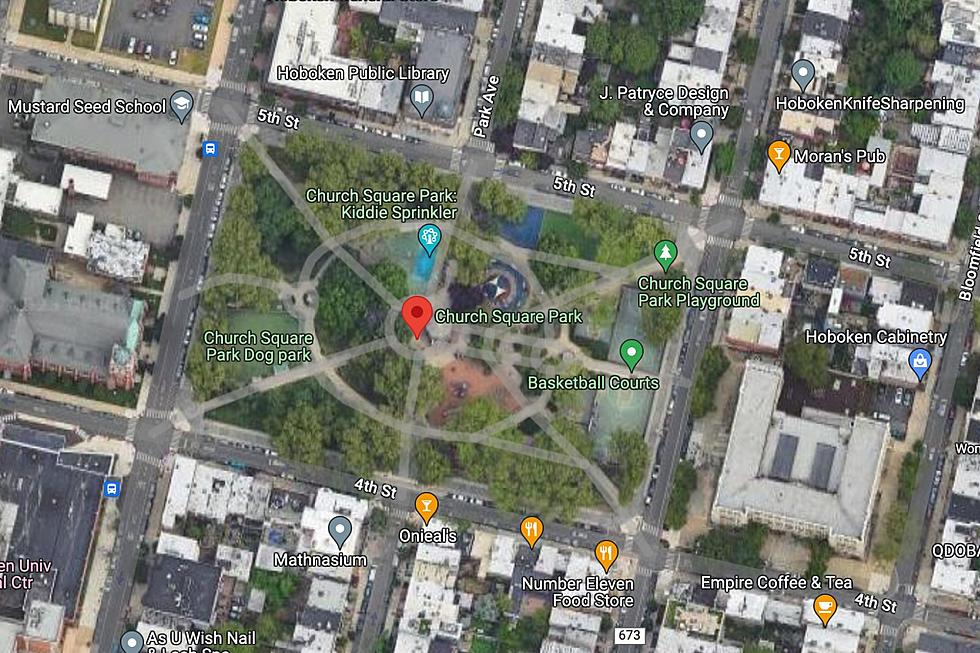 Lewdness, homelessness beset park in NJ city where monthly rents go for $4,200
Hoboken Church Square Park (Google Maps)
🔺 Hoboken park sees spike in homeless residents, city officials say
⛔ A man was accused of exposing himself in the NJ park
🔺 Police step up patrols, while social workers are involved
---
HOBOKEN — The Mile Square City, the once gritty birthplace of Frank Sinatra that became one of the most expensive places to live in New Jersey, is struggling with a rise in homelessness.
A 32-year-old city man has been busted for exposing himself in a popular park, which officials said appears to be dealing with an increase in activity among homeless residents.
Wander Torres, who has no permanent address, was charged with lewdness and terroristic threats after he exposed himself at Church Square Park, according to a city spokesperson.
Hoboken police had responded to a call of Torres, indecently sitting on a park bench on Friday, Aug. 25 before 11 a.m.
When the person who reported the incident pointed him out, Torres then verbally threatened them, officers said.
Torres was taken to Hudson County jail and was found to have an active warrant from Union City for disorderly conduct.
Police have received recent complaints about "quality of life" issues in the park, which features a playground and pavilion and is blocks from the campus of Stevens Institute of Technology.
In response, an increase in routine police patrols has been planned in and around Church Square Park.
Hoboken's social workers have also been meeting with those experiencing homelessness — in the park and several other locations — to connect them with the services they need.
The median rent in Hoboken is over $4,000 while the average home value is over $700,000.
Any criminal, disorderly or suspicious activity can always be reported to Hoboken police at 201-420-2100.
Report a correction 👈 | 👉 Contact our newsroom
LOOK: The 50 best small towns to raise a family in the U.S.
30 Hilarious Minor League Baseball Teams That Sound Fake, But Are Actually Real
We went through every Major League Baseball team's Minor League affiliate list to find the most hilariously creative team names and the ballpark promotions they present to their fans. From biscuits to Mullet Thursdays, here are 30 of the best Minor League Baseball team names and ballpark promotions.
LOOK: Do you know these 50 famous acronyms?
This list from
Stacker
features a collection of the most common acronyms and their meanings. Popular abbreviations include establishments like ACLU, YMCA, ad the AARP.
More From Cat Country 107.3