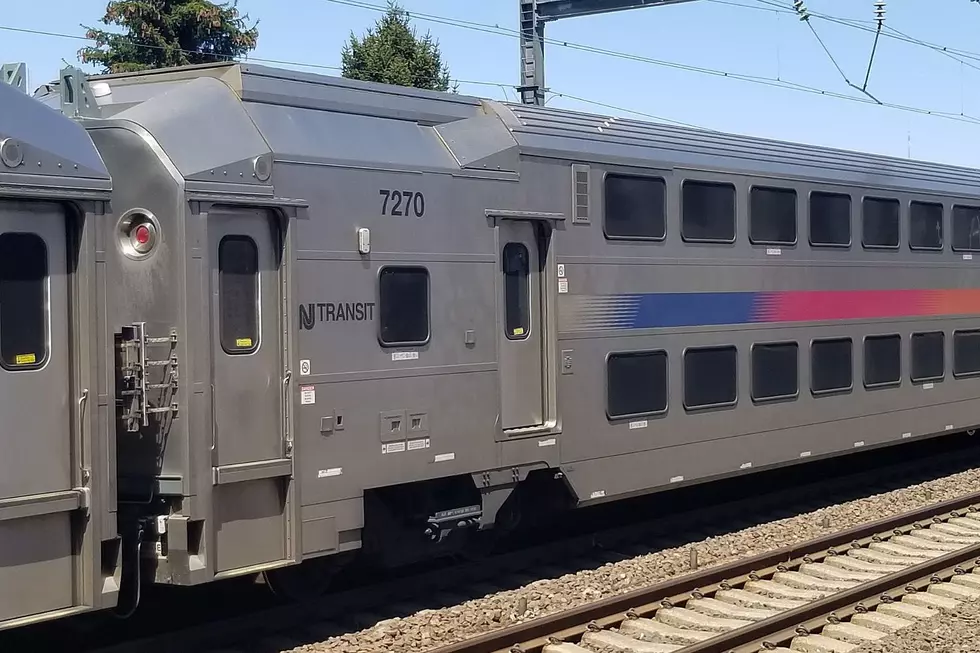 NJ Transit is summer ready with extra service, deals
Dan Alexander/Townsquare Media
🚂 NJ Transit will offer more rail and bus service to the Jersey Shore this summer
🚌 More trains and buses will be available from Philly to Wildwood and Cape May
🏖 NJ Transit has deals and promotions to the beach, the rides and the racetrack
---
Summer officially starts on June 21, but NJ Transit's "Summer Vibes" are already in full swing with enhanced rail and bus service heading down the Jersey Shore.
The agency says additional weekend shuttle trains are also available between Long Branch and Bay Head and express bus service from Philadelphia to Wildwood and Cape May. The agency has also rolled out a number of deals and discounts for riders.
What is being offered?
Starting on June 18, NJ Transit's Summer Shore Service will provide additional weekend North Jersey Coast Line shuttle trains between Long Branch and Bay Head. These add-ons will increase the weekend frequency to hourly from approximately 7 a.m. to 11 p.m.
Starting on June 24, NJ Transit Bus Route 316 will resume daily seasonal summer service from Philly to Wildwood and Cape May. This express bus also offers service to the Gloucester Premium Outlets in Blackwood.
Riders can save more than 25% when they buy tickets with the round-trip excursion fare, which is $30 between Philly and Wildwood and $33 between Philly and Cape May.
Round-trip excursion tickets are available using the NJ Transit Mobile App, or at Philadelphia 30th Street Station, or Wildwood Terminal via NJ Transit ticket vending machines. They are good for up to 10 days from and including the date of sale.
NJ Transit is also offering discounts and deals that include beach packages, express buses to Six Flags Great Adventure, rail service to the Monmouth Park Racetrack, and "Buy One Get One Free" deals.
What is North to Shore?
This promotion offered by NJ Transit features 10% off round-trip travel to Asbury Park and Newark for North to Shore music events. Customers can use location-based discount codes for travel to the Asbury Park shows from June 14 through June 18 and to Newark from June 21 through June 25 to see these acts.
For more information, visit here.
What are beach excursion fares?
NJ Transit is giving customers the chance to get to the Jersey Shore from New York City for under $20 on weekdays.
Customers traveling to Long Branch and stations farther south on the North Jersey Coast Line can use a special promo code in the NJ Transit Mobile App to save over 40% off regular fares.
Use a promo code to receive the discount through June 30. Click here for the code. A new code is active each month. Promo codes are only valid for same-day, weekday activation, and each code allows customers to purchase and activate up to two round-trip tickets at a time.
What about South Jersey and New York City?
Customers in South Jersey can get to the shore via NJ Transit too. On weekends in June, riders can use the promo code in the NJ Transit Mobile App and receive a 50% travel savings on the Atlantic City Rail Line between Philly and Atlantic City.
NJ Transit customers can also use special promo codes in the app to receive a 40% discounted round-trip ride to either New York City or Philadelphia. Each city-based code allows customers to purchase and activate up to two round-trip tickets to be used that same day.
Visit the New York site and the Philly site to get the code for your savings.
What is BOGO, NJ Transit style?
A promo code in the app is needed to "Buy One, Get One Free" round-trip between any origin and destination during the month of June. Click here for a new code each month. All tickets expire at the end of the promotion on Sept. 4.
Going to Six Flags or Hurricane Harbor?
Customers can use the No. 308 express bus for travel to and from the park. The bus operates between the Port Authority Bus Terminal in New York and Six Flags, with an intermediate stop at Newark Penn Station.
Customers can use the NJ TRANSIT Mobile App to purchase packages, which saves up to $50 off round-trip bus tickets and admission passes to the Theme Park or Hurricane Harbor.
Packages purchased on the app include round-trip transportation and discounted admission to Six Flags Great Adventure or Hurricane Harbor. Each NJ TRANSIT Mobile App account can purchase up to six packages. For details, visit here.
Going to the beach?
Customers can save up to $6.50 on admission to Asbury Park or Ocean Grove beaches on weekends and holidays by purchasing a round-trip train fare and a discounted beach pass for one low price.
Beach packages are only available at NJ Transit ticket vending machines (choose "Beach Package") or at ticket windows. This offer is available now through Sept. 4. Visit here for more information.
In the mood for some horse racing?
NJ Transit has a great discount package for Monmouth Park Racetrack. Customers can take North Jersey Coast Line trains to Monmouth Park Station when the track is open for live racing through Sept. 10.
NJ Transit's Monmouth Park package, which includes round-trip transportation, general admission, and an official racing program, is a total savings of up to $6.50 off the face value if purchased separately. The Monmouth Park package is available only at ticket vending machines and ticket office windows. You can find more information here.
Details for all summer promotions can be found here.
Report a correction 👈 | 👉 Contact our newsroom
NJ's crazy haze, choking smoke, and sinister sky
More From Cat Country 107.3