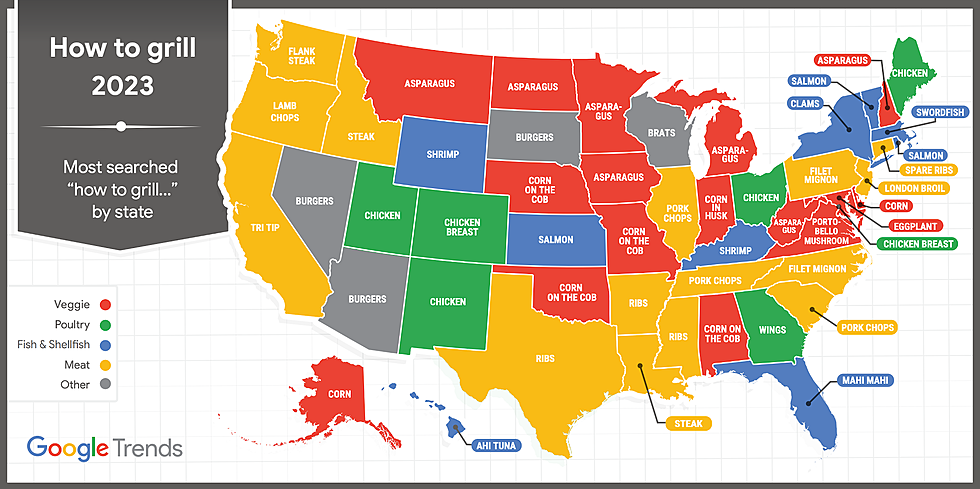 NJ Surprise? – Top Googled Food Report for July
google
Google just released its latest report on "how to grill" for the July 4th weekend, and there are some surprises! Here in New Jersey, our top searches didn't include the usual suspects like chicken, steak, or seafood. But before I reveal our New Jersey grilling mystery, let's look at what people in other states were searching for.
In six states, including Utah, Colorado, New Mexico, Ohio, Maine, and Georgia (where wings took the lead), chicken was the most searched item. Meanwhile, 19 states showed their love for other meats, with top searches featuring burgers (in Nevada, Arizona, and South Dakota) and steak, ribs, pork chops, and brats.
Now, back to New Jersey. Our top search was for London Broil. It's pretty intriguing. There could be a couple of reasons for this. Maybe we're already grilling masters when it comes to burgers and chicken, so we don't need to search for them. Or we're not quite sure what to do with London Broil, so we turned to Google for some grilling inspiration. Who knows?
Seafood took the crown in nine states, especially across New England, where searches focused on shrimp, salmon, swordfish, and grilled clams (which topped the list in New York).
In other grilling trends, veggies were a hit in 16 states, with corn and grilled asparagus stealing the spotlight. Maryland residents were fond of grilling eggplant, while folks in Virginia were looking for grilled portabella mushrooms.
When it came to sides, the most popular searches in the past week revolved around pasta salad, baked beans, and coleslaw—classic choices to complement any grilled feast.
And last but not least, the top trending "red, white, and blue" recipe for this year's Fourth of July celebrations was none other than "red, white, and blue JELLO SHOTS." Raise your glasses, 'Merica!
Every New Jersey Restaurant Featured on Man vs. Food
Every Extraordinary New Jersey Eatery Featured on The Food Network
More From Cat Country 107.3