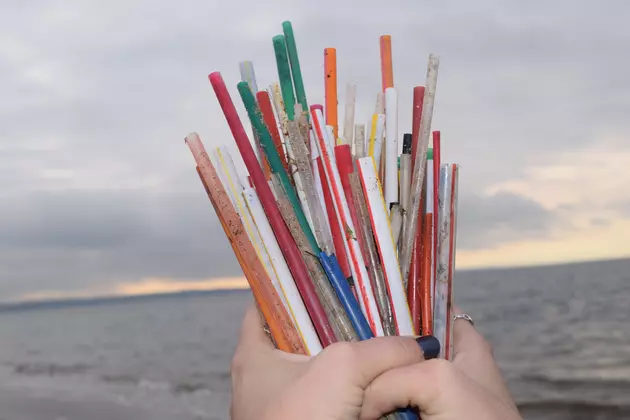 These Everyday Items are Threatening NJ's Waters — What You Can Do About It
A sample of straws collected during a sweep of Sandy Hook in 2016 (Clean Ocean Action)
Enjoying a fountain soda from a beachfront grill at the Jersey Shore, or releasing a balloon into the air at a wedding or charity event, can be deadly ... to marine life, that is.
While the acts seem so innocent and inconsequential to everyday shore visitors, they're a big sticking point for environmentalists and seaside towns in the Garden State.
Over the past 10 years, nearly 227,000 straws have been gathered from the sand during Clean Ocean Action's biannual Beach Sweeps, representing just a fraction of the straw debris littering New Jersey's shore.
"Plastic pollution is a huge issue with marine life," said COA's Mae Henry, who also heads a local effort to reduce straw consumption through Trash-Free Waters.
Posted in August 2015, a viral YouTube video shows the graphic removal of a plastic straw from a sea turtle's nose in Costa Rica.
Henry said her group is working with New Jersey and New York businesses in hopes of getting them to move to a "straw upon request" system, instead of making the thin tubes an automatic with most drinks.
According to Henry, beach bar Donovan's Reef in Sea Bright is making steps towards reducing straw distribution. When reached for comment, the general manager said the bar is very interested and excited to help reduce pollution along the beaches and in the ocean.
"If everyone in New Jersey used one less straw a day, there would be almost 9 million less straws in the waste stream," Henry said.
To limit a rubber threat to both marine and land animals, a growing number of Jersey Shore municipalities have introduced ordinances banning the intentional release of balloons into the air.
Avalon officials introduced a balloon ban ordinance at their July 26 meeting and it's expected to be approved in the coming weeks. The measure also addresses "flying sky lanterns," according to Business Administrator Scott Wahl.
"The main focus is on environmental responsibility," Wahl told the Townsquare News Network. "It is apparent that the marine life ... mistake the colorful balloons as food, and once they're ingested, it can be fatal to the animals."
Several towns along the shore, including Atlantic City, Longport, Margate and Ventnor, have adopted similar ordinances.
A bill in the state Legislature, introduced in May, would prohibit the "intentional release of balloons inflated with lighter-than-air gases" statewide.
"Because released balloons often travel long distances before landing in oceans and other wildlife habitats, a statewide approach is the most effective means of achieving a significant reduction in balloon debris and the environmental harm this debris causes," the bill reads.
The Balloon Council, a national organization based in Trenton, said it's opposed to both local and state bans on balloons.
"TBC's product labeling, media relations, public awareness and policy advocacy are guiding decision-makers and consumers on how to enjoy balloons," executive director Lorna O'Hara said in an emailed statement. "These proposals only serve to drive a false and damaging message that hurts New Jersey's business owners."
More From Cat Country 107.3