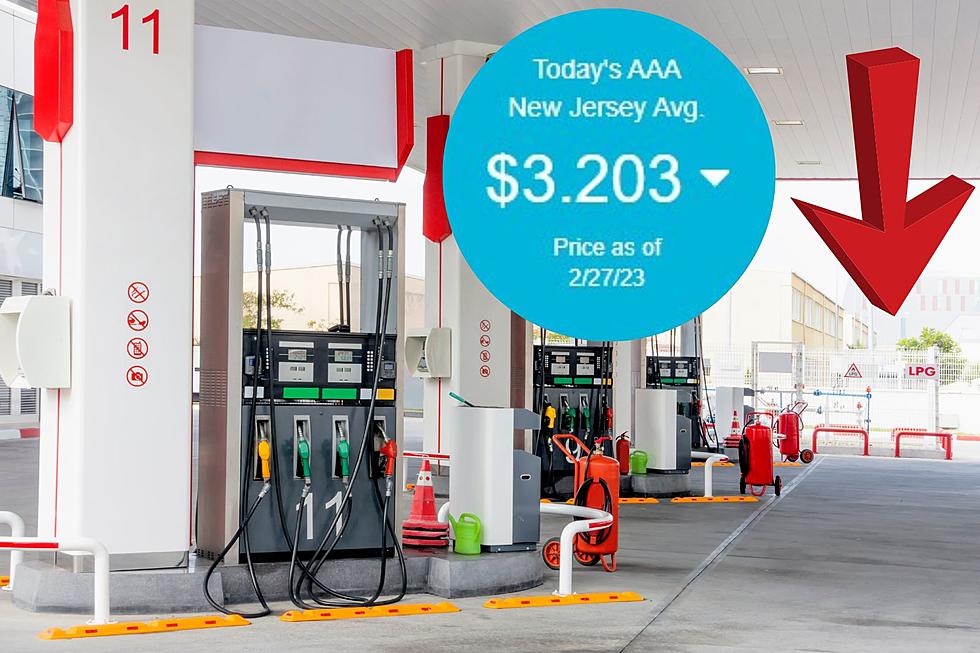 Big drop in gas prices continues in New Jersey, but for how long?
AAA/Townsquare Media illustration
⛽ Gas prices continue to decline by about a penny per day
⛽ Lower oil prices are driving this round of declines
⛽ NJ has seen some of the biggest declines in the nation
---
Gas prices continued to fall over the weekend in New Jersey.
Pump prices are now down 7-cents per gallon in the last week, according to AAA, for a statewide average of $3.20 per gallon for regular gas.
The cost for gasoline in New Jersey has been falling at a rate of about a penny per day for weeks.
What we are paying today is 7-cents cheaper than a week ago and prices have now fallen 25-cents in the last month. New Jersey drivers were paying $3.65 for regular one year ago.
The cheapest gas, on average, can be found at stations in Burlington county at $3.08 a gallon.
Some New Jersey 101.5 listeners report gas has dropped below $3 per gallon at members' only stations, like Costco, and at some off-brand gas stations.
Analyst Patrick De Haan at GasBuddy.com says the most common price nationwide is $2.99 a gallon, although the national average is $3.36 per gallon, according to AAA.
New Jersey has seen among the biggest declines in gas prices over the last week. Texas remains the cheapest place to but gas, averaging $2.96 a gallon. California remains the most expensive, seeing prices increase 7-cents in the last week.
While demand for gas remains relatively low, the cost of oil is what has been driving prices lower.
"The cost for oil accounts for 55% of what we pay at the pump," said Andrew Gross, AAA spokesperson, "so higher or lower oil costs will play a major role in the price we pay when fuel-ing up."
Eric Scott is the senior political director and anchor for New Jersey 101.5. You can reach him at eric.scott@townsquaremedia.com
Click here to contact an editor about feedback or a correction for this story.
2023 Seaside Heights Polar Bear Plunge
Photos from the 2023 Seaside Heights Polar Bear Plunge, which raised $2.5 million for the Special Olympics New Jersey.
New Jersey's license plate designs through the years
Inside Amazon: A Detailed History of America's Biggest Online Retailer
Stacker
compiled a list of key moments in Amazon's history and its current business from a variety of sources. Here's a look at the events that turned an online bookstore into a global conglomerate and a self-made entrepreneur into the world's second-richest man.
More From Cat Country 107.3