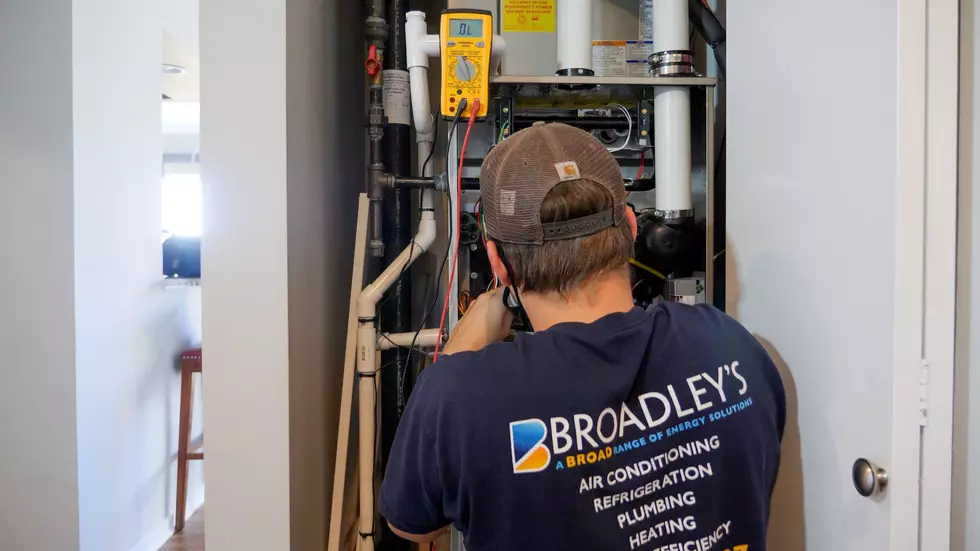 Why Now Is a Great Time to Ask Broadley's About Energy Efficiency
Broadley's Plumbing, Heating & Air Conditioning
In New Jersey, we really make our furnaces and ACs earn their keep. It can be a balmy 70 degrees one day and then bitterly cold with back bay breezes just a few days later.
Whether you want to save money on energy costs, ensure you're always comfy in your home or minimize your environmental footprint, the right HVAC system can make all the difference. We turned to the experts at Broadley's Plumbing, Heating & Air Conditioning in Marmora (they've been serving South Jersey for nearly a century!) for their advice on getting the most out of your heating system, air conditioner and water heater.
Now is a good time to talk with them yourself, as Broadley's is offering a free furnace with the purchase of a high-efficiency air conditioner from March 1 through April 2. They'll deduct the furnace cost right off your bill for a savings of up to $2,500; plus, they'll include a bonus UV light to protect the system.
Q: How do you know it's time to upgrade?
A: Well, one big sign is if your energy bills are going up and your current system needs frequent repairs. Naturally, as systems get older, they become less efficient, so Broadley's leaders also encourage homeowners to consider updating their equipment if it's more than 10 years old. You also should think about whether you're taking advantage of the latest technology, such as a programable thermostat that adjusts your home's temperature based on when you're sleeping or away. In addition, the EPA's ENERGY STAR® Home Energy Yardstick is a great tool to see if your home is as energy efficient as it could be. Any of these factors might be a great reason to upgrade part or all of your heating and cooling systems.
Q: When I do make the decision to upgrade, bigger is better, right?
A: Not necessarily. A system that's "too large," IE, meant to heat or cool a space larger than your home, will cycle on and off too frequently to be energy efficient. On the other end of the spectrum, a system that's too small will be subject to poor performance, more maintenance and a shorter lifespan. You need experienced professionals you can trust to make sure you get the system that's sized correctly for your home.
Q: How else can experienced professions help homeowners?
A: When we talk about upgrading systems, homeowners' first thoughts tend to go toward purchasing new equipment, but the ductwork should be reviewed, too, to make sure the heated and cooled air is being delivered appropriately to rooms throughout the home. Any leaks should be sealed, too.
Q: What are the benefits of upgrading to a high efficiency system?
A: Aside from lower energy bills and a lower environmental impact, high efficiency systems deliver more comfort, better moisture control, improved indoor air quality, and quieter operation. Some smart HVAC systems can be controlled remotely through your smartphone and allow you to control temperatures in specific rooms remotely. You may be able to tap into savings and rebate programs, and a new system will increase your home's overall market value.
Q: Tell me more about rebates and incentive programs.
A: Well, aside from the deal mentioned at the beginning of this article, New Jersey's Clean Energy Program™, administered by the New Jersey Board of Public Utilities, is offering homeowners rebates ranging from $300 to $2,000 through June 30, for upgrading to high-efficiency equipment through the HVAC COOLAdvantage and WARMAdvantage Programs. The manufacturer of your system might also offer rebates and incentives, so be sure to ask while you're researching your purchase. Lastly, South Jersey Gas has a financing program that allows homeowners to receive a loan of up to $11,000 at 0 percent interest, with zero down for seven years, on qualifying efficiency equipment upgrades including water heaters.
With those kinds of incentives, why wait? Broadley's guarantees customer satisfaction on all installations, with a one-year warranty on labor and a 10-year warranty on parts with registered equipment. Broadley's is committed to delivering prompt service and transparent pricing to all customers — be sure to ask about their special service plan with guaranteed same-day service, 15 percent off all system repairs and a free annual tune-up included.
Call 609-390-3907 or visit broadleys.net today to schedule your free consultation!
More From Cat Country 107.3