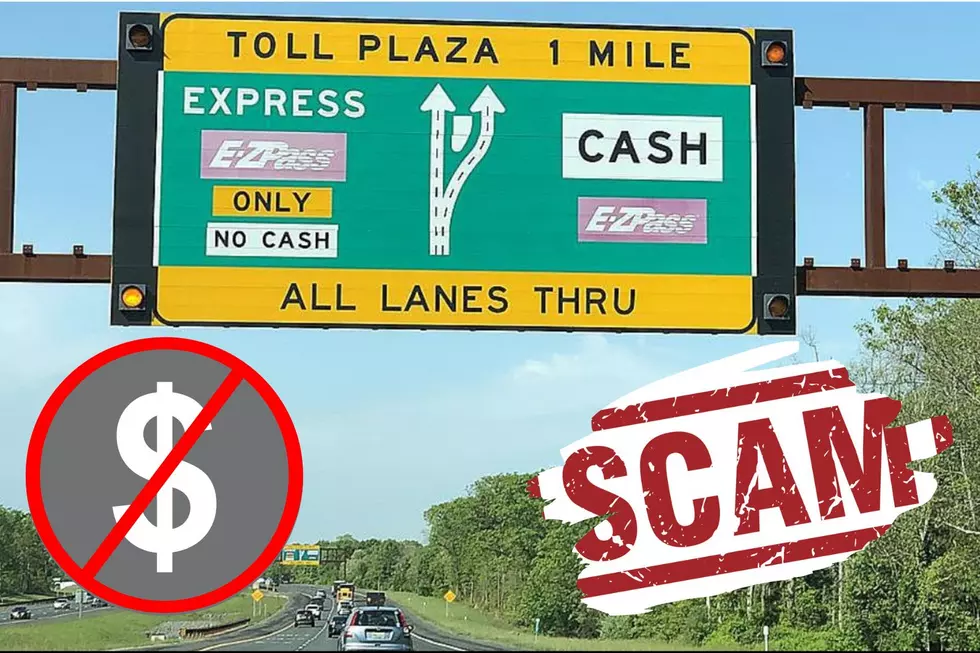 E-ZPass needs competition: Here's what NJ could do about it (Opinion)
GSP photo / Getty Images via Canva
The hits just keep on coming when it comes to E-ZPass in New Jersey. The latest issue involves a scam violation lawsuit regarding processing fees (click here to read more).
Issues such as this one aren't new with E-ZPass. Endless stories have been shared both in the news as well as across social media regarding many of their unfair practices.
Unfortunately, it doesn't seem like a whole lot can be done to stop some of these unfair fees. At least, not in the short term.
The main problem isn't so much the tolls themselves. The real issue is the fact that E-ZPass is the only game in town when it comes to wireless toll collection for the state of New Jersey.
Now yes, one can argue that we can avoid E-ZPass in some instances if we simply pay by cash, but that's not as popular of an option anymore. Not only that but traditional cash tolls are slowly being phased out in The Garden State.
It's not to say the option will go away completely, but at some toll plazas, that option has already vanished. This is especially true on the Garden State Parkway, where perhaps you can use exact change if you're lucky.
So what can New Jersey do about it? What options can The Garden State explore to reduce the possibility of customers getting ripped off in the first place? Let's dive into it.
Electronic tolls are more convenient
With electronic tolls already the future of New Jersey, it doesn't give motorists many options to go with. Our major bridges, for example, are slowly going cashless only.
But most wouldn't argue necessarily that this is a bad thing. Having the ability to continuously drive at a toll plaza certainly beats having to slow down to pay only to accelerate and merge with traffic once again.
Much like phones that used to need chords, physical toll plazas will eventually become part of New Jersey history. We're not there yet, but it's slowly coming.
The only game in town
The major problem with this change, however, has nothing to do with the method used for collecting tolls. Rather, it has to do with who collects them.
E-ZPass is the primary company in New Jersey that's used to collect tolls. The New Jersey Turnpike, Garden State Parkway, and Atlantic City Expressway only use E-ZPass and don't allow customers any other means of paying electronically.
The result is an E-ZPass monopoly. It essentially gives the company the ability call the shots to operate any way it sees fit. Unfortunately, that usually results in larger profits for them and smaller bank accounts for you.
What New Jersey should do
Much like what is done in other industries, competition is one way to prevent a monopoly of one company from taking over.
In the case of New Jersey's toll roads, that monopoly would be E-ZPass. And with more toll plazas going cashless, that would only give E-ZPass more leverage to operate the way they want.
Fortunately, there are other electronic collection companies out there that could easily take a bite out of E-ZPass. And that competition could mean fewer fees and issues.
There's even the possibility of incentives from one of the toll-collection companies such as discounts just for being their customer.
New Jersey should look to Florida
If there's any state other than New Jersey that tends to be the butt of a joke, it's Florida. But when it comes to electronic toll collection, Florida is well ahead of The Garden State.
The Sunshine State uses Sun Pass, which is their version of E-ZPass. In 2021, Florida made a change to allow E-ZPass tagholders to use the Sun Pass lanes for toll collection.
Not only did this make it easier for drivers visiting the Sunshine State, but it also opened up the door to allow competition on its toll roads. And the very idea of allowing competition on our toll roads might be the key to resolving some of these issues we currently face with electronic tolling.
One company should never have full control
Sun Pass isn't the only other electronic toll collection company out there. It's not to say we shouldn't allow them to operate here, but rather, allow them to be one of the options for Garden State drivers.
No matter who we use, we already have the equipment in place on our toll roads to allow this to happen. And if we must have separate lanes for different companies, so be it.
The bottom line is this. New Jersey drivers shouldn't be forced to stick with a company that's known to have issues with its toll collections. Even if other companies have issues, we'd at least have a choice.
Look, we know tolls are never going away. At least competition would force them to fight for our business. And who knows? Maybe we'd get lucky with greater discounts from multiple companies operating in New Jersey.
7 things NJ workers deserve for a better work-life balance
Ringing in the new year with a wishlist for New Jersey's workforce.
New Jersey's Top 8 Weather Stories of 2022
More From Cat Country 107.3