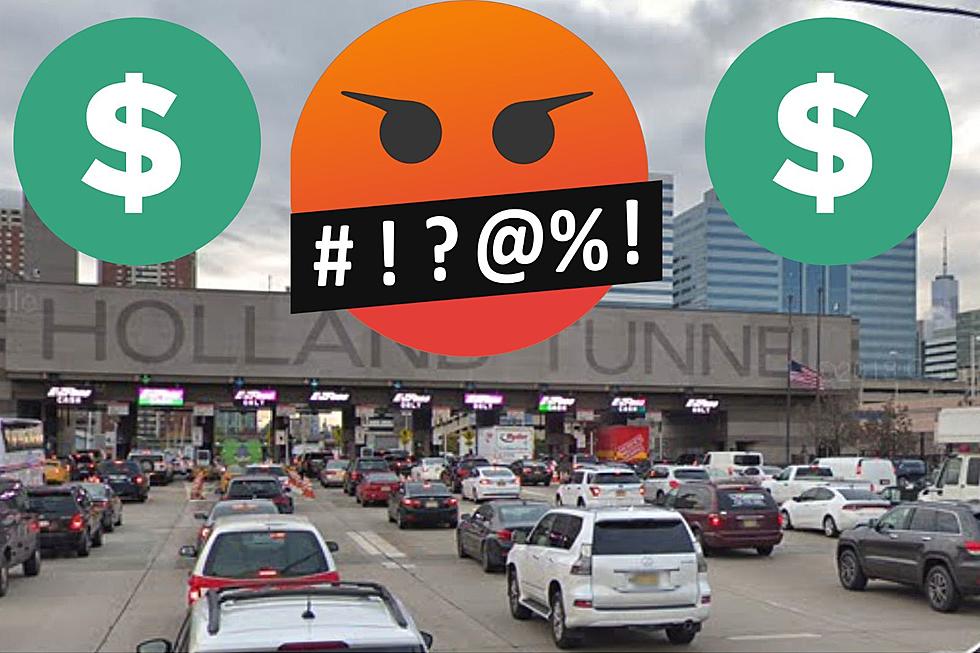 Feds approve massive toll hikes for NJ commuters
Google Maps/Townsquare Media illustration
😡 Biden Administration signs off on congestion pricing for NYC
😳 NJ commuters could pay $5,000 more per year
❓ Are there ways to avoid the higher tolls?
---
Manhattan bound New Jersey commuters could wind up paying another $5,000 per year after President Joe Biden's administration gave the greenlight to New York City's controversial congestion pricing plan.
Gov. Phil Murphy and New Jersey's congressional delegation have been fighting the plan for months, but the Federal Highway Administration (FHWA) rejected their demand for a deeper environmental review.
Murphy argued a 4,000 page environmental assessment submitted by the Metropolitan Transportation Authority did not adequately address the environmental impact to New Jersey or the financial burden our state would face from an increase in ridership of New Jersey Transit trains and busses.
However, the FHWA rejected that claim.
In an email obtained by MyCentralJersey.com, the FHWA wrote to New Jersey's congressional delegation that they found the MTA's report sufficient and "assured that adverse effects are mitigated below significant levels."
What comes next?
That is not clear.
A Murphy spokesman issued a statement saying, "We are deeply disappointed by the FHWA's limited review and skeptical of the motives of a financially ailing agency that has failed to meaningfully engage with our Administration on this issue."
Murphy has also retained a law firm to explore all legal options and expects to publicly detail the next course of action soon.
In a joint statement from New Jersey's congressional delegation, including Sen. Bob Menendez and Congressman Josh Gottheimer also vowed to keep fighting.
"No solution should be considered legitimate for as long as New Jersey is excluded from the decision-making process," they said.
How much and when does the toll plan take effect?
Now that the FHWA has signed off on the plan, the final details will be worked out by the MTA.
It is expected that the additional tolls will go into effect next year. The final cost has yet to be determined.
Several scenarios have been discussed involving tolls that ranged from $9 to as much as $23 during peak commuting times.
Are there exemptions or credits?
Maybe.
There has been discussion of giving commuters who use the Holland or Lincoln Tunnel some kind of credit. There has been debate about whether the George Washington Bridge should be included.
For-hire vehicles and busses could also be exempted, but that may not include services like Uber or Lyft.
Can I avoid the high tolls by taking mass transit?
Maybe, but that doesn't mean you wont pay more.
New Jersey transit is already facing a budget deficit of nearly a billion dollars over the next three years. NJT also does not have the infrastructure or equipment to handle a predicted surge in ridership due to the higher NYC tolls.
To get the funding to increase capacity could result in significant fare hikes.
The MTA also plans on raising fares for subways and busses in NYC to nearly $3 for a single trip. Commuter rail fares would go up as much as 5%.
A border war?
Few issues have raised tensions between New Jersey and New York officials in recent memory more than the congestion pricing plan.
Rep. Gottheimer has outright called it a "money grab."
Murphy has made it clear all retaliatory options are on the table.
New York officials have brushed aside such criticism and pushed ahead with the tolling plan, anyway, to raise money for NYC's public transportation system.
The head of the MTA, Janno Lieber, told CBS News, "They (New Jersey) don't ask our permission to raise toll on the Garden State Parkway or New Jersey Turnpike."
How to get from Monmouth/Ocean to the Holland Tunnel without paying tolls
Sometimes even your GPS doesn't know the back way to certain places.
These towns actually cut their property taxes in 2022
New Jersey 101.5 examined Department of Treasury data to see which municipalities saw an average drop in property taxes last year. Here are the Top 20 average tax cuts followed by the rest.
13 Scary things about New Jersey
Report a correction 👈 | 👉 Contact our newsroom
More From Cat Country 107.3