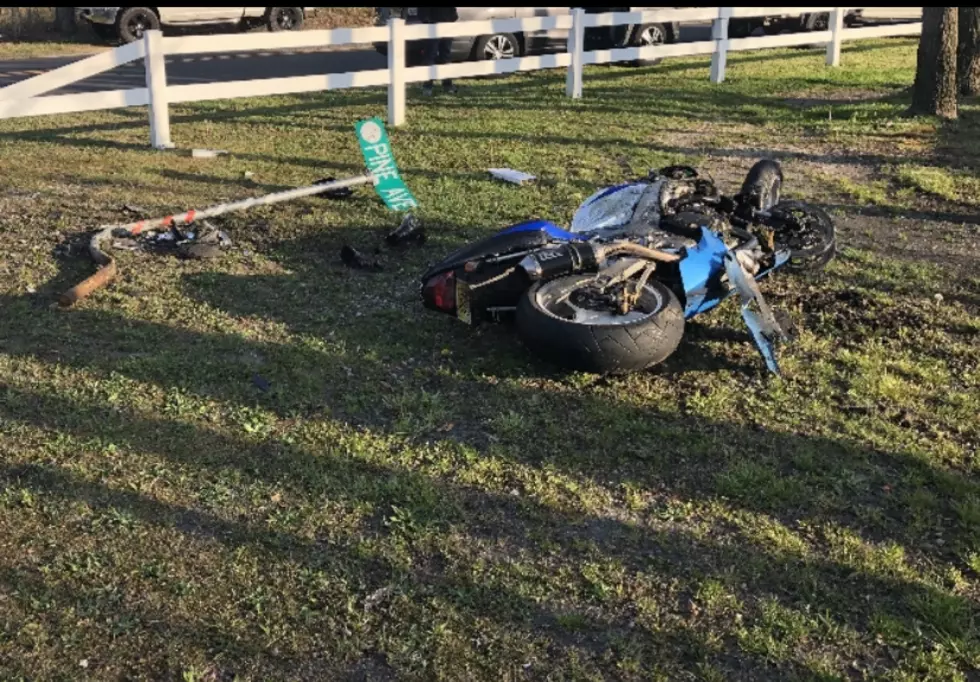 Exclusive: Motorcyclist Crashes Into SUV At High Rate Of Speed In EHT
Crash Photo exclusively provided to Harry Hurley
A significant crash (at a very high rate of speed) occurred last night, Tuesday, April 27, 2021 in Egg Harbor Township near Pine Avenue at just before 7:00 p.m.
In fact, the crash was so near Pine Avenue that it actually took down and mangled the Pine Avenue street sign pole (see above photo).
Word of the crash and these exclusive photos were provided to us  by a retired police officer, who advised that he was almost hit by the motorcyclist moments before the crash.
Our source said that the motorcyclist "was driving at about 100 miles per hour."
This area is a quiet, residential neighborhood. The high rate of speed by this motorcyclist is very uncommon.
The retired police officer source advised that "two motorcyclists were traveling together (recklessly) and at a very high rate of speed."
The motorcyclist narrowly missed the retired police officer and then "T-Boned a woman," who was driving this SUV (see photo directly below).
The source advised that the motorcyclist Is "lucky to be alive and had injuries to both legs, hips and arm."
The source stated that the two motorcyclists "were driving like maniacs."
The SUV was totaled upon impact. The retired police source told us that "the woman is very lucky to be alive."
He watched from his mirrors as they both passed him and then "T-Boned a lady who was making a left hand turn."
We'll share any additional information received as warranted.
More From Cat Country 107.3