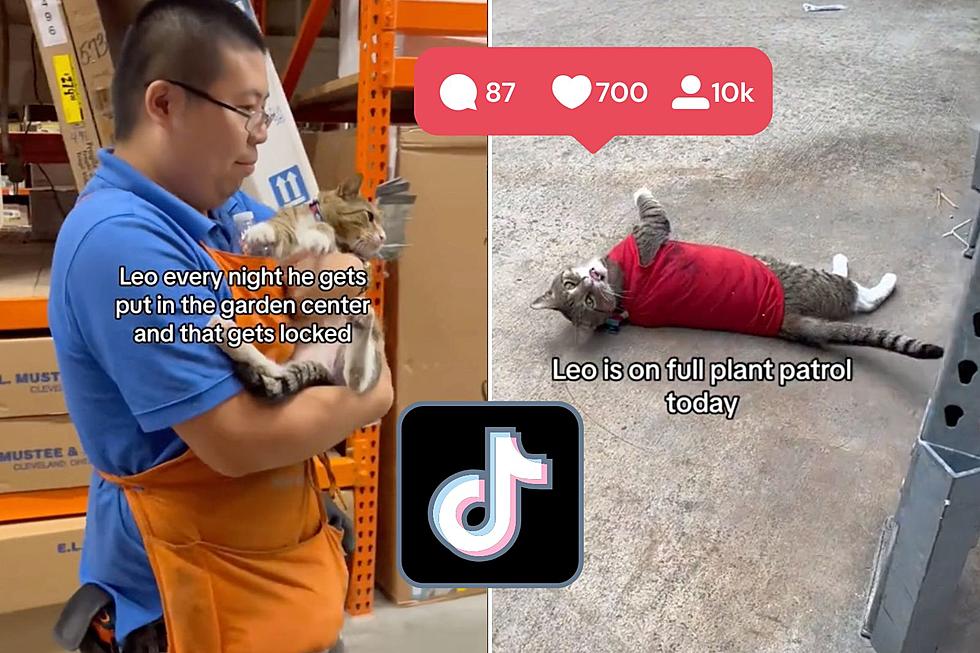 Meet Leo! New Jersey's TikTok-Viral Cat Who Lives in Mount Laurel's Home Depot!
Credit: TikTok @cat_dad_2020
Did you know a famous cat lives right in South Jersey?
This handsome boy's name is Leo, and he's a pretty big deal on TikTok! Cue The Home Depot music. Leo's the doer that gets more done!
Leo lives in the Garden Center at The Home Depot in Mount Laurel (1200 Nixon Dr) and he's amassed the attention of millions on TikTok with hundreds of thousands of likes and millions of views!
Leo's the chillest dude you'll ever want to meet. When he's not roaming the store to keep in mice-free in his striped shirt, he's . And if there are any would-be shoplifters, they better not try anything on Leo's laser-eye watch.
You don't have to worry about Leo's safety! His coworkers dotingly look after him and make sure he has everything he needs, like his warm shopping cart bed, litter box, food, water, toys, and his stylish shirts. Every night, he's placed in the garden center where he loves to hang out and sleep. They lock it up every night. And whenever it's cold, they find him a safe warm place inside the store.
The comments are overflowing with love from his adoring fans:
"Suddenly i want to work at this home depot specifically"
"Why doesn't my Home Depot have a kitty"
'Who handles his vast wardrobe? Cause that job is goals."
"I live in Florida and I would drive the entire damn day to come to this home depot now that I've seen this"
You can follow Leo's adorable cat antics through his friend Jeff's TikTok account @cat_dad_2020, who by the way has loads of other cat content on his page (as you can probably guess by his username!)
This is exciting for a crazy cat lady like me, so I may just have to invent a DIY project for myself so I'll have an excuse to meet Leo the internet celebrity!
---
This $5.6 Million Victorian Styled Mansion Is For Sale in Bucks County
This is one of the most expensive mansions for sale in Bucks County right now!
Top 5 Most Bizarre NJ High School Mascots
These are the most bizarre mascots in New Jersey that I can't wrap my head around!
More From Cat Country 107.3