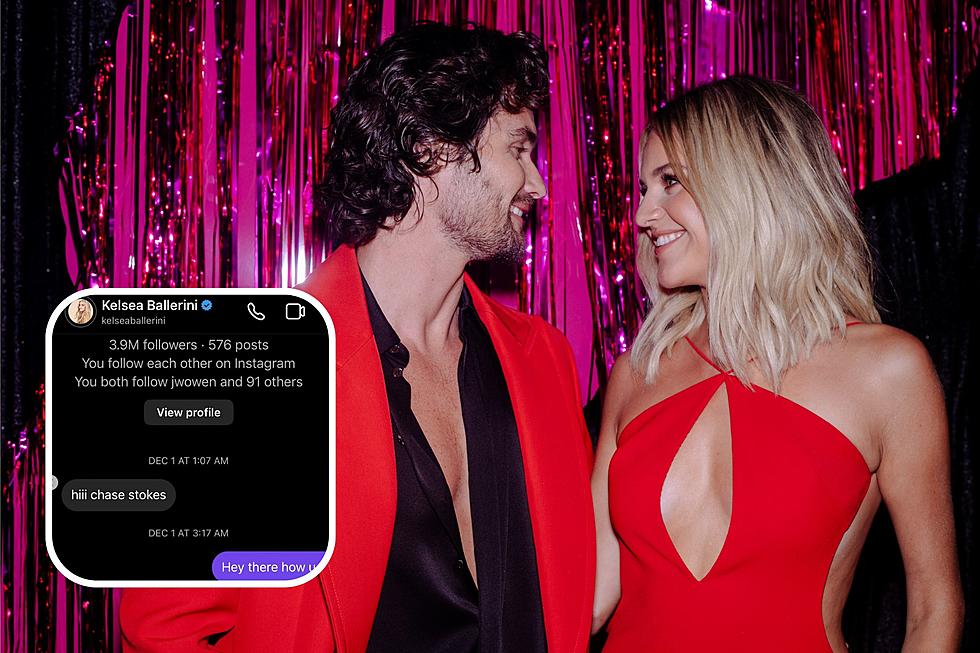 Kelsea Ballerini Screenshots Her First DM With Chase Stokes on His Birthday
Catherine Powell, Getty Images/Instagram
Kelsea Ballerini spent the weekend celebrating a very special birthday: Her boyfriend, actor Chase Stokes, turned 31 on Saturday (Sept. 16.)
"Happy birthday, my sweet Virgo," the singer wrote on social media, rounding up a series of photos and videos dedicated to Stokes and their relationship. Stokes' silly side is well represented in the post, as is his love of animals, complete with one photo of him kneeling down next to a dog and another of him holding up a kitten.
There's also plenty of photos and videos of the couple's relationship to date. Ballerini and Stokes have been going strong for about nine months now, and she shared some of the sweetest memories and milestones of their relationship so far, from glamorous industry events to sidestage hangs and meals together on days off.
The last photo Ballerini shared throws it back to where it all began: On Instagram. Ballerini made the first move in the relationship by sliding into Stokes' DMs, and she shared a screenshot of that first exchange.
Ballerini has previously talked about how she and Stokes met: "His [Instagram] handle is @HiChaseStokes, and I said, 'Hi, Chase Stokes,'" she explained during an early 2023 appearance on the Call Her Daddy podcast. The screenshot of their conversation shows that she sent that fateful DM on Dec. 1, 2022 at 1:07AM -- and he replied a couple of hours later, before the sun even came up that day.
Stokes is Ballerini's first public relationship since her mid-2022 divorce from country singer Morgan Evans. She documented the heartbreak and healing that followed her divorce in her Rolling Up the Welcome Mat EP, a February 2023 project whose songs were prominently featured in her Heartfirst Tour shows throughout the year. Rolling Up the Welcome Mat has since seen a deluxe reissue, and is an Album of the Year contender at the 2023 CMA Awards.
8 Brutally Honest Divorce Lyrics From Kelsea Ballerini's 'Rolling Up the Welcome Mat' EP
Kelsea Balerini opened up her divorce diary in February 2023 with her Rolling Up the Welcome Mat EP, a project that follows the stages of a breakup — from grief and loneliness to anger to acceptance — in chronological order. Here are eight of the most revealing lyrics from the project.
More From Cat Country 107.3