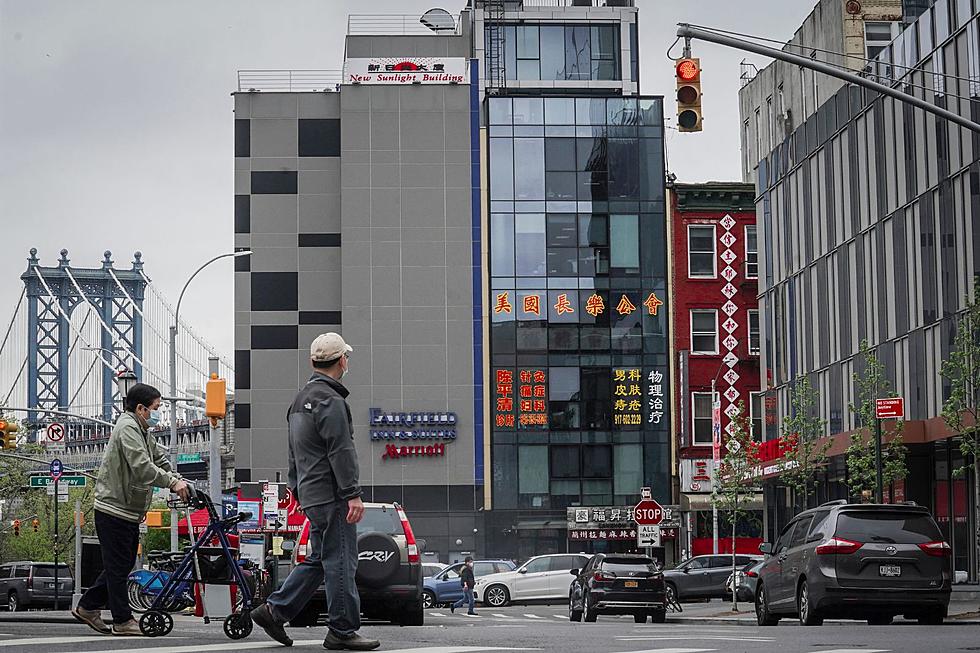 NJ police have urgent warning for Asian American residents and merchants
A six story glass facade building, center, is believed to be the site of a foreign police outpost for China in New York's Chinatown (AP Photo/Bebeto Matthews)
🔴 Stafford police warned Asian business owners about possible home burglaries
🔴 Two men were arrested in New York City on charges they helped establish a secret Chinese police station
🔴 Residents should store their valuables in a separate spot
---
Stafford police warned of an increase in home burglaries targeting Asian business owners including one in Berkeley Township.
The warning comes after an FBI alert about the People's Republic of China agents harassing, stalking, terrorizing and bribing individuals in the Garden State.
Two men were arrested Monday on charges that they helped establish a secret police station in New York City on behalf of the Chinese government, and about three dozen officers with China's national police force were charged with using social media to harass dissidents inside the United States, authorities said Monday.
Though China is believed to be operating secretive police outposts in countries around the globe, Justice Department officials said these arrests were the first of their kind anywhere in the world.
Jim Dennehy, the special agent in charge of the FBI in New Jersey, said that the Chinese government will frequently target political and human rights activists, dissidents, journalists, political opponents and various religious groups, either with their own agents who enter the U.S. under false pretenses, or they may try to hire people who live here to do their dirty work.
He said at other times they will go to an individual's homes "with firearms in order to intimidate and harass, and these victims are hiding in their own homes, under couches because they don't want to be seen or actually kidnapped."
A warning in Stafford
Stafford police on Monday warned of an increase in home burglaries targeting Asian business owners, including one in Berkeley.
The department advised all residents to be aware of their surroundings and to check security systems to make sure they are working. The department also suggested moving cash and valuables to a more secure location.
Supervisory Special Agent Mike Ratta of the FBI field office in Newark said there's a belief that the Asian community keeps cash in their homes and that they're not utilizing traditional banks
The FBI in December issued a similar warning to business owners about potential theives watching businesses to determine when they open and close.
"They may rummage through their cars to determine where they might live, then they would do surveillances at the residence as well," Supervisory Special Agent Mike Ratta of the FBI field office in Newark said. They would follow them to and from work and other places."
Ratta said they may even go so far as to put a lookout in a business and outside the owner's home.
Previous reporting by David Matthau was used in this report
(Includes material copyright 2023 The Associated Press. All rights reserved. This material may not be published, broadcast, rewritten or redistributed.)
LOOK: 25 must-visit hidden gems from across the US
From secret gardens to underground caves,
Stacker
compiled a list of 25 must-visit hidden gems from across the United States using travel guides, news articles, and company websites.
Play ball NJ: These MLB pros are from New Jersey
A fair amount of New Jersey born baseball players have made it to the majors. These pros, active to start the 2023 season, all have NJ roots.
LOOK: Food and Personal Care Shortages We Could See In 2023
Learn about the 13 potential shortages that could impact stores in 2023, from produce and meat to snacks and beverages.
More From Cat Country 107.3