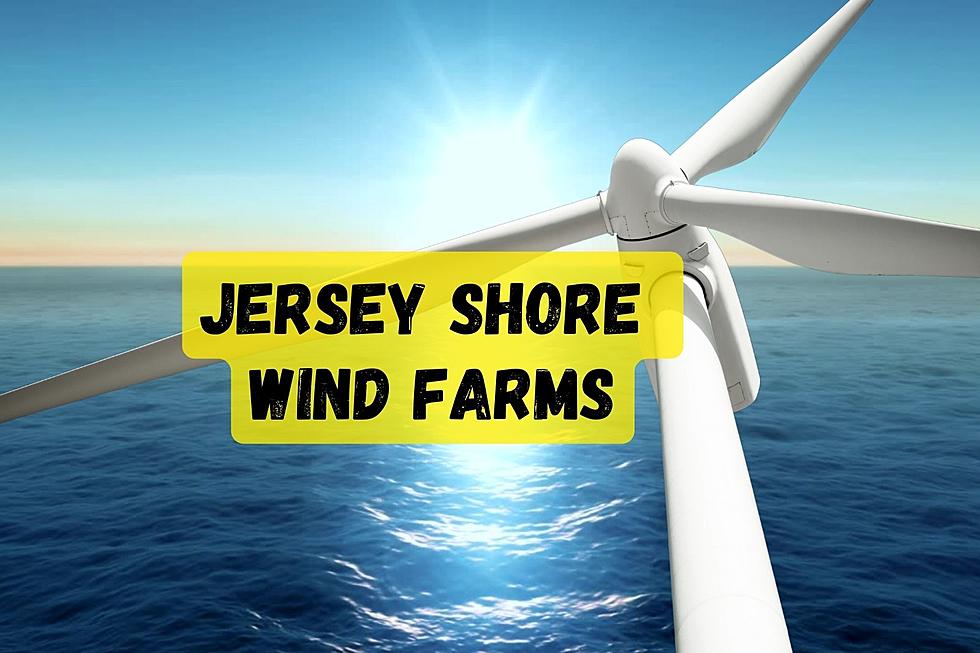 Revealed! This is what the NJ windfarms may look like from the beach
Canva/Townsquare Media illustration
The usual sights when you look out to sea from a Jersey Shore beach: Blue ocean and sky. Perhaps some sailboats and yachts. Even dolphins or whales, if you're lucky.
In a few years, you might also be staring at rows upon rows of hundreds of bright wind turbines as tall as the Empire State Building spinning in the horizon.
The windfarm developer and advocates of the renewable energy plan say such a sight will be minimal and rare.
But officials representing residents along the the Jersey Shore, many of whom are fighting the proposed developments in the courts of law and public opinion, say proponents are downplaying how the massive project might mar one of the most beautiful sights of the Garden State.
Photorealistic depiction of wind farm seen from NJ beach
Last week, a nonprofit activist group backed by local municipal officials released what it calls a photorealistic representation of what one of the proposed windfarms would look like from beaches near Long Beach Island.
"Our coastal communities are not just rich historic and picturesque destinations for residents and visitors, they're home to diverse marine and aviary life, and robust industries that drive our economy, power our families, our state and ultimately our nation," Long Beach Township Mayor Joseph Mancini said in a written statement. "The proposed wind turbine project could jeopardize everything we hold dear."
The renderings of the Atlantic Shores project were created by a consulting firm hired by Long Beach Township. See them below 👇
The renderings depict the turbines with a bit more clarity than the simulations the developer filed with the federal Bureau of Ocean Energy Management. In those, however, the turbines are still visible from many points along the South Jersey shore, albeit only in clearer conditions. At night, the turbines are invisible in the water or appear like faint stars on the horizon.
The SandPaper, a local news site, quoted an Atlantic Shores expert saying that visibility of the wind farm, which will be located as near as 9.5 miles from the shore, would be extremely limited and not comparable to visibility on land.
"The atmosphere in an offshore environment is incredibly variable and there's a lot happening out there that can change minute-to-minute, day-to-day," the visibility expert was quoted as saying last year.
Windfarm projects proposed for NJ coast — and what they might look like
These are the wind energy projects approved for and planned for the ocean off the coasts of New Jersey and New York. While the projects have the support of officials who say they will stimulate the local economy and create renewable energy to power millions of homes, many coastal residents have raised concerns about how the projects will impact tourism and the environment.
The gallery includes competing photosimulations — those on file with the federal
Bureau of Ocean Energy Management
and those recently commissioned by a group opposed to the wind farm development.
Wind project delayed by developer
Orsted, the Danish company developing two of the three wind projects approved by New Jersey, said last week that its first development would be delayed until 2026 due to economic reasons.
The company said it came close to abandoning the multi-billion-dollar project altogether because it has not secured enough tax credits.
The company did not say when in 2026 its Ocean Wind I project will be fully operational, and a spokesperson could not say Thursday what the new timetable is. Previously, Orsted had said power would be flowing to customers sometime in 2025.
Orsted has federal approval for the Ocean Wind I project, and has state approval for a second New Jersey project, Ocean Wind II.
However, during Wednesday's earnings conference call, the company said it is "reconfiguring" Ocean Wind II and its Skipjack Wind project off the coasts of Maryland and Delaware because they do not currently meet its projected financial standards. It did not give details of what that reconfiguration might entail.
Two other Orsted projects — Sunrise Wind off Montauk Point in New York, and Revolution Wind off Rhode Island — are also affected by the same negative forces requiring the New Jersey project to be delayed. But the New York and Rhode Island projects remain on schedule, the company said.
News of the delay was a blow to supporters of offshore wind in New Jersey, which is trying to become the capital of the nascent industry on the U.S. East Coast. It also offered new hope to foes of the technology.
Earlier this year, New Jersey Gov. Phil Murphy signed a law allowing Orsted to keep federal tax credits it otherwise would have been required to pass along to ratepayers. The governor said he acted to protect jobs the offshore wind industry will create.
Republicans, who tend to oppose offshore wind in New Jersey and nationally, seized on the delay as further proof of what they consider the inherent unprofitability of the industry.
"It was a travesty when Gov. Murphy bailed out Orsted at the expense of New Jersey taxpayers the first time they threatened to walk away," said Republican state Sen. Michael Testa. "I'm calling on the Murphy administration to state unequivocally that our residents will not be sold out for Orsted a second time. Supply chain issues and rising inflation prove that these projects are unsustainable and the cost of continuing these projects will be too much of a burden for our state to bear."
The Associated Press contributed to this report.
Report a correction 👈 | 👉 Contact our newsroom
LOOK: Cities with the most expensive homes in New Jersey
Stacker
compiled a list of cities with the most expensive homes in New Jersey using data from Zillow.
These towns actually cut their property taxes in 2022
New Jersey 101.5 examined Department of Treasury data to see which municipalities saw an average drop in property taxes last year. Here are the Top 20 average tax cuts followed by the rest.
More From Cat Country 107.3