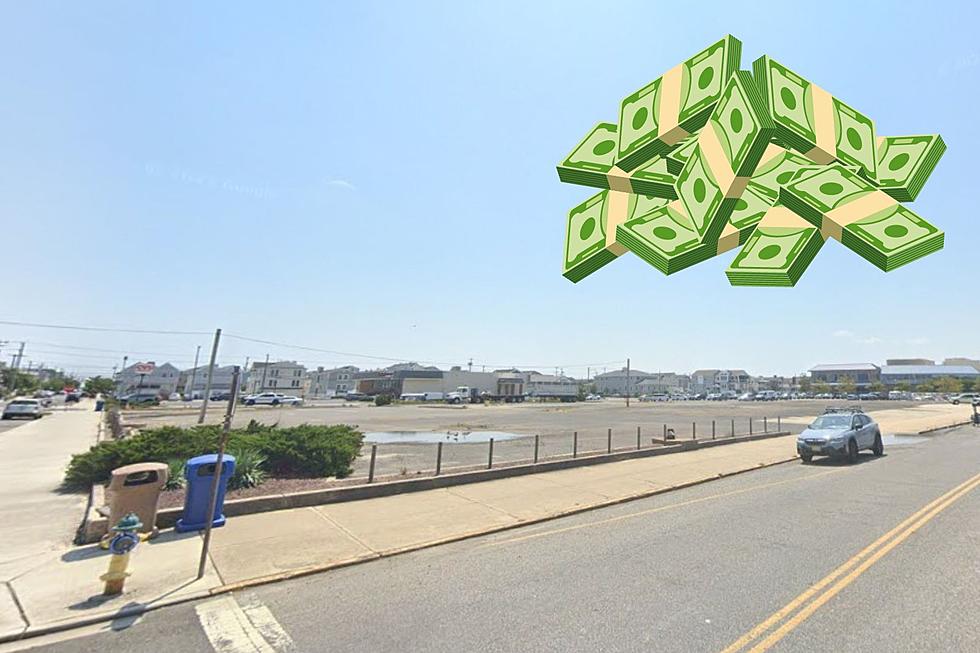 Why Is This Vacant Lot Being Valued At 17.86 Million Dollars?
Photo from Google Maps and Graphic from canva
Would you pay $17.86 Million for an empty lot? Well, a jury has ruled that the lot located between 16th and 17th streets on Simpson Avenue in Ocean City has a higher value than what city appraisers stated previously.
The lot you see above was originally obtained by Eminent Domain for Ocean City after the Jersey Shore Community and Klause Enterprise could not agree on a sale price for the property.  The 85,688-square-foot lot, which is located across the street from the Ocean City Public Library and Community Center, was a Chevrolet Car Dealership for decades before closing down in 2018.
The area between 18th and 15th streets in Ocean City used to be a business area that included a SuperFresh Supermarket and the Perry-Egan Car Dealership. But today the only major business still standing in this section of Ocean City is the CVS Pharmacy.
After the car dealership closed down, Ocean City Mayor Jay Gillian and other city officials wanted to obtain the property for open space plus an overflow lot for municipal use. The coastal community originally tried to purchase the lot for $9 Million but the "Fairness in Taxes" group of Ocean City residents successfully blocked the purchase with a petition campaign.
After Ocean City utilized Eminent Domain, they had to go before independent commissioners who would hear both Klause Enterprises and the city's positions on the property value. Back in April 2022, this impartial group evaluated the property at $13.02 million. However, the hearing by the Superior Court in Cape May County did not accept this independent valuation of the property, and that led to the case going to trial.
That is where the $17.86 Million price tag came from when the jury ruled in favor of Klause Enterprises and ordered Ocean City to pay. The small Jersey Shore town with an estimated 6,900 year-round residents is appealing this decision.
I understand that five of the highest zip code property values in the United States are in New Jersey, but does an objective individual think this vacant lot is worth 17.86 Million dollars?
10 Favorite Things about Cape May County, NJ
The history of Cape May County predates the formation of the United States of America by about 100 years as it was one of the first counties established in what was originally known as the West New Jersey Provence. Cape May County's historical records go back as far as 1685 and the County was originally established in 1692. Cape May County has been a huge part of my life and that of my family's for decades, so I wanted to share with you my favorite aspects of the southern most County in the state of New Jersey.
Gallery Credit: Josh Hennig/Townsquare Media
More From Cat Country 107.3