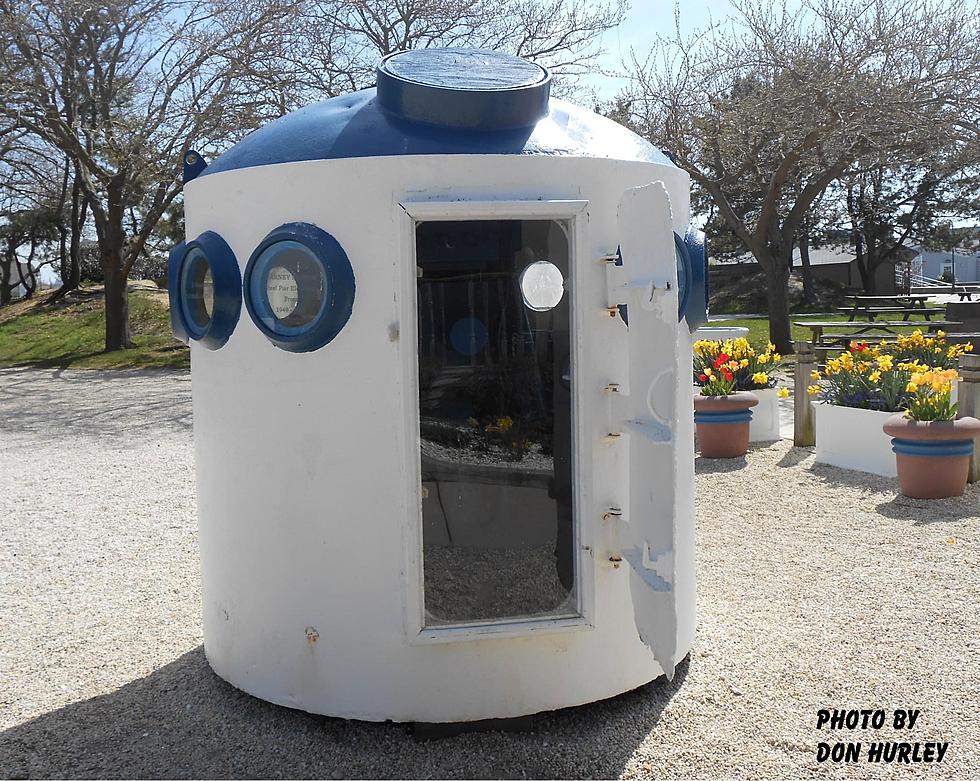 Childhood Memories Of The World Famous Steel Pier Atlantic City
The Famous Steel Pier Diving Bell - Don P. Hurley photo
This is in honor of everyone who remembers the original Steel Pier in Atlantic City.
I was just thinking about the World Famous Steel Pier in Atlantic City, owned by the legendary George Hamid Family.
Please come with me and let's take this enjoyable walk down memory lane together.
The Original Steel Pier was a true marvel. For a nominal entrance fee, you could stay all day and watch multiple first-run movies, the water circus, top entertainment acts, and so much more.
There was an attraction owned and managed by The Beck Family called "The Diving Bell."
As a family, we loved every bit of it.
When you rode the Diving Bell down to the bottom of the Atlantic Ocean, you typically saw dark greenish/blue ocean water and a lot of seaweed.
It didn't matter, it was truly awesome. You went down very slowly and then the operator/announcer would say that coming back up is very different than going down.
It was like lifting off from a spaceship. It was a blastoff. We looked forward to it every time. It never got old.
50 years later, I can still hear the ride operator/announcer say … "We just returned from a trip to the bottom of the Atlantic Ocean and we didn't even get wet."
The cadence of that spiel was exactly the same each and every time and it was great every time you heard it.
We also loved the High Diving Horse. There's been much said and written about alleged cruelty to the animals.
During my on-air interview, Mr. Hamid addressed my question about this. He confirmed that the horses loved to jump into the water tank. Further, Mr. Hamid said, "when they didn't want to jump … they didn't jump."
On rare occasions, the horses wouldn't jump and they would ease their way back down the ramp. I have always believed that it was fine in a humane way and the horses were always treated very well and properly cared for.
In 1964, The Osmonds appeared on Steel Pier and they were very popular. Look at this marquee displaying many of the activities available at Steel Pier on any given day.
Every day was an epic day at Steel Pier. There never has been anything else like Steel Pier and there never will be, again.
Another really cool Steel Pier fun fact. For many years, WFPG AM Radio broadcasted from a glass booth in front of Steel Pier.
In a great bargain, the rental cost was at the top of every hour, the station Identification would say: "WFPG Steel Pier Atlantic City." It was rent paid every hour, on the hour. You would never see a deal like this today.
In one of his last interviews ever, I spent an hour on-air with the late, great George Hamid, Jr.
I felt like a child during this surreal hour together. I posed questions and relived some of the happiest memories of my childhood, all at the same time.
My favorite question that I posed that day to Mr. Hamid was, "Could Steel Pier exist today exactly as it existed then?"
Mr. Hamid didn't hesitate … he answered emphatically, "No." So, I asked why? Mr. Hamid said, "it would be cost-prohibitive."
Remember, in its heyday, Steel Pier presented the biggest names in show business:
Take Frank Sinatra for example. Sinatra would do 9 performances per day with The Harry James Orchestra. Imagine that!
The economies of scale and modern era costs for top-flight entertainment would make it impossible. Add to that, the water circus performers, the movies, the diving horse, and many other costly elements.
Steel Pier was so big at one time that it was considered that you hadn't made it in show business until you performed at Steel Pier.
Atlantic City's Steel Pier hosted thousands of entertainers, show business personalities, and circus acts.
Ray Charles, Abbott and Costello (working together for the first time, Diana Ross, Dick Clark, The Rolling Stones, The Three Stooges, "March King" John Philip Sousa signed an exclusive Steel Pier contract, just to name a few.
During my definitive interview with Mr. Hamid, he discussed having to choose between booking Elvis Presley or Ricky Nelson.
Believe it or not, even after meeting with "The  Colonel," Hamid chose Ricky Nelson over Elvis.
Ricky Nelson brought the biggest attendance day in Steel Pier history. There were so many people on the pier, that it became known "as the day Steel Pier swayed."
It's true, the pier was actually swaying back and forth. People thought the pier might collapse.
The legendary broadcaster Joe Grady, half of the Grady and Hurst team never returned to Steel Pier ever again after this day.
It was Ricky Nelson's first concert ever and it took place in the Summer of 1958. A Steel Pier record 47,000 people attended over several shows.
Look at this photo, from the Don P. Hurley private collection. With Ricky Nelson headlining above The Three Stooges. Right here in Atlantic City.
I also spoke with Mr. Hamid about the origin (construction) of Steel Pier. Here are the fascinating details that Mr. Hamid shared with us on-air:
Mr. Hamid confirmed that Steel Pier was not the first amusement pier to run eastward from the Boardwalk into and over the Atlantic Ocean.
Steel Pier was the Atlantic City's longest, coming in at 1,621 feet, and later would be extended to 2,000 feet.
Steel Pier was built in 1898 at a cost of $200,000. It was the first pier to use steel beams on iron pilings. It has stood for more than 120 years,
It is my hope that you've enjoyed this walk down memory lane. For so many of us, Steel Pier holds such a special place in our hearts forever.
IMPORTANT PERSONAL NOTE: I want to take a moment of personal privilege. This is something that I haven't shared publicly until now. We didn't have a lot of money when I was growing up.
We never felt like we were poor. We had wonderful parents and we were provided with everything that was important in life.
As a child, Steel Pier was exactly what we needed. You received maximum enjoyment, for a reasonable and affordable amount of money.
I want to thank my (6-year-older) sister Karen, who always took us to a steel Pier, Great Adventure, and other cool places when Don and I were just little boys.
I didn't know it then, but, as I grew older, I realized how unselfish this was of Karen. Most girls Karen's age wouldn't have spent such quality time with their little brothers.
I have spent my adult years "spoiling" Karen every chance I can.
Atlantic City's Firsts Throughout History
Never Before Seen Golden Nugget Construction Photos
An Exclusive Look Back at the Golden Nugget, Atlantic City from 1980
More From Cat Country 107.3