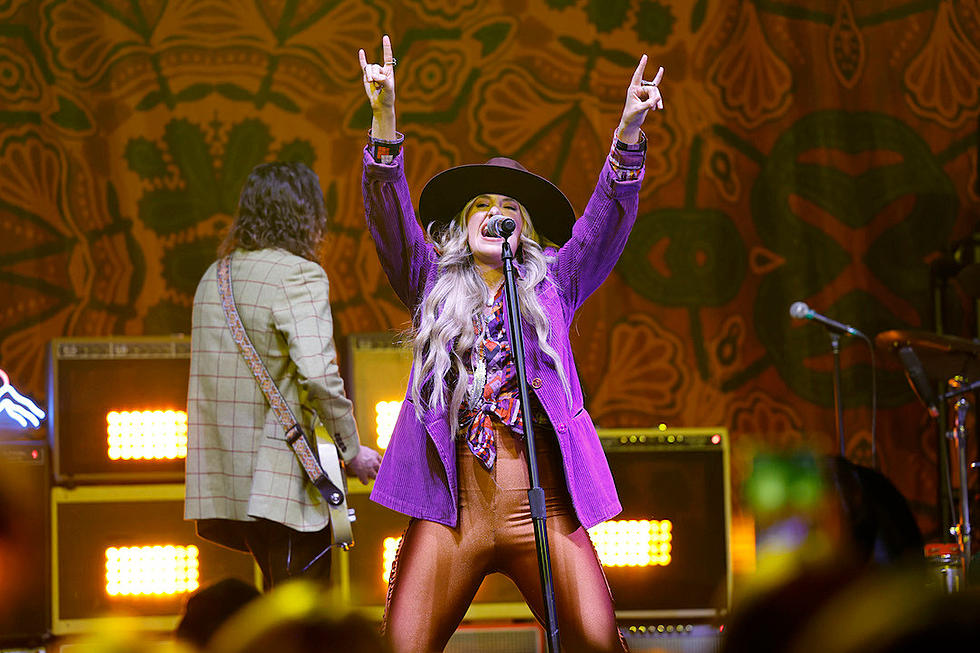 Lainey Wilson Could Add an Emmy to Her Trophy Case With This 'Yellowstone' Song
Jason Kempin, Getty Images
Lainey Wilson has been racking up ACM, CMA and CMT Music Awards nominations left and right — but now she could be a contender at an awards show that's outside the country format, and isn't even strictly focused on music!
Her song "Smell Like Smoke," which comes off the Yellowstone soundtrack as well as the track list of her latest album, Bell Bottom Country, is eligible for Emmys consideration in 2023, in the outstanding music and lyrics category. It's a song that falls squarely in line with the rough, rugged, Western themes of Yellowstone, as well as Wilson's own hard-driving, tough-as-nails brand of country music.
"'If I smell like smoke, it's only 'cause I've been through hell' was the first line that got the song started," the singer recounts to Variety. Wilson wrote the track alongside co-writers Derek George, Lynn Hutton and Monty Criswell.
"It was a little rough around the edges but with good energy, which we thought was perfect for Yellowstone," the singer continues. "... We thought a song about owning tough times in a proud, matter-of-fact, light-hearted way would tie in well with the way the show makes the down-and-dirty look sexy and fun."
In addition to contributing music to the soundtrack of Yellowstone — the show's second season also features her performance of "Workin' Overtime" — Wilson has an on-screen character arc on Season 5; she plays a musician named Abby. It's the singer's first TV role, and she says show creator Taylor Sheridan invited her to join the cast in early 2022.
"He asked what I thought about him creating a character for me. He said I'd play a musician and could wear all my crazy clothes and sing my songs, but I'd go by the name 'Abby,'" Wilson tells Variety. "He knew I hadn't done much acting, but I told him I'd been actin' a fool my whole life so I was up for the challenge."
The 2023 Emmy Awards are set to take place this September. Fans will find out whether or not Wilson's 'Yellowstone' Emmys submission will be a contender when the nominations list comes out in July.
22 'Yellowstone' Facts You Probably Didn't Know
How big of a fan of
Yellowstone
are you? These 22 facts about the Paramount Network show are sure to stump even the most dedicated viewers. They're almost all about the cast members and their real-life passions and roles. John's kids? Beth's accent? Rainwater's guitar playing? Tate's spoilers? It's all part of this list of 22 Facts You Probably Didn't Know About Yellowstone.
PICTURES: Meet the 'Yellowstone' Stars' Real-Life Spouses
The stars of Yellowstone are best known for their TV family, but of course, many of them also have a spouse waiting for them at home when they are done shooting on the hit Paramount show. Did you know one of the stars of Yellowstone is married to a former teen star? Another is married to a Brazilian model, while yet another Yellowstone star is married to one of the show's executives. The show's creator is married to a real-life cowgirl:
More From Cat Country 107.3