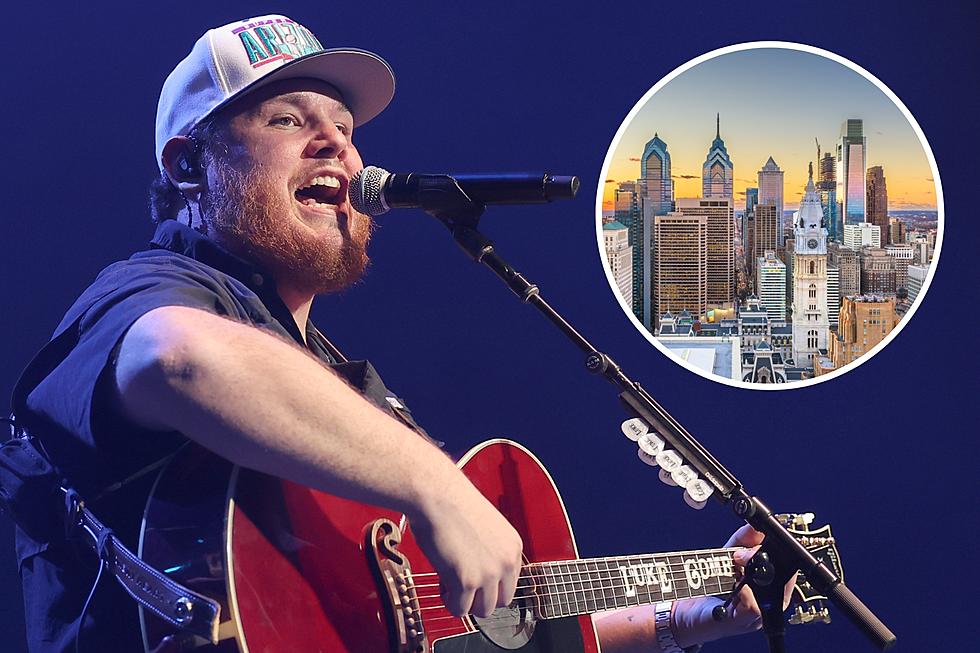 Spoilers Ahead: Luke Combs' Expected Setlist & Performance Times for Philadelphia's Concerts
Getty Images & Canva
Luke Combs is taking over the world, and this summer he'll be performing TWO sold-out shows at Lincoln Financial Field.
Combs' has been tearing up the pop and country music charts with the success of the hit song, "Fast Car," which was originally released by Tracy Chapman.
Luke Combs' World Tour will hit Philly's Lincoln Financial Field on July 28 and July 29, 2023.
It seems like on concert day, we have lingering questions.
Like: what time does the concert ACTUALLY start and what will the setlist be?
So we did some digging on the web, and thanks to some Twitter stalking and research on the site Setlist.Fm, we think we've figured out both of those questions. Spoilers are ahead?
If you're wondering what time doors open and about the baggage policy for a show at Lincoln Financial Field in Philly. We've got that here.
What Time Does Luke Combs' Concert in Philadelphia Start?
OK. So we all know it's all about the tailgate, right? Especially for shows at the Linc. There are opening acts for both shows.
The show is scheduled to start around 5:45 pm on both nights. We all know the "show" doesn't start at that exact moment usually. However, with a robust list of opening acts live music should start quickly.
Friday night's opening acts are: Turnpike Troubadours, Old Crow Medicine Show, and Brent Cobb.
Saturday night's opening acts are: Riley Green, Lainey Wilson, Flatland Calvary, and Brent Cobb.
Per our best guesstimates, we think Luke will take to the stage between 9 and 9:20 pm. These are just our best estimates based on other venues on the tour, and of course, they're subject to change.
As someone who loves to tailgate until the last second possible, I strongly suggest that you don't cut it TOO close to the show starting.
What Will Luke Combs' Setlist For Philadelphia Be?
Some people like to be surprised, but I'm not one of them. I like to plot my bathroom breaks and bar trips during a concert. So I NEED to know what songs are coming up. Here's what we think their setlist will be (of course, this too, is subject to change).
It's a robust setlist of about 25 songs:
Lovin on You
Hannah Ford Road
Cold as You
One Number Away
Houston, We Got a Problem
Love You Anyway
Going, Going, Gone
Must've Never Met You
Growin' Up and Gettin' Old
Don't Tempt Me
(keep scrolling for more)
Does to Me
Forever After All
Dust on the Bottle / Meet in the Middle / I Was Your Man
Beautiful Crazy
Where the Wild Things Are
Outrunnin' Your Memory
Fast Car
5 Leaf Clover
She Got the Best of Me
Hurricane
(keep scrolling for more)
1,2 Many
When It Rains It Pours
Beer Never Broke My Heart
Luke Combs' Expected Encore:
Better Together
The Kind of Love We Make
Brand New Man (Brooks & Dunn cover)
These are the Hottest Pop Concerts Happening in Philadelphia in 2023
2023 will bring some of the best concerts from some of our absolute favorite artists to Philadelphia (including Taylor Swift, Ed Sheeran and P!Nk.). Here's a COMPLETE list of all of the shows (so far) & even details on how you can get tickets to Philadelphia's hottest concerts of 202
More From Cat Country 107.3