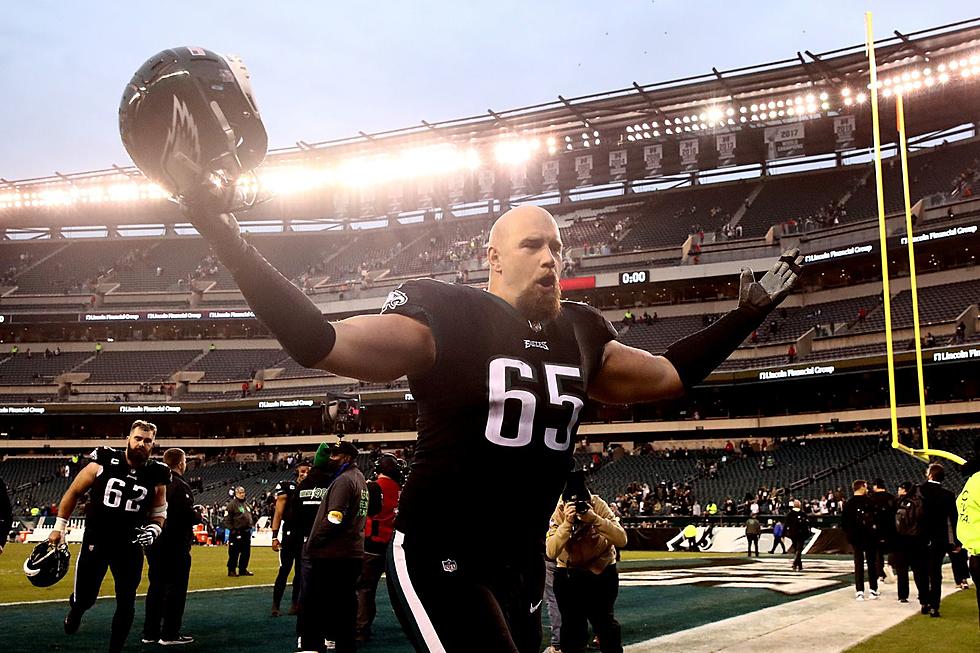 WATCH: Eagles' Johnson Deadlifts more than TWICE his body weight
(Photo by Tim Nwachukwu/Getty Images)
Philadelphia Eagles Right Tackle Lane Johnson is one of the best Offensive Lineman in the NFL, he is a two-time First Team All-Pro Selection (2017 and 2022) along with a Second Team All-Pro Selection (2021) and a four-time Pro Bowler.  On top of those accolades, Johnson has not allowed a Sack since November 22, 2020 against the Cleveland Browns (per Pro Football Focus).
At age 33 years old, Lane Johnson doesn't seem to be slowing down with his best years of play on the field happening over the last six seasons.  Ever since Johnson returned from his 10-game suspension in 2016, the fourth overall pick of the 2013 NFL Draft has taken his game to the next level.
Now the NFL world is buzzing about the Eagles' Right Tackle after this video was posted by the official NFL Instagram account and tagged Lane Johnson, where you can see him deadlifting 700 pounds:
Now I will remind you that Lane Johnson's official NFL Weight is 325 lbs, so that means he was able to Deadlift more than two-times his own body weight.  This is a big deal considering he is only five months removed from undergoing surgery to repair a Torn Adductor he played through during the Eagles' run to the Super Bowl last season.
Now there are some "meatheads" and "Social Media Fitness Gurus" who have suggested online that this is not as impressive because Lane Johnson used a Hex/Trap Bar instead of a traditional Olympic or Standard straight bar.  But as someone who has been a Certified Person Trainer by the National Academy of Sports Medicine (NASM), the Hex/Trap bar is more logical for Johnson because it simulates the posture he needs to be a functional NFL Offensive Lineman.  This Deadlift style helps Johnson focus on posture and stability; Whereas the Traditional Deadlift has more of a risk of causing stress to the back or Groin region, two areas Johnson wants to avoid any problems considering his injury history and recent surgery.
So in my opinion, Lane Johnson looks ready for the 2023 NFL season!  I am also a NASM Certified Fitness Nutrition Specialist, but I doubt Johnson needs any advice or help from me with the people he has around him recovering this efficiently from surgery and performing at such a high level on the field in recent years.
Top Ten Eagles Wide Receivers in Franchise History
More From Cat Country 107.3