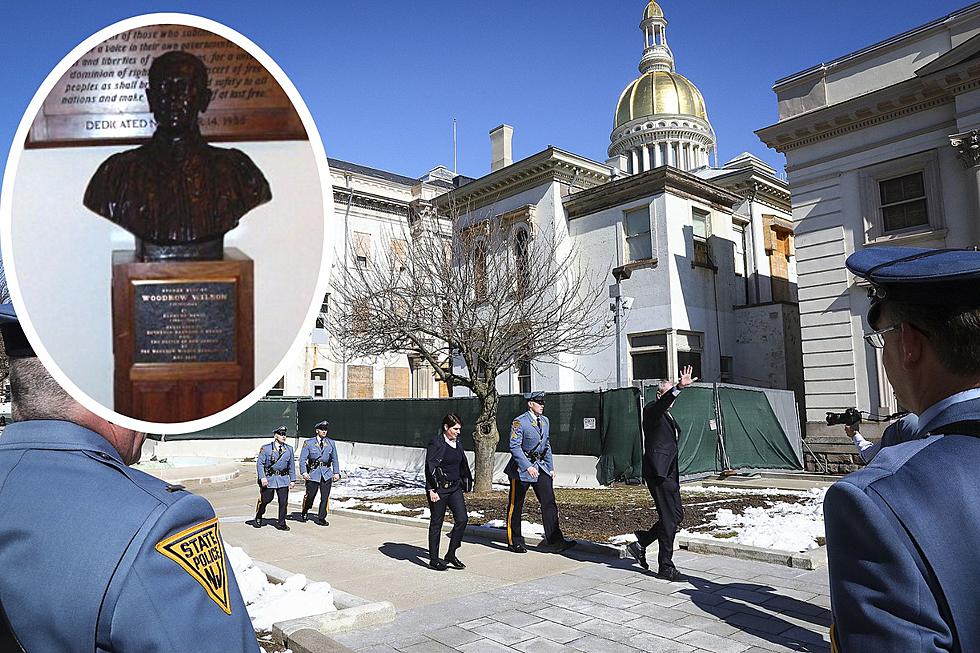 Woodrow Wilson not returning to NJ capitol, but because of 'racism'
Woodrow Wilson bust at the Statehouse, (waymarking.com), Gov. Phil Murphy outside the Statehouse (Edwin Torres, Governor's Office)
🔴 The front of the Statehouse was closed in 2017 for a $300 million renovation
🔴 The state museum decided to keep Woodrow Wilson's bust in storage
🔴 The Murphy administration was not consulted about the decision
---
A bust of former President Woodrow Wilson will not return to the Statehouse rotunda after renovations due to space constraints and not politics.
The 28th president, the only New Jersey governor to serve as president, has had a rough couple of years after his racist actions came under scrutiny in 2020. Wilson oversaw the re-segregation of federal offices while in office and once screened a film portraying Ku Klux Klan members as heroes in the White House.
Wilson's name was removed from Princeton University's school of public policy and buildings at Rider and Monmouth University and Camden High School.
Lack of space keeps Woodrow Wilson in storage
His bust was taken out of the rotunda during the Statehouse reconstruction project and placed in a State Museum storage facility, according to Treasury Department spokesman Darryl Isherwood.
"The decision to keep the bust in storage was made by the museum. The administration was not consulted," Isherwood said in a statement. "When the director of the museum was shown the new, restored space she had to make multiple decisions on what would go back in the space, and where, and what will remain in storage," Isherwood told New Jersey 101.5 in an email.
Isherwood did not disclose what else is not being returned to the rotunda in anticipation of its reopening.
The Treasury Department is responsible for the maintenance and upkeep of the Statehouse.
Wilson's desk already removed
The bust will join Wilson's desk in storage. Gov. Phil Murphy was photographed sitting at Wison's desk in a tweet observing a moment of silence for George Floyd on June 4, 2020, while in his temporary office. It was removed by the end of the month.
The $300 million renovation was approved by Gov. Chris Christie and started in July 2017 when the front of the building was closed including the rotunda. It is scheduled to be completed in 2023.
Politico was first to report about the Wilson bust.
Dan Alexander is a reporter for New Jersey 101.5. You can reach him at dan.alexander@townsquaremedia.com
Click here to contact an editor about feedback or a correction for this story.
Up or down? Average property tax changes in NJ in 2022
Below are the average property tax bills for every municipality in New Jersey last year.
The towns are listed from the biggest cut in the average bill to the highest increase. On the county maps, the deeper red color means a higher increase above 2% whereas the darker green signifies a smaller increase or a reduction.
Each listing also shows how the average tax bill is split among the county, school and municipal governments.
Weird things NJ taxes - and some they don't
In general, New Jersey assesses a 6.625% Sales Tax on sales of most tangible personal property, specified digital products, and certain services unless specifically exempt under New Jersey law.
However, the way the sales tax is applied in New Jersey sometimes just doesn't make sense.
New Jersey puts out an itemized list for retailers that spells out what is, and what is not, taxed.
Perhaps because this is New Jersey, there are some bizarre and seemingly contradictory listings.
LOOK: The 25 least expensive states to live in
More From Cat Country 107.3