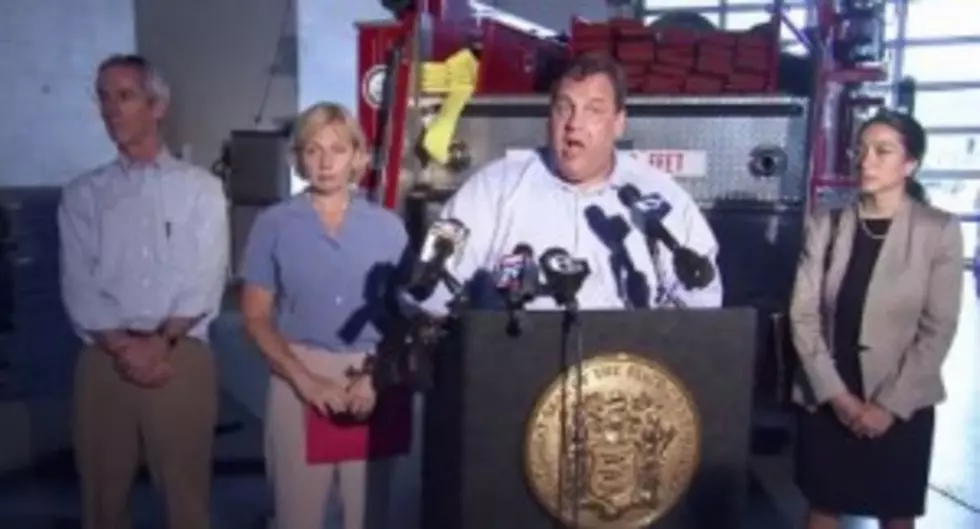 Another Curfew as Crews Work to Restore Power [PICTURES]
Governor Christie addresses reporters in Atlantic County. (WPVI TV)
Utility crews are working around the clock to restore power in parts of South Jersey after violent thunderstorms rolled through the area early Saturday morning, bringing down utility wires and more trees than Hurricane Irene.
Atlantic County Office of Public Safety have announced another curfew in effect from 9 p.m. Sunday until 6 a.m. Monday, except for Atlantic City.
In a press conference with Joseph M. Rigby, President and CEO of Atlantic City Electric's parent company Pepco Holdings, Inc. the company heaped praise on their employees for working long hours to help restore power and take calls from customers. Rigby and regional vice president Vince Maione also thanked customers for their patience and understanding.
They cited help from PSE+G and JCP+L crews as well as contractors who have worked with ACE crews to restore power.
ACE says they are focusing immediate efforts on restoring power to substations and substation supply lines as well as critical public facilities such as hospitals, fire stations, water filtration plants and police stations, a task that could take until Wednesday.
They are also wary of forecast calling for more thunderstorms, which could cause additional outages and impact restoration progress.
As of 6PM on Sunday the Atlantic City Electric outage map shows 126,000 customers still without power. Some customers are being purposely taken off line in order to complete restoration for others. Atlantic County has 72,000 without power, Cumberland County has 21,000 customers out Salem County over 10,000.
Meanwhile, the New Jersey Office of Emergency Management says generators being sent to Atlantic County are for traffic signals. "The County is not able to supply generators to individual residences," explains the NJOEM.
In a statement on their website, the utility anticipates that full restoration of power could take "several days" as crews work to assess storm damage but they will work "round the clock" until all customers are restored. The utility expects most customers to be back online by Wednesday.
Feared additional thunderstorms never developed anywhere in South Jersey much to the relief of utility crews although the threat remains for more storms to develop today.
A State Of Emergency is still in effect for Atlantic County to allow emergency officials to assess damage.A curfew was also in effect in Atlantic City starting Saturday night at 9PM until Sunday morning at 6AM.
The Press of Atlantic City reports six Atlantic City Beach Patrol boats damaged by the storms and two washed out to sea, although one was eventually recovered. Three lifeguard stands were destroyed as the wind blew them across the sand, said Beach Patrol Chief Rod Aluise.
Governor Christie has called on the New Jersey National Guard to bring in generators and cautions some people may not get their power back until the end of the week following a meeting with Atlantic County government officials.
Christie called the damage caused by the storms as "very significant" according to the Press of Atlantic City. Atlantic County Executive Dennis Levinson called it worse than that caused by Hurricane Irene last summer.
The Governor and Lt. Governor, Kim Guadagno, said their administration is "fully engaged" to facilitate the clean up. Christie said he has spoken to Verizon about bringing in tenporary cell phone towers and his Office Of Homeland Security commissioner about assisting with any evacuations that may be needed.
Christie has requested State Police help to back up work being done by the Sheriff's Department.
He said that area hospitals are fully operational and that the casinos are open. Christie walked a fine line between telling visitors to come down and being careful to allow work crews to do their jobs along the road.
The powerful storms, which featured heavy rain, lightning and strong winds that gusted as high as 60 mph, knocked down numerous trees and power lines throughout the region. Most lasted no more than a half hour.
An emergency hotline has been established to provide update – call 1-866-704-4636.
COOLING CENTERS IN ATLANTIC COUNTY (SUNDAY)
Galloway Township Middle School – 100 Reeds Road, Galloway Twp is open as a shelter.
Atlantic City – Police Athletic League – PAL
Absecon – Elizabeth Ann Seton Church
Buena Vista Township – Town Hall
Collings Lakes – Fire Department
Corbin City – City Hall
Dorothy – Fire Department
Margate – Martin Bloom Center
Minotola – Fire Department
Richland – Fire Department
Somers Point – Dawes Avenue School
Atlantic City Electric Safety Precautions
Stay away from downed wires. Call 1-800-833-7476 and follow the prompts to report a downed wire or an outage.
Avoid crews working in the street. This will keep you and the crews safe, and allow them to work on restoring your power.
Visit atlanticcityelectric.com for safety tips and follow the advice of your local emergency management officials.
If you plan to use a portable generator, follow the manufacturer's instructions and use only when necessary. Don't overload it and turn it off at night, while you sleep and when you are away from home.
Locate a portable generator in a well-ventilated area. Never run it inside, even in your garage, to avoid the potential hazard of carbon monoxide. Do not connect the generator directly into your home's main fuse box or circuit panel.
Protect food and refrigerated medicine with regular ice in an insulated cooler. If you are without power for more than two hours, refrigerated foods should be placed in a cooler. Foods will stay frozen for 36 to 48 hours in a fully loaded freezer if the door remains closed, and a half-full freezer will generally keep frozen food for up to 24 hours.
Turn off power to flood-prone basement appliances if it is safe to do so. However, if you have an electrically operated sump pump, you should not turn off the power in your basement.
Tune in to local news broadcasts for the latest weather and emergency information.
Share your pictures of storm damage by uploading a photo below.
More From Cat Country 107.3