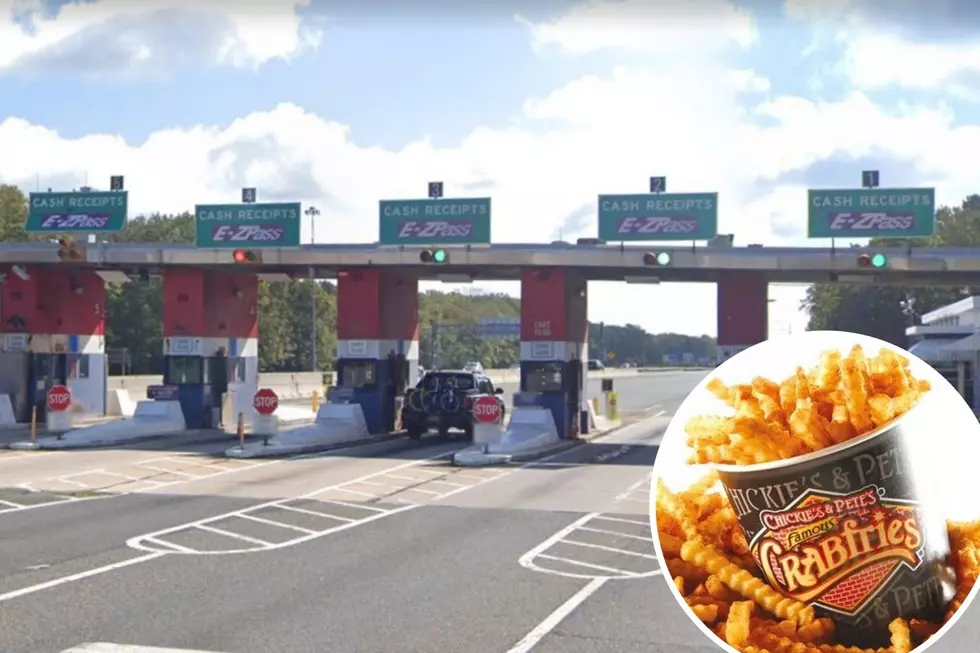 Chickie's & Pete's Offers Free Tolls on NJ's ACX, Free Crab Fries to Kick Off Memorial Day Weekend
Google Maps; (inset) Chickie's & Pete's Egg Harbor/Facebook
Headed to the Jersey Shore on Friday? If you time your trip right, you could treat yourself to free Crab Fries and a free toll thanks to Chickie's & Pete's.
To kick off Memorial Day Weekend, this Friday is "Free Toll Friday!"
The South Jersey Transportation Authority and Chickie's & Pete's have reportedly partnered up to offer motorists incentives to travel the Atlantic City Expressway on their way to the beaches for the holiday.
For one hour, from 5 p.m. to 6 p.m., this Friday, May 26th, Chickie's will pick up the cost of the eastbound ACX Egg Harbor City Toll Plaza for vehicles passing through both the cash and EZ-Pass lanes, according to wooderice.com.
Earlier that day, from noon to 5 p.m., just ahead of the toll at Farley Plaza, Chickie's & Pete's will offer a free serving of its famous Crab Fries for those who stop off to say hello.
Now, those freebies may not sound like much, but at a time when we're paying astronomical gas prices, it's a pretty awesome gesture on the part of SJTA and Chickie's.
Visit Chickie's Crabfries® Express Food Truck, and check out the outdoor celebration with complimentary treats and beverages from Hershey's Ice Cream, Mars, Carlo's Bakery, Applegreen and Monster Energy Drink, according to wooder_ice on Instagram.
Dozens of other organizations, vendors, artists and exhibitors will be out at Farley Plaza, including Funny Farm animal rescue/sanctuary, New Jersey State Police K9 Team, and more. You can even meet Dalmatian puppy dogs!
Oh, and there's one more thing. Chickie's honoring the real reason for Memorial Day Weekend: Honoring those who served. According to wooderice.com, Chickie's & Pete's has joined forces with The Patriot Fund, a non-profit organization that works to support military men and women returning from active duty with psychological, emotional, social, and financial and financial resources "as they re-enter civilian life."
10 Annoying Things New Jersey Drivers Do
Sure, as residents of the Garden State, we certainly have privilege to criticize out-of-state drivers, but here are a bunch of reasons New Jersey drivers should be cranking up their radio volume when Taylor Swift sings, 'It's me. Hi. I'm the problem, it's me.'
The 10 Coolest Outdoor Bars in Atlantic City
When warmer weather hits, you wanna dine, drink, and hang outside. Check out the 10 coolest outdoor bars you've got to check out in Atlantic City this spring and summer.
2023 Atlantic Storm Names: Is Yours on the List?
The National Hurricane Center is out with its list of chosen names for this year's tropical storms and hurricanes. See if you're unlucky enough to have one named after YOU.
More From Cat Country 107.3