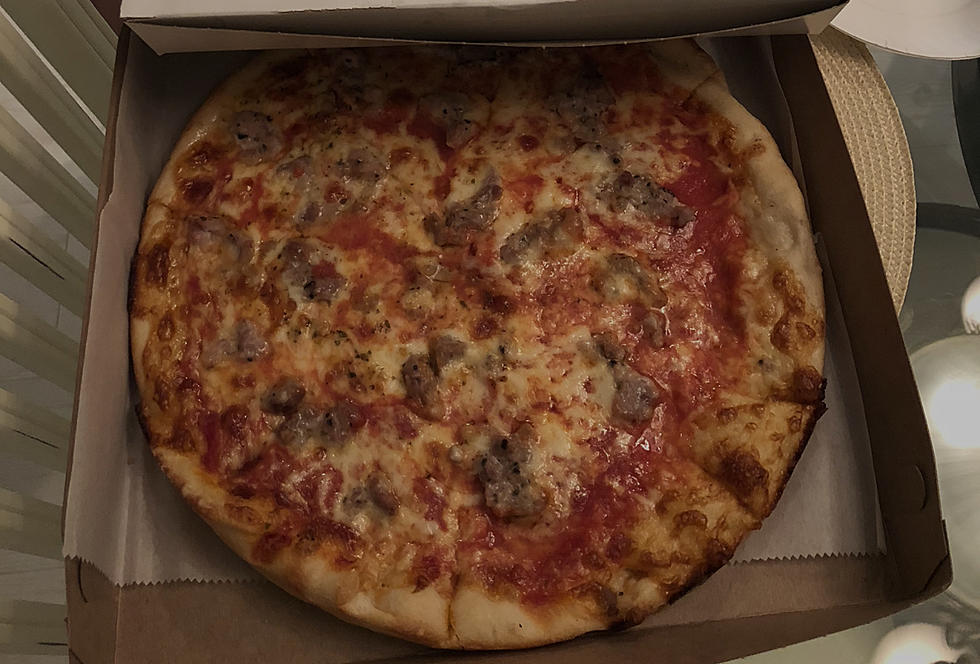 Here Is The First Pizza Ever Made In Atlantic City, New Jersey
Tony's Baltimore Grill pizza - Harry Hurley, TSM photo.
With a thank you to former Atlantic City Press columnist Sonny Schwartz, we have rediscovered the "patient zero" of pizzas for Atlantic City, New Jersey … the very first pizza ever made in "The World's Playground."
Joseph Tarsitano opened the original "Baltimore Grille" in 1927 at 604 Atlantic Avenue in Atlantic City, New Jersey.
According to Schwartz, the reason for naming it Baltimore Grille is "Because the biggest bill my father had to pay was the seafood bill and the seafood was shipped from Baltimore," said Joseph's son, Dom Tarsitano.
This popular pizza is still made in Atlantic City at Tony's Baltimore Grill, on the corner of Iowa and Atlantic Avenue, near The Tropicana Casino Hotel.
When Tony Tarsitano returned after his honorable service during World War II, he purchased the family business along with his brothers Dom and Lou Tarsitano.
Schwartz refers to local lore, which goes like this:
"One day when young Tony was playing outside the crowded bar/restaurant, his father told him to come inside, tie on an apron and help out in the kitchen.
"Within an hour, the youngster was baking a specialty food item his father called a "tomato pie."
"And that particular tomato pie - said to be the first ever made in Atlantic City - also represented the first of hundreds of thousands of "pizzas" that Tony Tarsitano was to make," wrote Schwartz on Friday, July 25, 1986.
Although Joseph called it a "Tomato Pie," it was actually a pizza.
Formica Bakery introduced a tomato pie, "Grandma Rosa's Tomato Pie" in 1919 when Francesco & Rosa Formica opened in Atlantic City.
We give Formica Bakery the nod for introducing the first Tomato Pie in Atlantic City history and The Baltimore Grille gets the prize for introducing the first pizza.
Incredibly, more than 100 years later, both of these fine establishments are still open in Atlantic City and both still make their famous tomato pie and pizza.
Formica now plays under the team banner Formica - Freitag Bakery thanks to a major investment of the legendary George Norcross.
Norcross is a direct descendent of the Freitag Family and he has told me in the past that he "was born into the bakery business."
Tony Tarsitano continued to run the family business until October 6, 1981, "as he was preparing to leave for work that night, Tony was stricken with a debilitating stroke that paralyzed his body and virtually silenced him, but failed to stifle his spirit," wrote Schwartz.
Tony's Baltimore Grill is very sentimental to my wife Margie and me… it is the scene of our very first date in 1980.
We had a cucumber, tomato and cheese salad, pizza, and cheese raviolis...yes, I still remember our first meal at Tony's Baltimore Grill.
We have gone back many times during our 42-year marriage.
It is my sincere hope that you have enjoyed our walk down memory lane.
BONUS PHOTO: (left to right) Harry Hurley, Michael Merlino, Al Zentmeyer, Don Hurley & The Legendary Ed Hurst … dining at Tony's Baltimore Grill on November 19, 2016.
SOURCES: Sonny Schwartz & I Grew Up Or Lived In Atlantic City, NJ Facebook Page.
Atlantic City's Firsts Throughout History
Steel Pier
More From Cat Country 107.3