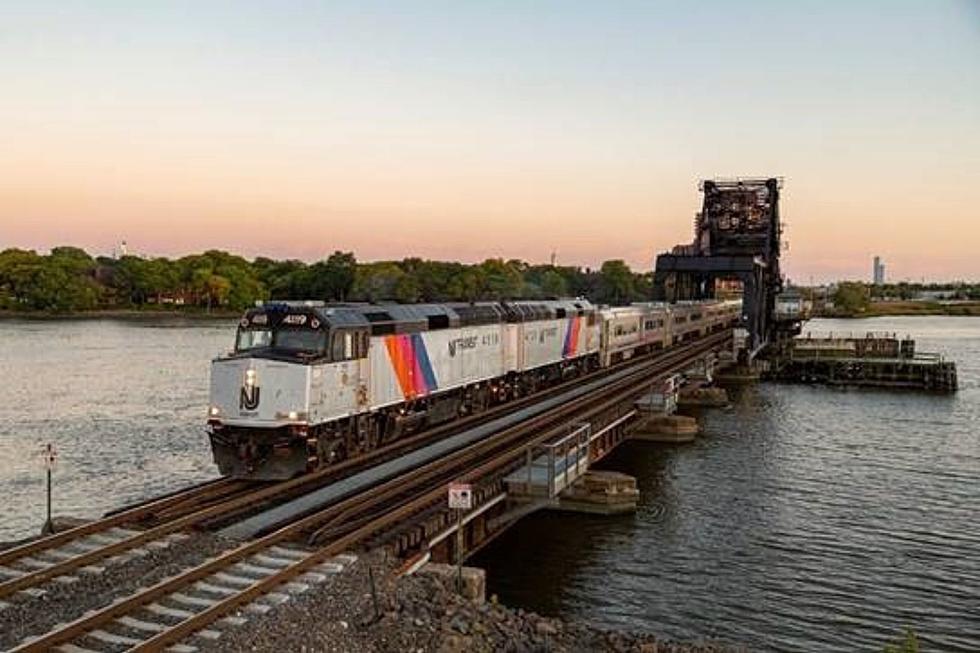 NJ Transit celebrates 40 years in service with a historical excursion
NJ Transit (Photo Credit: Russell Sullivan via NJ Transit)
🚂 NJ Transit is celebrating 40 years with a historical transit weekend
🚂 Rail history lovers will be transformed back in time on this special excursion
🚂NJ Transit will also display all of its heritage-decorated locomotives
---
All aboard. Calling all rail history lovers.
NJ Transit is planning a fun-filled historic rail weekend from Sept. 30 through Oct. 1.
NJ Transit is partnering with The United Railroad Historical Society of NJ to operate a special excursion train titled, "The 40th Anniversary Express" in honor of NJ Transit rail operation's 40th year of public service.
How does it work?
Riders can purchase a ticket to travel on the Northeast Corridor and North Jersey Coast Lines in a special train with historic and conventional equipment, recreate the "South Amboy engine change," and ride the Bay Head loop track.
Then, on Sunday, Oct. 1., everyone is invited to the historic Hoboken Terminal for a special display of NJ Transit's heritage-decorated locomotives.
"This special weekend is an amazing and fun way to honor NJ Transit's rich history and gives the public an exclusive look at our railroad's heritage," said Diane Gutierrez-Scaccetti, NJ Department of Transportation Commissioner and NJ Transit Board Chair.
What is the route?
On Sat. Sept. 30., the train will depart New York Penn Station in the morning and conclude at Hoboken Terminal in the late afternoon.
Commuters will travel between New York, Bay Head, and Hoboken, over sections of all three of NJ Transit's major legacy commuter systems: the Pennsylvania Railroad, the Central Railroad of New Jersey, and the Erie Lackawanna Railroad.
It will be hauled first by NJ Transit's Pennsylvania Railroad heritage locomotive, wrapped in historic livery to represent the many GG1 locomotives that carried commuters in New Jersey from the 1930s to the 1980s.
The second portion of the trip will be hauled by F40 diesels, the F40 being the first model train purchased by NJ Transit as part of its major renewal in the agency's early years.
Participants will travel around the Bay Head loop track, and then break for a catered lunch at the station.
The trip then resumes the journey back through Newark Penn Station for a photo op and then departs for the historic Hoboken Terminal to end the day.
Tickets go on sale on Aug. 25 at 10 a.m. Only special excursion tickets will be accepted on this train. Standard NJ Transit tickets will not be valid.
Proceeds from this excursion will support the non-profit United Railroad Historical Society of NJ.
On Sunday, Oct. 1., NJ Transit will display all of its heritage-decorated locomotives. The event is open to the general public and free of charge.A recruiting table will also be available to those interested in joining NJ Transit's ranks.
"From the reenactment of the 'South Amboy engine change' to the nostalgic display of our heritage locomotives, this event will bring history lovers together to celebrate 40 years of rail service that has connected people and places across New Jersey," said NJ Transit President and CEO, Kevin S. Corbett.
NJ TRANSIT Rail Operations Timeline
• 1983 – NJ TRANSIT Rail Operations replaces Conrail as the operator of commuter rail service throughout New Jersey
• 1983/1984 — New Comet II and Comet IIA railcars arrive and Overhaul of Arrow II railcars
• 1984 — Modernized electrification system debuts on the Morris & Essex Lines; 50+ year-old coaches replaced by modern Arrow railcars.
• 1986-1988 — Overhaul of Comet I railcars and conversion of Arrow I cars to Comet IB cars
• 1987 — Meadows Maintenance Complex opens
• 1988 — North Jersey Coast Line electrification extended from Matawan to Long Branch
• 1989 — Atlantic City Rail Line (ACRL) opens between Lindenwold to Atlantic City
• 1989-1995 — Arrow III railcars rebuilt
• 1990 — New ALP-44-0 electric locomotives arrive
• 1990/1991 — New Comet III railcars arrive
• 1993 — GP40PH-2-A locomotives rebuilt
• 1993 — Atlantic City Line service extended to Philadelphia's 30th Street Station
• 1993-1997 — GP40PH-2-B locomotives rebuilt
• 1994 – Cherry Hill Station opens
• 1994 — Morristown Line/Boonton Line extended to Hackettstown
• 1996 — MidTOWN DIRECT debuts (M&E one-seat ride to NY) utilizing further deliveries of ALP-44 locomotives and new Comet IV railcars
• 1999 — Hamilton Station opens
• 1999 – Rollout of new system map with matching color coded rail line timetables issued
• 2001 — Newark Liberty International Airport Station opens
• 2001/2002 — New ALP-46 electric locomotives arrive
• 2001-2004 — Comet II railcars rebuilt
• 2002 — 7th Avenue Concourse opens at Penn Station New York
• 2002 — Montclair Branch and Boonton Line consolidated, renamed the Montclair-Boonton Line and new Great Notch Yard opens, allowing debut of MidTOWN DIRECT-Montclair
• 2002-2004 — New Comet V railcars arrive
• 2003 — Frank R. Lautenberg Station at Secaucus Junction opens ( linking 11 of 12 NJ TRANSIT rail lines)
• 2003 — High-density signal system completed on eastern segment of NEC, increasing train capacity to/from NY
• 2003 — Rail Operations Center opens in Kearny
• 2003 — Union Station opens
• 2004 — Ramsey Route 17 Station opens
• 2004 — Montclair State University Station opens
• 2004 — Morrisville Yard opens
• 2005 — New PL-42 diesel locomotives arrive
• 2006 — Multilevel railcars, designed with the help of customers, begin arriving
• 2007 — Expanded service on the Pascack Valley Line
• 2008 — Wayne/Route 23 Transit Center opens
• 2008 — Mount Arlington Station opens
• 2009 — Penn Station New York 31st Street entrance opens
• 2009 — Meadowlands Station opens
• 2009 — Trenton Transit Center renovated
• 2011-2013 — New ALP-45 dual-mode locomotives arrive
• 2013 – Pennsauken Transit Center opens
• 2016 — Wesmont Station opens
• 2018 - Elevator modernization program initiated to upgrade electrical and operating components of elevators systemwide
• 2019- Heritage fleet of coaches and locomotives decorated to honor NJ TRANSIT's predecessor rail companies
• 2020 — Positive Train Control system successfully made operational and certified by the FRA
• NJ TRANSIT breaks ground on the Raritan River Bridge Replacement Project
• 2021 — Portal North Bridge $1.5 billion construction contract approved and awarded
• 2021 – Locomotives decorated in tribute to armed services unveiled as NJ TRANSIT provides service to the Army-Navy game at the Meadowlands
• 2022 – Locomotive decorated in "Ride with Pride" scheme debuts, along with a heritage tribute scheme from the NJ Department of Transportation on GP40PH-2 41O1.
• 2022 – NJ TRANSIT breaks ground on the construction of the Portal North Bridge
Report a correction 👈 | 👉 Contact our newsroom
LOOK: Food history from the year you were born
From product innovations to major recalls,
Stacker
researched what happened in food history every year since 1921, according to news and government sources.
More From Cat Country 107.3