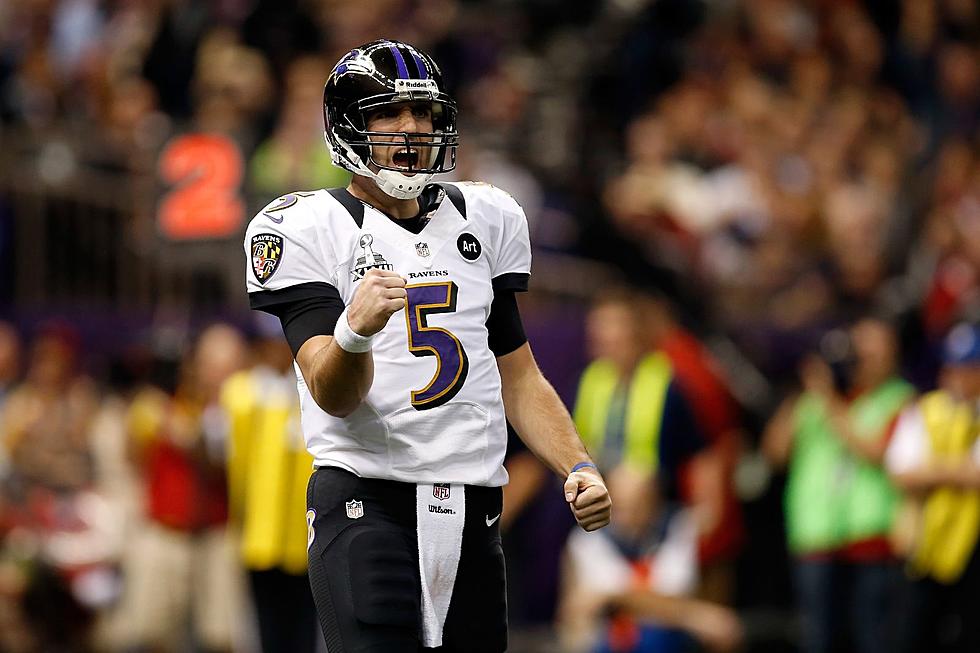 Super Bowl MVP Award Winner Hanging Out in Stone Harbor, NJ
(Photo by Chris Graythen/Getty Images)
He is the Super Bowl 47 MVP Award Winner and a graduate of Audobon High School, but did you know Joe Flacco is a fan of South Jersey?  The former Starting Quarterback for the Baltimore Ravens, Denver Broncos, and New York Jets (plus a few months on the Eagles QB Depth Chart) is enjoying his Summer not having to report to NFL Training Camp by spending some time in Stone Harbor.
The 6'6" Quarterback was seen in Stone Harbor this week and stopped to take a picture at The Chillin Pineapple on 96th Street (across the street from the Harbor Square Movie Theater)
We learn two very important takeaways from this picture: 1. Joe Flaco is enjoying his summer and being in Stone Harbor, and 2. Joe Flacco is a fan of Slack Tide Brewing Company, one of the best Craft Breweries in Cape May County.  Only a real "South Jersey Guy" hangs out in Stone Harbor and wears a Slack Tide Brewing T-Shirt.
But this isn't the first time that the 15-year NFL Quarterback has been associated with South Jersey.  A few years ago, when Joe Flacco was still playing with the Baltimore Ravens, NFL Films caught this conversation between the New Jersey QB and former New Orleans Saints Head Coach Sean Payton:
Yes, former NFL Quarterback and current Denver Broncos Head Coach Sean Payton has a brother, Tom Payton, who managed the Sleepy's Mattress Store in Middle Township.  We know that Joe Flacco spoke about getting a Jersey Shore house after the big payday he landed after winning the Super Bowl.
So don't be surprised if you see Joe Flacco in Stone Harbor, eating some dole whip ice cream, drinking some Craft Beer from Slack Tide Brewing Company, especially since he is currently not under contract for the start of 2023 NFL Training Camps.  He is not officially retired, but spending more time at the Jersey Shore may entice him to not take any more Quarterback Hits.
19 Restaurants to visit in Stone Harbor, NJ - Alphabetical Order
More From Cat Country 107.3